How likely is a successful Paul George comeback?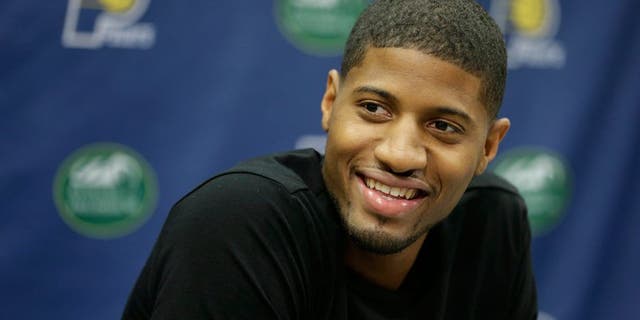 NEWYou can now listen to Fox News articles!
Last season was a disaster, to say the least, for Indiana Pacers star Paul George.
George only played in six games and a total of 91 minutes, which was encouraging given the nature of his gruesome leg injury last August, but a disaster for a competitor and one of the game's best players. To make matters worse, the Pacers didn't make the playoffs for the first time since 2010-11 and were forced to endure somewhat of a rebuild in the offseason, losing frontcourt stalwarts Roy Hibbert and David West.
But perhaps that mindset shift can be a positive for the Pacers, as they try to return to Eastern Conference contention and put George in a position to dominate.
According to Ian Levy of Hardwood Paroxysm, George bouncing back next season is essentially a formality, especially considering the Pacers' insistence on playing uptempo basketball:
"George has spent most of the past two seasons at small forward, and these positional definitions are fluid enough to make the distinction mostly meaningless. But playing minutes at "power forward" next season means there are likely to be at least three (and four, if you count Myles Turner) three-point shooters on the floor alongside him. That should create plenty of space for his driving, curling, mismatch exploiting post-game to flourish. In addition, several of those wing shooters (I'm thinking Hill, Stuckey and Ellis) are capable ball-handlers who can also be using that space, driving and kicking to George.
"Regardless of what position is listed next to his name in the box score, this roster is built in a way that is much more complimentary to George's offensive game. Defense will be a little more complicated but there is every reason to think George could take the next step as a scorer and offensive engine this year."
With the league shifting to more small ball, it only makes sense that the Pacers ride with the tide. George has the requisite size, skill and talent to make the adjustment to a stretch-4, and it's a luxury the Pacers need to take advantage of.
It's impossible to predict or project whether George will ever return to the player he was in 2013-14 -- arguably a top-10 player, and the third-best two-way wing in the league behind LeBron James and Kevin Durant -- but the Pacers' system this season is certainly going to give him his best chance.
(h/t Hardwood Paroxysm)