Holly Holm willing to go up in weight to meet Cris 'Cyborg' Justino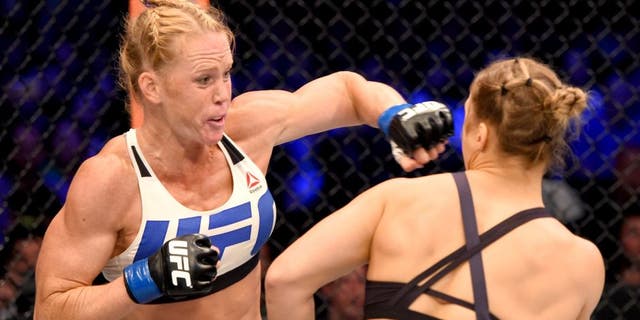 Holly Holm has never been a fighter to back down from a challenge, and she's even willing to go up a division to face Cris "Cyborg" Justino if that's what the UFC wanted.
Holm addressed the potential matchup when speaking to media just before UFC 194 in Las Vegas, and while the chances that it would actually happen remain slim, she's still willing to float the idea as a possibility.
"I know with the UFC they don't have that division, so if that was something they were going to put together, I'm not against it. I'm open to it," Holm said. "But right now we only have 135 and 115 [-pound divisions], so if it was going to be for the belt or anything it would have to be at 135, but I'm not against options for other fights."
Holm's willingness to go up to meet Cyborg is something her predecessor Ronda Rousey wouldn't even consider during her reign as champion.
It never sat well with Rousey that Cyborg tested positive for steroids earlier in her career and she believed that if the Brazilian fighter who normally competes at 145 pounds gave up performance-enhancing drug use, she could make the cut down to the bantamweight division.
Justino has never tested positive since that occasion in 2011, and she attempted to make the move down to 135 but eventually gave up cutting the extra weight following Rousey's loss to Holm at UFC 193.
Holm said moving up in weight isn't as easy in MMA as it would be in her previous sport of boxing because there are other factors at work that could make it difficult.
She still seems open to the idea of facing a fighter like Justino at a higher weight class, but given the UFC's current stance on the divisions it promotes, it's not likely to happen.
"I have fought at heavier weights in boxing, but it kind of changes things with MMA because there's wrestling," Holm said.
"Boxing, I think, is a little bit different. You're not dealing with somebody's strength and weight on you as far as wrestling and grappling, but I do feel like I'm a bigger 135'er, so I don't know. I guess I would just have to see whatever unfolded if that was an option."
As far as Justino goes, Holm actually worked with her on a film shoot earlier this year at the exact same time she got the call saying she was going to face Rousey in November. It was the first time the veteran fighter had met Cyborg, but apparently they became fast friends and she has nothing but good things to say about the current Invicta FC featherweight champion.
She also supports the decision Justino has to make about her fighting future, whether that involves a drop in weight or staying at a more natural 145 pounds, where she currently competes.
"I love Cyborg. She's awesome. I finally got to know her this year," Holm said. "Whatever Cyborg wants to do, I support it. You want to stay at a heavier weight, you don't want to go to 140, whatever she wants to do, I'm all about it. I haven't really thought about it too much."