Holland using 'boxer's mentality' to help Rangers in playoff quest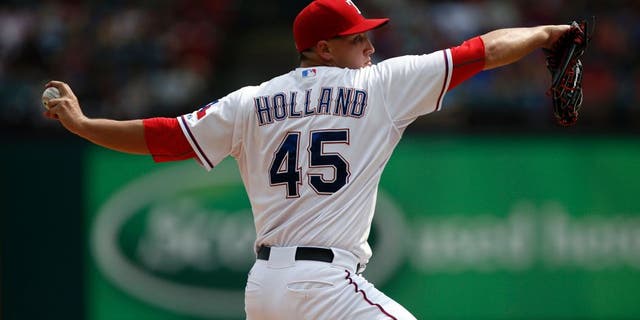 Texas Rangers left-hander Derek Holland is perhaps known to the national baseball audience just as much for his Harry Caray impressions and Rick 'Wild Thing' Vaughn haircut as he is his solid starting pitching.
He told T.R. Sullivan of MLB.com that while he enjoys the goofy antics and being playful with his teammates, he also spends a lot of time watching video and studying in preparation for his starts.
In fact, he told Sullivan he has a 'boxer's mentality' on the mound: "I love to go out there and go after these guys. There is a whole other animal that comes out in me. People worry so much about how I act on the field, goofing off. They don't realize how much work I put in, watching video, studying hitters. When I get out there, once I toe the rubber, you've got to beat me today. That's my attitude. I have a boxer's mentality."
That mentality is a big reason the Rangers are just two games behind the Houston Astros in the AL West and fighting for a Wild Card spot, as he's been brilliant lately.
His focus is squarely on one thing: getting the Rangers back to the postseason and exorcising some personal demons stemming from the Rangers' crushing World Series loss to the St. Louis Cardinals in 2011.
"I would give anything to get back there," Holland told Sullivan. "I would trade in my Game 4 just to go back there and win it. We were so close twice, and it hits hard all the time. I see videos and stuff and get the constant reminders. I would much rather have a ring on my finger than that one good game."
He has a month or so left to help Texas get back to October. After that? Who knows what might happen.