High praise: Jets WR Marshall says teammate Revis greatest CB -- ever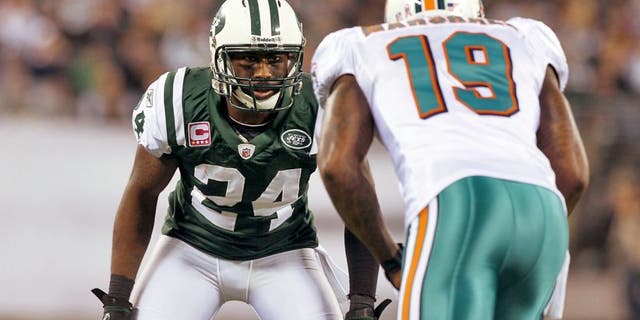 Brandon Marshall has seen enough of Darrelle Revis to declare him the best cornerback in NFL history.
Yep, that's right. Move over Deion Sanders. You, too, Mike Haynes. Champ Bailey and Rod Woodson? Nope. Marshall thinks his New York Jets teammate tops them all.
"I have been around great ones, practiced against Champ Bailey, Peanut Tillman," Marshall said on ESPN's "First Take" on Thursday. "Played against some great guys. I didn't play against Deion, but Revis is the best in the league."
Then came the headline-making -- and eyebrow-raising -- money part of the quote:
"Ever."
Marshall reiterated his comments after training camp practice later in the day, praising Revis' approach on the field -- in games and at practice.
"Now, I never got a chance to go against Champ in his prime. I've always practiced against him," said Marshall, who was teammates with Bailey in Denver from 2006-09. "Darrelle's really good at what he does. He's excellent at what he does. He's a technician. He's really crafty, and he's really smart. He works hard."
It's a bold statement by Marshall, who's entering his first season with the Jets but has faced Revis several times. One of the early highlights of training camp this summer has been watching Revis and Marshall go up against each other in 1-on-1 drills.
"It's a great compliment from Brandon," Revis said. "Played against him through our whole careers and we've had some battles. He's won some battles when we played against each other in the past and I've won some. I think it's just a mutual respect that we have for each other. Now we're teammates, and I never thought we'd be teammates in my wildest dreams.
"Now we get to compete against each other and I'm glad he's on my team because I don't have to look across the huddle and see that it's Brandon Marshall."
Revis certainly has the credentials to be in the conversation. He's a six-time Pro Bowl selection and a four-time All-Pro pick, and his catchy nickname -- "Revis Island" -- is a tribute to the way he shuts down opposing wide receivers, stranding them downfield and out of the play.
"It's an honor," Revis said of Marshall's comments. "I mean, I don't really have that many words for it. I know it's an honor and I appreciate it. People see your body of work and what you've done, and I've still got a lot of ways to go."
Seattle's Richard Sherman, Arizona's Patrick Peterson and Cleveland's Joe Haden are all often mentioned along with Revis as the top cornerbacks today. Jets coach Todd Bowles was an NFL safety for eight years, and has been coaching in the league since 2000, so he has seen a lot of great players come and go -- some all the way to the Pro Football Hall of Fame.
"When I was growing up, Mike Haynes was one of the best I've ever seen," Bowles said. "But you can argue Deion, Revis, you can argue Sherman, Peterson. It all depends on who you're playing with and who you're going against. It's all relative."
But, in Bowles' mind, Sanders still holds the title of "best cornerback ever." At least, for now.
"You've got to go through a career and then get put in the Hall of Fame and measure it that way," Bowles said. "The things that Deion was able to do as a player -- punt returning, kick returning, offense and the speed he had, the awareness he had -- that's hard to be matched, in any era. Mike Haynes was before that, and I thought Mike was the best that ever played and he doesn't get talked about.
"It's a good barbershop argument."
Revis, feeling the love from Marshall, offered high praise to the playmaking wide receiver who has 773 catches for 9,771 yards and 65 touchdowns in nine seasons.
"If there can be another Megatron, it would be him," Revis said, referring to Detroit's Calvin Johnson. "I would put those two, (Marshall) and Calvin Johnson, in the same category of big, tall receivers, 6-5, 230-plus, and can run like a (smaller) skill player."
Oh, and when asked what he thought of Marshall's statement that Revis is the best ever, fellow cornerback Antonio Cromartie didn't hesitate.
"True statement," he said.
Even better than Sanders?
"True statement," Cromartie repeated with a big smile.
NOTES: S Antonio Allen went down with an Achilles injury at the end of practice and needed to be helped off the field. Bowles had no immediate word on the severity. ... DE Muhammad Wilkerson remains day-to-day with a tweaked hamstring. ... During his appearance on "First Take," Marshall discussed his relationship with Bears quarterback Jay Cutler, saying he was the only person on the team who had "the `huevos' to hold (Cutler) accountable. It didn't go the way I wanted it to go." Marshall and Cutler were once close friends, but said they didn't speak much during the season and still haven't. "That is sad," said Marshall, who later insisted it would be the last time he'll address his time in Chicago.