Herrera's brash attitude led to his expected downfall with Mexico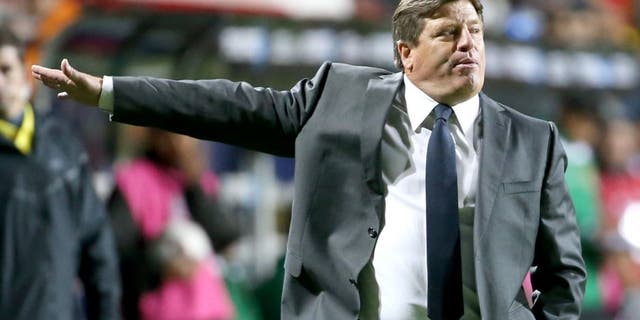 It should be a time of celebration for the Mexican national team and its fans. Instead, it's a time of turmoil.
Not that uncertainly is anything new for El Tri. How typical for Mexico and the FMF that before the hangover from the Gold Cup victory party even set in for Mexican fans, there's trouble after the team was forced to fire coach Miguel Herrera following a physical altercation with a reporter.
Herrera's replacement will be the 15th manager to lead the Mexican national team since 1999. The United States has had three men during that time. Brazil, a team that like Mexico has very lofty expectations for the man holding the position, has had seven.
After Herrera allegedley punched a high-profile commentator with whom he'd feuded before, the writing was on the wall. No evidence has emerged that Herrera hit TV Azteca 's Christian Martinoli, and the Philadelphia Police Department told Goal USA on Tuesday that no police report had been filed matching the alleged incident. However, video taken by a witnesses does show confrontation between Herrera and members of the press. Especially in Mexico, where TV Azteca is one of two giant corporations that have huge sway not only over the national team but also the country in general, Herrera's behavior wasn't going to fly.
Maybe it would have if the coach had been more successful.
Herrera completed his objective of winning the Gold Cup, but it was a labored effort for Mexico. Controversial penalty decisions went El Tri's way in the quarterfinal win against Costa Rica and the semifinal against Panama. That, coupled with how out of his depth Herrera looked with a B side in the Copa America that drew with host and eventual champion Chile but couldn't beat Bolivia or Ecuador, shook up the already pressurized bottle that is the Mexico job.
The altercation blew the top off, and the FMF made the change. It's a shadowy system involving the federation leaders plus the owners of the Liga MX clubs, but no matter how it happened, Herrera is unemployed.
The behavior isn't entirely surprising. Herrera had made vague allusions to challenging Martinoli to a fight before. His brusqueness was at times part of his charms, laughing off silly questions with a profane joke or explaining things in a colorful manner. He was beloved by fans and players partly because he played the role of the everyman so well. This isn't a man who spent his time quoting philosophers or diagramming tactics, he was a man who celebrated goals in friendly matches like they were World Cup winners and embraced his role as the face of the national team.
That attitude is now his own undoing. Rather than take a more mature posture toward his critics, Herrera wanted to scrap. The best defense of his credentials at the helm of Mexico would've been the trophy he just won. Instead he wanted to talk with shoves and physical aggression.
It leaves Mexico in a state of turmoil. Though some pundits on Mexican television have speculated the federation wouldn't make this move without a candidate ready to go, incoming FMF president Decio de Maria gave no indication in Tuesday's news conference that there's a new manager lined up. He did indicate that Mexico would be open to a foreign manager -- good news for Santos boss Pedro Caixinha and perhaps the federation. Herrera is more Mexican than tacos, playing for El Tri during his time as a player before coaching the squad. An influx of outside perspective wouldn't hurt the team.
Whoever takes the job, they'll enter the same high-pressure atmosphere Herrera lived in. Though the coach comported himself well the first year, qualifying for the World Cup and having a good tournament in Brazil, he ultimately couldn't cope. The next manager has a stiff test right away, with an October playoff against the United States for a Confederations Cup spot and the start of World Cup qualifying a rude welcome for whoever steps into the job.
How he performs will determine if Mexico gets the time for celebration it deserves, or enters into the familiar state of turmoil once again.
FOXSoccer.com and Goal.com have teamed up to bring you the best in world soccer coverage. Visit Goal.com, and follow them on Twitter and Facebook.
More from Goal.com:
Goal Posts - Daily LIVE soccer blog