Heat's Whiteside, Warriors' Green get into Twitter beef over small ball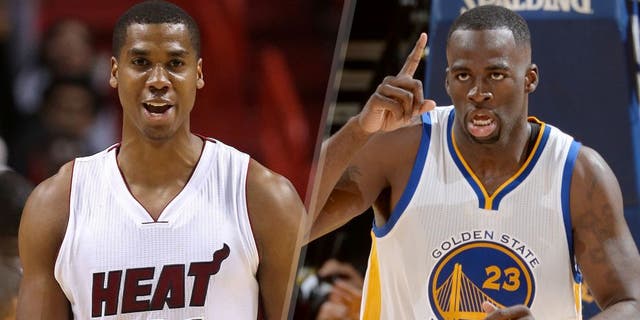 NEWYou can now listen to Fox News articles!
The debate over small ball just escalated to a whole other level.
While fans and experts have been arguing over the polarizing topic for a few years now, it has finally seeped into NBA players' lexicon.
Miami Heat center Hassan Whiteside started the controversy on Tuesday when he tweeted that small ball only works against centers that can't score -- excluding himself from such a distinction -- and specifically mentioned a hypothetical situation in which a 6-foot-6 player tries to defend him:
Golden State Warriors forward Draymond Green, who is listed as 6-7 but is closer to 6-6, took offense to Whiteside's comments. Green became the poster boy for the success of small ball in 2014-15, as he was tasked with defending much bigger players during the Dubs' championship run.
It's unclear whether Whiteside was specifically targeting Green, or just using a player of his size as an example, but it seems like too much of a coincidence. In response, Green took a not-so-subtle shot at Whiteside (Note: Green has since deleted both of his tweets):
This barb, which questions Whiteside's limited offensive arsenal, clearly upset Whiteside, as his response to Green intensified the beef:
Green jabbed back, responding with personal shots at Whiteside's past:
Ouch. Green flaunts his $82 million contract with the Warriors this offseason -- a figure Whiteside could possibly match depending on his performance this season, but a mark he can't currently dispute -- and calls out Whiteside for playing in the D-League, wearing undershirts and complaining about his NBA 2K rating. That's quite the efficient diss tweet.
Green appears to be the winner here, though both sides have their points.
As Whiteside alludes, big men who can score and take advantage against smaller, weaker defenders are still valuable. Size will always have its advantages in basketball -- dominant bigs change the complexion of a game on both ends of the floor -- and that will never change.
It's just that skilled and talented big men are becoming rarer and, as a result, teams have to adapt and play smaller. It works with the right personnel, as it did for the Warriors this season (they won the title, after all).
Moreover, Green was able to hold his own against the likes of Anthony Davis, Marc Gasol, Zach Randolph and Dwight Howard in the playoffs, so perhaps he isn't the best example of a wing that would be roasted against a dominant post player (which Whiteside isn't).
Ultimately, the small ball faze proves skill can beat size on and off the floor.
(h/t ProBasketballTalk)