Heat reach .500 to cap remarkable turnaround, miss playoffs despite beating Wizards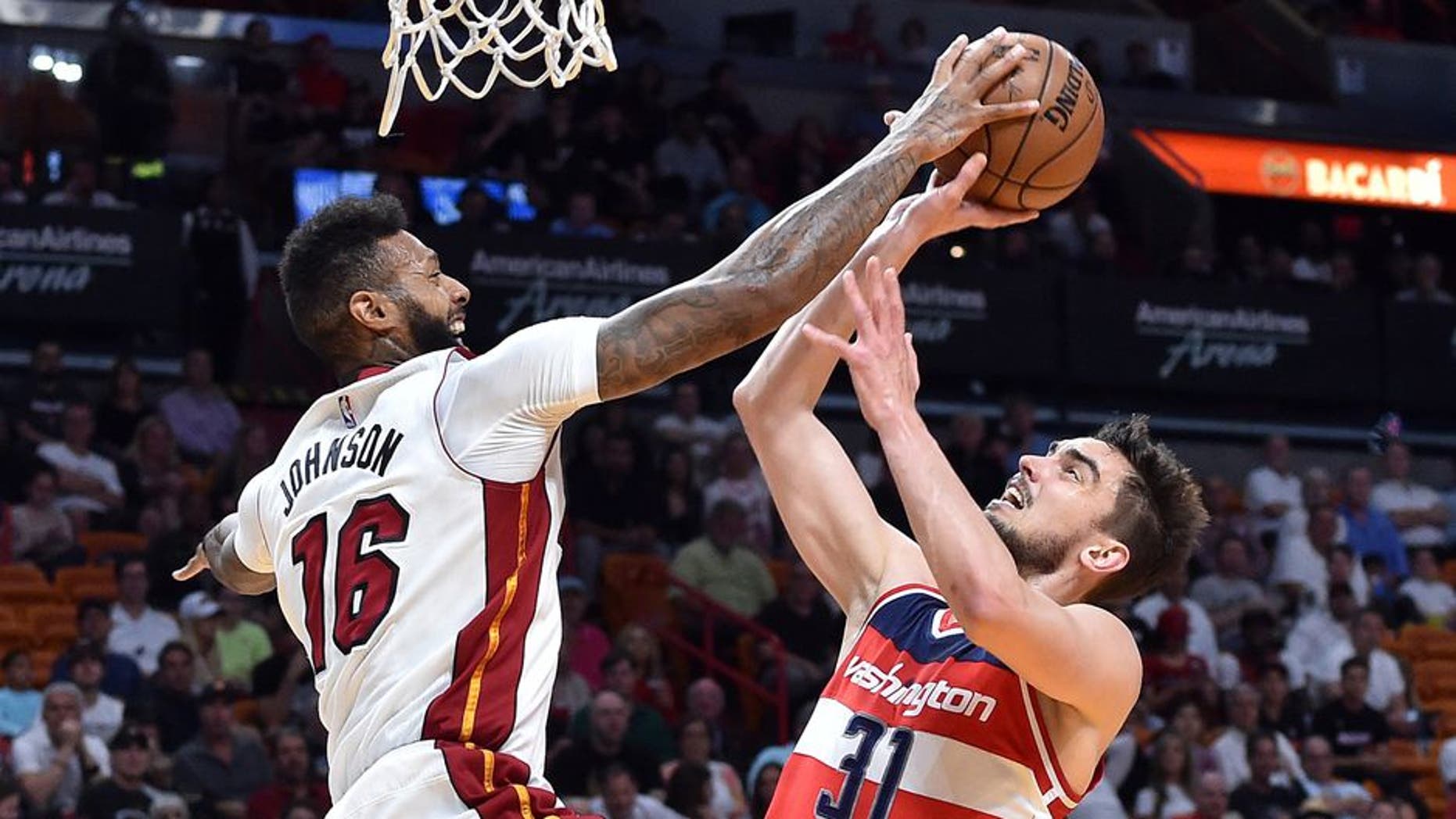 MIAMI (AP) -- Goran Dragic scored 28 points, Hassan Whiteside added 24 points and 18 rebounds, and the Miami Heat defeated the Washington Wizards 110-102 on Wednesday night while being eliminated from the NBA playoffs.
Miami needed a win, and either a loss by Indiana or Chicago, to reach the postseason. But Indiana downed Atlanta to clinch the No. 7 seed, and Chicago topped Brooklyn to grab the No. 8 spot.
Willie Reed scored 16, Josh Richardson had 15 and James Johnson scored 12 for Miami.
Trey Burke scored 27 for Washington, while Sheldon McClellan had 18, Marcin Gortat added 16 and Otto Porter Jr. finished with 11.
The Wizards played without starters John Wall, Bradley Beal and Markieff Morris, all resting up for Game 1 of their first-round series against Atlanta this weekend.
Washington started the season 2-8, and ended up with the No. 4 seed in the East.
"We have a team that plays hard, just like Miami," Wizards coach Scott Brooks said. "They have a team that they can be proud of every night. You're not going to win every night, but you're going to leave everything on the floor every night. And we've done the same thing. We didn't have the good start, but we stayed together."
That they did, in a most unusual season.
They went 11-30 in the first 41 games, second-worst in the league.
They went 30-11 in the final 41 games, second-best in the league.
They became the first team in NBA history to pull off such a turnaround, and for the first time since being 2-2 they finally got back to .500 on the season's final night.
But they will go no place else now, and the next result of note for Miami will come at the May 16 draft lottery.
"Through the good times and the bad times, this group never forgot to have fun," Heat captain Udonis Haslem said. "We always enjoyed coming to work every day. We always enjoyed coming to work every day. We always enjoyed competing. We always enjoyed getting better. We even enjoyed the ride."
Only three other Heat teams in an 82-game schedule won at least 30 games in the second half of a season. Of those, all three went to the conference finals, and the 2013 team won the NBA title.
This team is just going home, a game shy of the playoffs.
"When you have players that embrace culture, and we embrace them for who they are, and they take ownership, and it evolves into something even different and better, it's one of the most powerful things in team sports," Heat coach Erik Spoelstra said. "And that's what this group has done."
TIP-INS
Wizards: Even with the loss, Washington (49-33) posted the sixth-best regular season in the franchise's 56-year history. … Marcin Gortat started all 82 games this season. … McClellan's college coach -- Miami's Jim Larranaga -- was courtside. … Larranaga was three seats from Floyd Mayweather, and tennis legend Martina Navratilova was also in attendance.
Heat: Miami went 4-0 against Washington and 16-14 against East playoff-bound teams. … Whiteside got his 58th double-double, extending his franchise single-season record. … Dion Waiters (ankle) missed his 13th straight game. The Heat were 27-19 with him, 14-22 without him this season. … Miami didn't lead until the midpoint of the second quarter, then stayed ahead the rest of the way.
UNLUCKY 13
The Heat are the first team since the 2007-08 Portland Trail Blazers to win 13 or more consecutive games and not make the playoffs. The pervious 16 teams with such a streak all reached the postseason. Eerie similarities: Both those Blazers and this Heat team finished 41-41, and both had Josh McRoberts on the roster.
LOOKING AHEAD
Washington went 3-1 against Atlanta this season. But a reason for concern: Wall has shot under 50 percent in each of his past 11 games versus the Hawks.
QUOTABLE
Spoelstra had a great line when asked how the Heat overcame the 11-30 start. "How do you eat an elephant? One bite at a time," he said.