HAMMOND: Harvick, RCR Make Most Of Time Left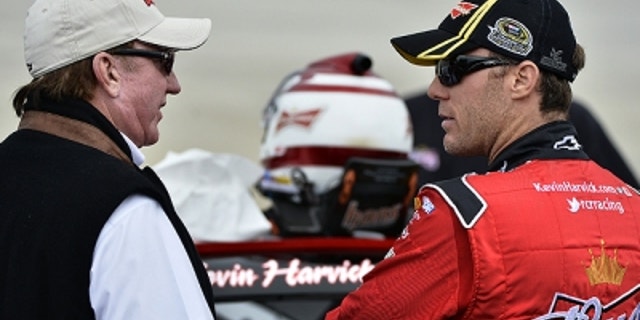 NEWYou can now listen to Fox News articles!
So now ol' Happy Harvick has won two of the last three Coca Cola 600s. As much as I know Kevin and know about Kevin, while he is sad to be leaving Richard Childress Racing, he knows it's time and is going about it very professionally.
He is showing everyone that wants to label the No. 29 camp as "lame-ducks" that those folks are completely wrong. Kevin is showing Richard Childress and everyone in the organization the respect they deserve by going out and fighting for a championship before he leaves. He already had two NASCAR Sprint Cup points' races this season plus a non-points race win at Daytona. That's unheard of normally in our sport during a transition year.
In a strange way, I think the pressure is off both sides and everyone is seeing the results on the racetrack. By winning the other night at Charlotte Motor Speedway, Kevin jumped the No. 29 car three spots to seventh in the points. Like I mentioned, he has the two wins but also three top-5 finishes and four top-10 finishes in 12 races so far.
Basically, Kevin, the team and the organization are all OK realizing they won't be together next year. While they have no future together, they are making the best of the time they do have left and are going out in a blaze of glory.
I just think it is incredible what they are doing. So many times in the past in our sport, when a split is announced the two sides never really seem to live up to their ability. Many times when a driver announces he is leaving, he is actually gone before the season has ended. The owner basically writes off the rest of the current year to get someone in place and up to speed for the following year. That simply is not the case here and I think it's great.
Kevin has the nickname of "The Closer" because of the many races that maybe you don't see him up front most of the day, but when it comes down to the wire, there he is -- and usually he's winning. Kevin just says it is the style that he prefers to race.
He said he learned it on the short tracks where he didn't use up his equipment early and many times let the race come to him. Kevin said if it was a 100-lap race, for example, he knew where he wanted to be with 25 laps to go and that was his goal to get in position. He'll tell you it's just something that's been ingrained in him from a very early age. He simply just carried that over to his NASCAR Sprint Cup career and we've seen it time and time again from Kevin.
It's also a process of maturity. Just think back to 2001 when he had to take over that car and team under horrible circumstances and all the pressure that came with it. He first had the nickname "Rookie." Then he became known as "Happy Harvick." Now, as mentioned, he is known as "The Closer."
Everyone knows I worked with Darrell Waltrip for all those wins and championships. Darrell raced almost identically to how we see Kevin do it today. Like Darrell, Kevin knows you don't have to be up front at the start of the race, or even the middle of the race. You don't have to lead every lap at any cost. Kevin knows quite well that the big trophy and even bigger check are given to the driver who leads the last lap. Pretty smart, huh?