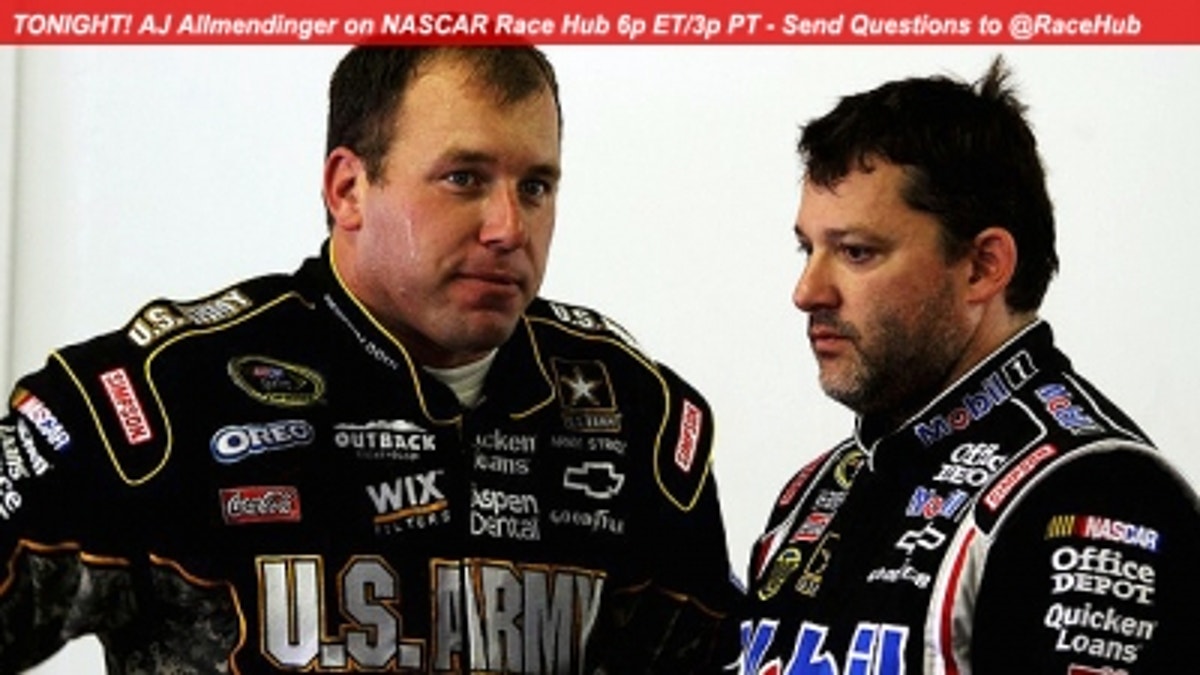 With only five races until the 2012 NASCAR Chase for the Sprint Cup field is set, Hendrick Motorsports is on the verge of having all four cars in the championship-determining field.
That's a pretty remarkable rebound considering how both Jeff Gordon and Kasey Kahne struggled early on in the season.
Obviously there is a lot at stake in the Chase today. Having teammates in the Chase is extremely beneficial. The key, as with most everything, is communication. It's in everyone's best interest within the organization to maximize the opportunity before them.
If you look at Jeff Gordon, for example, he seems to have benefited from the break we had between the races at New Hampshire Motor Speedway and Indianapolis Motor Speedway. I think he and his No. 24 team did an excellent job of maximizing that off week when you look at how they ran in the Brickyard 400 and then obviously pulling off the win Sunday at Pocono Raceway.
With Kasey Kahne finishing second at Pocono, all four Hendrick cars were strong all day long. Now sure, Dale Earnhardt Jr. had the transmission problem, but up to that point he had been running really well. I think if he hadn't had the transmission woes, he clearly had a car capable of fighting for the win.
With his win Sunday, Jeff really changed the complexion of the wild-card race. His teammate Kasey currently holds one of the two wild-card spots and now Jeff has the other. Remember that only a week ago, all the talk was about Jeff not having any wins and that he probably was going to miss this year's Chase. All that changed Sunday afternoon when Mother Nature rained on everyone's parade, except for Jeff Gordon.
If you look at Stewart-Haas Racing, for example, that organization now faces a similar situation. Even though he has a win this season, because of where he is in the points, Ryan Newman is on the outside of the Chase window looking in. Naturally his teammate and owner, Tony Stewart is all but locked into the Chase, so now as an organization, Stewart-Haas Racing will be focused on doing whatever it takes to get Ryan into the Chase.
It's pretty much the same song over at Joe Gibbs Racing, but it now has a harder hurdle. Going into Pocono, the organization had two of its three cars in the Chase. Jeff Gordon's win and Kyle Busch's continued struggles bumped Jeff in and Kyle out.
Denny Hamlin is securely in, but like Ryan Newman, both Kyle and Joey Logano have a win this season but right now neither is in the Chase field. The marching orders in the Gibbs' camp obviously are do whatever is necessary to try and get Kyle and Joey into the Chase field.
All these teams realize the clock is running. In five short weeks, the 2012 Chase field will be set. The other interesting dynamic that I am not sure folks realize is have you noticed there really isn't any talk about who is leading the points going into the Chase? The focus isn't at the top of the charts, it's at the bottom and who will be able to hold onto those coveted 11th and 12th spots following that much-anticipated Saturday night under the lights at Richmond.
Taking that even a step further, the 10th position is not totally a given. So there are some teams that are sweating out the clock these next five races, like Clint Bowyer -- who is currently in that 10th spot.
I think all of us are in for a spectacular five-race battle just to get us to the Chase. You will have teams making an offensive charge, while at the same time, you will have teams taking a defensive stance in an attempt to not give up any ground.
I am not a big fan of taking a defensive position. I just believe if you take that approach you will end up losing. I maintain you go out there and run as hard as you can with the faith that the points will take care of themselves.
Like we tell you week after week, it's all about winning. That's where you can make up a lot of ground especially with the bonus points they get today.
If you are thinking about points right now, instead of thinking about winning, well in my book you are really thinking about losing. In our sport, today it's all about winning.