Gulati: No point benchmark for Klinsmann in opening WCQ matches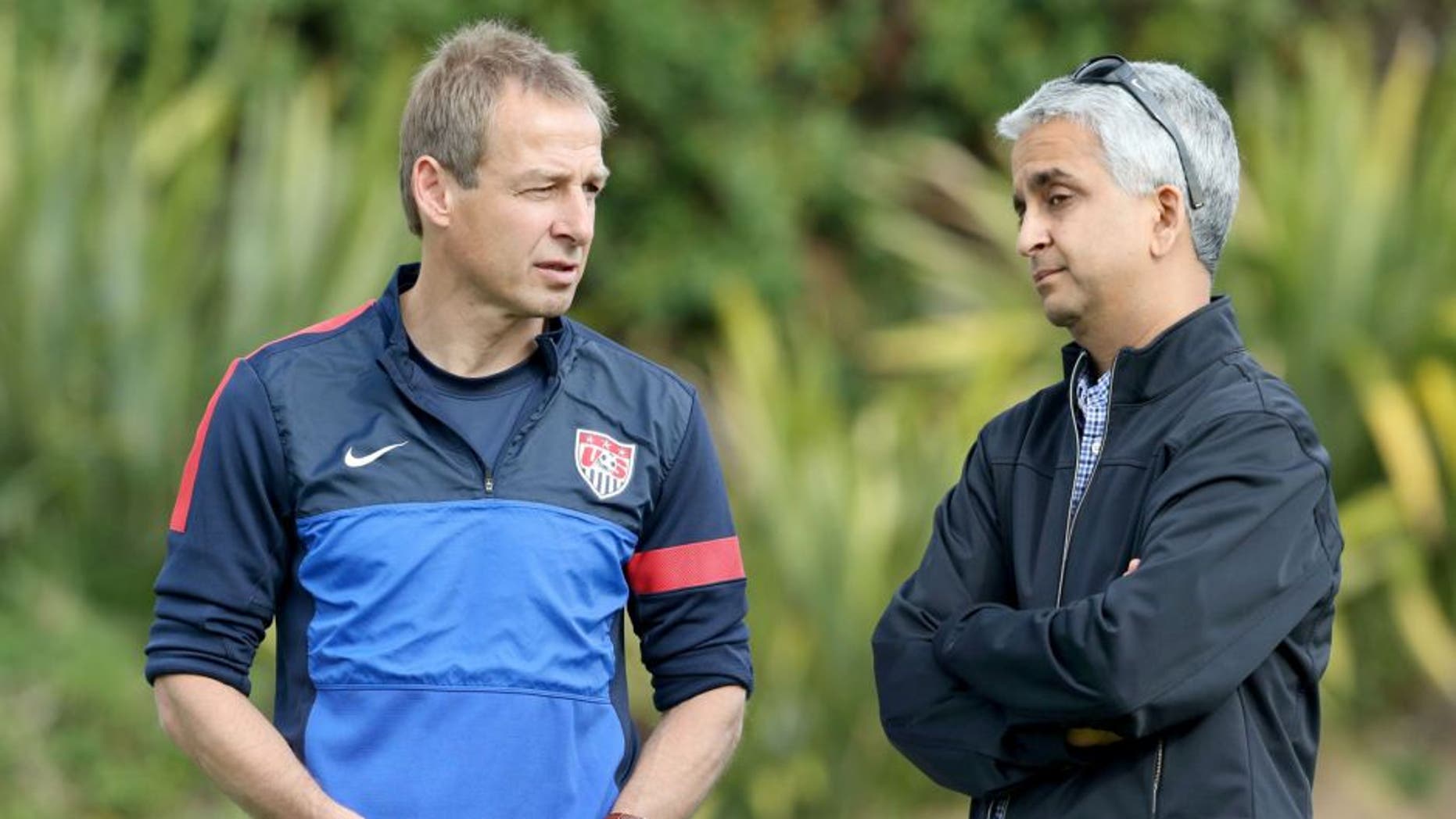 ST. LOUIS --
United States coach Jurgen Klinsmann does not need to meet a specific benchmark in the World Cup qualifiers against St. Vincent and the Grenadines and Trinidad and Tobago in order to retain his job, according to U.S. Soccer president Sunil Gulati.
Gulati, Flynn and Klinsmann met for over two hours on Oct. 26 in Washington prior to the U.S. women's national team's visit to the White House, Gulati and Flynn confirmed during a roundtable ahead of the match against St. Vincent on Friday.
The three men discussed the recent string of poor results and the on-field performances, but Gulati said he did not outline a specific requirement for Klinsmann to meet in order to keep his job as coach.
"That was certainly the most in-depth of the discussions because it was after the two games," Gulati said. "I don't know if we have ever given the coach of any of our teams a specific metric and a specific result and said, if this happens, everything is good, if this doesn't happen, it is not. We have certain targets and goals that are different for each of our teams. I'm not sure it'd be appropriate to have a certain metric for one games, two games. Qualifying for the World Cup is a pretty important metric."
The recent downturn in results -- including the defeat to Jamaica in the CONCACAF Gold Cup semifinals, the heavy loss to Brazil in September and the setback against Mexico in the CONCACAF Cup final -- prompted a frank discussion about how turn things around at the start of World Cup qualifying.
"Jurgen didn't need to hear from Dan or I that we had concerns," Gulati said. "He knew that based on the results. We made that very clear. We raised some of those specific concerns. We had an open dialogue about some of the issues he's seen, some of the issues we've seen. But I'm not going to get into his response on X, Y, and Z, but we clearly weren't in a good place after that series of results. The fundamental question is what we are we doing to make sure this string of results and the way we're headed is not the way we're going to be in November, January and beyond."
The recent difficulties -- a run of one win in six matches starting with the loss to Jamaica -- mark the first protracted run of poor results since Klinsmann took charge in 2011. Gulati cited Klinsmann's success during his tenure -- including a 12-match winning streak in 2013 and the round of 16 exit at the World Cup last summer -- and highlighted the need to balance the positives and the negatives as the World Cup qualifying campaign commences.
"Is there a concern? Of course there is a concern," Gulati said. "We've had some results that didn't go our way, both in terms of wins and losses and in terms of our play. Of course that raises concerns. The more of those you have, the more concerns they raise. And they compound very quickly."