Grier persevered to carve out lengthy NHL career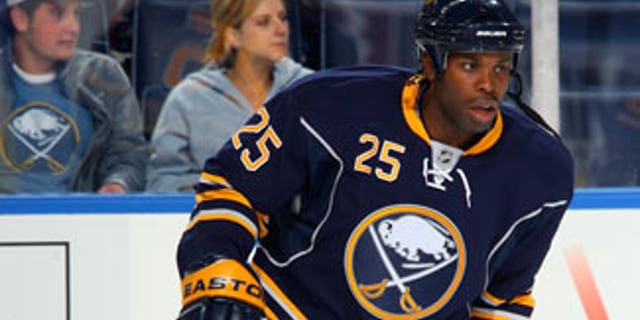 PHILADELPHIA -- Mike Grier learned early in life the benefits of controlling your emotions.
It was right around the time Grier was set to leave St. Sebastian's School in Massachusetts to begin his collegiate career at Boston University. As one of only a handful of African-American players competing within the Division I ranks, Grier was forced to stick up for himself more often than not.
"He grew up playing pee-wee, bantam and prep school hockey when there weren't a lot of kids of his color playing the sport at that time, so I don't think it was any huge adjustment when he got (to Boston University)," BU coach Jack Parker told NHL.com. "But I don't think it was easy, either. It only became easier when everyone realized just how good he was on the ice and what a great guy he was off it."
Grier racked up 225 penalty minutes in 114 college games, but he'd also take with him the building blocks required for one heck of an NHL career.
"I remember coach Parker telling Mike and me that it wasn't fair to Mike because all season long he was being unfairly penalized by the officials for boarding or charging for his body checks that were clean but exceedingly forceful at the college level," Grier's agent, Jay Fee, told NHL.com.
To his credit, however, Grier never became frustrated.
"There was stuff going on and things were said every now and again," Grier said. "My mom told me the best way to get back at people was to put the puck in the net, so I tried to control my emotions and I was fortunate because I always had great teammates and coaches who stuck up for me and were always by my side."
In three seasons at BU, Grier totaled 49 goals and 61 assists while earning All-America and First Team All-Star honors as a sophomore in 1994-95. Parker was always amazed by Grier's durability and quick recovery time, not to mention his toughness both mentally and physically.
"Mike came in as a freshman and our conditioning coach did a fabulous job carving him up a little bit and getting his weight and body fat down to the point where he was serviceable, so to speak," Parker said. "He didn't dress the first game of the year, but in the second was on the fourth line, and by the third game the top line. Within a month, not only was he taking a regular shift, but killing penalties."
Grier would ultimately become a penalty-killing specialist, not only for Parker but throughout an NHL career that has spanned 14 seasons with four different teams.
"People gave us a lot of credit for making Mike a better skater but, in reality, the only reason he became a better skater was when he just decided to start skating," Parker said, laughing.
"I remember telling him one time, 'You know Mike, this game would be a lot more fun if you actually moved your feet,' " he said. "Coupled with the fact he changed his attitude about what his game should be and got much trimmer and stronger, made him a much better skater to the point where he became a much more attractive player to the NHL teams."
Prior to his third and final year at BU, the St. Louis Blues -- who selected in the ninth round of the 1993 Entry Draft -- traded his rights to the Edmonton Oilers, where he'd spend nearly half of his NHL career. In four of his six seasons there, he scored 15-plus goals, including a career-high 20 in both 1998-99 and 2000-01.
He also left a lasting impression on one starry-eyed Oilers rookie in 2000-01 -- Shawn Horcoff.
"There were so many good things about Griersie," the current Edmonton captain said. "He was just a consummate professional; such a team guy. He was always out with the guys, involved in dinners or parties and family things … taking care of the young guys. It was guys like Griersie who I looked up to because he helped me feel comfortable as a rookie, yet stay on top of me enough to let me know my place. He pushed me and never allowed me to get too cocky, but was always there to remind me how important I was to the team. You can ask anybody and they'll tell you there aren't too many guys around the League better than him."
It's that quality that the Buffalo chapter of the Professional Hockey Writers Association realized when selecting Grier as this season's nominee for the Bill Masterton Memorial Trophy, given annually since 1968 to the NHL player who best exemplifies the qualities of perseverance, sportsmanship and dedication to hockey. He'll look to become only the third Sabre in history to win the award, along with Don Luce in 1975 and Pat LaFontaine in 1995.
On Nov. 3, Grier played his 1,000th NHL game to not only become the 254th player in League history to reach that mark, but the first African-American born and trained in the United States. It's a feat that Grier doesn't take for granted.
"It's a nice accomplishment and nice milestone to reach," he said. "It took me quite a few weeks to wrap my head around it, sit back and kind of admire the accomplishment. It's something that, when I started, I'd never thought I'd reach so I'm pretty fortunate."
After missing the final seven games of the regular season with a knee injury, Grier was back in the lineup for Game 1 of his team's Eastern Conference quarterfinal-round series against Philadelphia, doing what he does best. During last year's postseason, he was one of the team's top players, scoring 2 goals, blocking 12 shots and doling out a team-high 33 hits in Buffalo's six-game series loss to the Boston Bruins. In a Game 1 victory over the Flyers, he finished tied for the team lead in hits (5), blocked one shot and played a key role in killing all five Philadelphia power plays.
In 73 games this season, Grier produced 16 points, but it was his presence away from the puck in collecting 112 hits, 48 blocked shots and 26 steals that proved far more valuable.
Since 2002, the 6-foot-1, 227-pound defensive-forward has spent time in Washington and San Jose before signing with the Buffalo Sabres in August 2009 for a second stint under coach Lindy Ruff.
"It's been a heck of a career," Ruff said. "To play the number of games he's played, it's pretty special. He's had a role that has fit his game and he's been a good leader inside dressing rooms and he's a good person, and I think that's made him very effective."
Follow Mike Morreale on Twitter at: @mike_morreale