Gray shoots her way to Olympic gold for US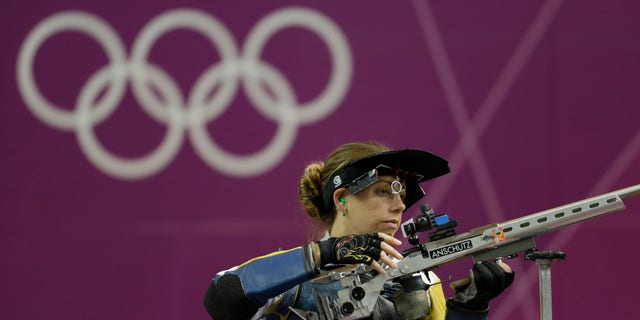 LONDON – Almost a medalist in Beijing. Almost perfect in London.
For Jamie Lynn Gray, four years of anguish was washed away on Saturday.
Gray gave the United States its third shooting gold medal of the London Olympics, winning the women's 50-meter three-position rifle. Her clinching final shot netted 10.8 points -- you can't do better than 10.9 -- and gave her an Olympic-record total of 691.9, 4.4 points better than silver-medalist Ivana Maksimovic of Serbia.
"That last shot is probably one of the hardest shots to take," Gray said. "And I've worked on taking that last shot for four years."
Oh, it paid off.
Gray saw bronze medals narrowly slip away twice in Beijing, settling for fourth in air rifle and fifth in the three-position event -- missing the medal stand by a combined 1.8 points in those events, and seeing what looked like at least a sure bronze in three-position get away on a last-shot mistake.
Not this time.
Gray slipped up a bit on her next-to-last shot in the final, managing only an 8.9, her worst shot of 10 in the medal round. Still, she only needed an 8.3 on the finale to wrap up gold -- and did far more than that, wrapping it up with her best score of the round, and giving the Americans their first three-gold Olympics since 1984.
"I've worked for four years taking that shot, over and over and over again in my head," said Gray, who competed under her maiden name of Beyerle in Beijing. "I shot a bad shot, of course, the second-to-last shot. And I just threw it out. I did a great job of going, 'OK, it's over, it doesn't matter and move on to the next one.' And that's exactly what I did. And it was a great shot -- couldn't ask for anything better."
Also for the U.S., Amanda Furrer was 15th in three-position, where shooters compete prone, kneeling and standing.
In women's trap, Italy's Jessica Rossi was right there alongside Gray -- almost perfect, and an Olympic champion.
The 20-year-old Rossi set world and Olympic records by not missing a single shot in qualifying, and following that up with a 24-for-25 showing in the final to win the gold medal with ease. She re-wrote the record books, sweeping both the qualifying and overall world and Olympic marks with scores of 75 and 99.
She flirted with a perfect 100, getting to 91-for-91 before her lone miss of the day.
When it was over, Rossi -- a policewoman when she's not competing -- wrapped herself in the Italian flag, even while three other competitors were preparing for a tiebreaker to decide the silver and bronze spots.
"Molto bene," Rossi said, beaming.
No translation required for that one. She had no complaints afterward, as she made her way to see a dozen or so friends and family wearing hooded sweat shirts in Italy's colors and with her name across the front.
Zuzana Stefecekova won the silver medal, topping bronze-medalist Delphine Reau of France in the shoot-off. Alessandra Perilli of San Marino also made the tiebreaker, and was the first eliminated, meaning her nation is still waiting for its first Olympic medal.
"About Jessica, I can just say that she had today her own competition," said Stefecekova, who was the previous overall world record holder with a score of 96. "I don't know what she ate for breakfast, but I'm very excited to have some friends like her."
Olympic skeet champion Kimberly Rhode of the U.S. was ninth after a score of 68 in trap qualifying, missing out on making it to the medal round. Another American, Corey Cogdell, placed 11th, also with a 68.
"I can't complain," Rhode said. "I came out here with seven rounds of practice after skeet and did the very best I could. I'm very happy with the way everything turned out."
Maybe no one at the Royal Artillery Barracks left happier than Gray.
She was one of the last to shoot in every round of the final, taking a few extra seconds for some deep breaths, visualization, going through the mental checklist she's had since 2008. Every time she's practiced since Beijing, what went wrong there has been in mind, so much so that she's refused to leave the range until she shoots a 10.
"You never want your last shot to be a bad one," she said.
So it was fitting. On Saturday, on the Olympic stage again, her last shot was her best. All the work, all the visualizing, all the pain of having to answer what went wrong in Beijing four years ago, it all paid off.
"It was almost a little bit of relief, honestly," Gray said. "I've dreaded that last shot for four years. And it's amazing to have it come through and be a good shot -- and I took a good shot, that was the big thing. Sometimes you come down on target and you just take a shot and it's like, 'Uh, I don't know where that is.' But I knew it was a good one. It looked good and it felt good, so yeah, it was awesome."