Gordon added to Chase as 13th driver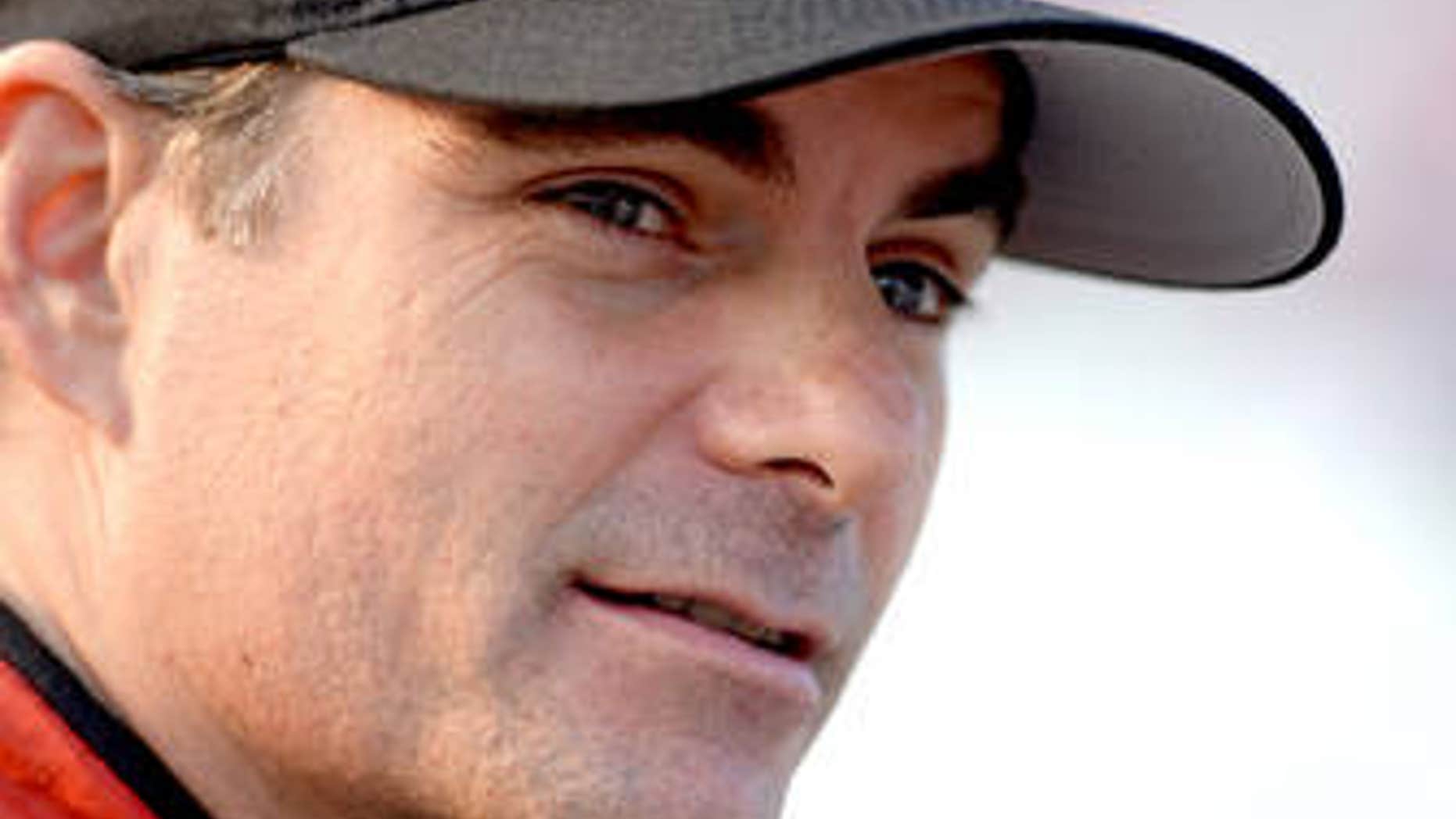 JOLIET, ILL. – For Jeff Gordon, 13 is a lucky number.
After nearly a week of deliberation, NASCAR made the unprecedented decision Friday to add the four-time champion to the 2013 Chase for the Championship field.
"Due to the totality of the events that were outside of Jeff Gordon's issues, we're going to add a 13th position to the field and Jeff Gordon will qualify for the championship this year," NASCAR Chairman Brian France said in an afternoon press conference. "We believe that looking at all of it that there were too many things that altered the event and a gave an unfair disadvantage to Jeff and his team who would have qualified.
"I have the authority to do that, we are going to do that. It's an unprecedented and extraordinary thing, but it's also an unprecedented and extraordinary set of circumstances that unfolded in multiple different ways on Saturday night. We believe this is the right outcome to protect the integrity -- which is our number one goal -- of NASCAR."
Gordon was running seventh at Richmond International Raceway on Saturday night when Michael Waltrip Racing driver Clint Bowyer spun to bring out the caution with seven laps remaining in the race. At the time of the caution, Gordon had the position and the points to qualify for the top 10 in the standings and a spot in the Chase.
Gordon is 13th in the points standings after all three Michael Waltrip Racing drivers, including Martin Truex Jr., were docked 50 points Monday. Gordon has qualified for nine of the 10 playoffs since the Chase was introduced in 2004.
NASCAR president Mike Helton added that both Front Row Motorsports and Penske Racing will be on probation for the remainder of the season.
"We're going to protect, no matter what it takes -- the integrity of the sport will never be in question," France said. "We're going to make sure that we have the right rules going forward."
NASCAR officials met with Front Row Motorsports crew chief Frank Kerr and spotter David Keith at Chicagoland Speedway on Friday morning to discuss Saturday's incidents at Richmond International Raceway.
A separate meeting was held with Penske Racing vice president Bud Denker, competition director Travis Geisler, vice president of operations Michael Nelson, crew chief Todd Gordon and spotter Tab Boyd.
Both teams reviewed radio communications and tape from the Richmond NASCAR Sprint Cup race.
Helton also announced that NASCAR would be organizing a mandatory meeting for drivers, owners and crew chiefs for Saturday to "address and make more clearly the path going forward as it applies to the rules of racing and the ethical part of it." France added that there "are lines" and the competitors will have a clearer understanding of those lines after the discussion.
On Wednesday, FOX Sports learned of team communication with David Gilliland during Saturday night's Richmond race in which the driver and crew discussed giving up a position on the track to Logano to help him cement a berth in the Chase. Logano went on to finish 22nd while his Ford counterpart Gilliland was 23rd.
Logano edged Gordon in the battle for the 10th and final position locked in based on points.
NASCAR issued statements Wednesday and Thursday saying that it was looking into the radio chatter and would have no further comment until the facts were cemented.
Later Wednesday, Gordon said that he felt he deserved to be in the championship-determining field.
"I haven't heard the audio, I heard about it," he said while at a charity event. "All I can say is I really feel like we deserve to be in it based on everything that happened Saturday night."
For his part, Logano did not seem concerned after radio communication was aired on NASCAR Race Hub and appeared in an Associated Press story.
On Thursday, as he appeared with the other 11 drivers in the Chase for the Sprint Cup on media day, Logano was asked specifically about the radio conversation.
"I am going to be 100 percent honest with you, I knew nothing about it until yesterday," he said. "I landed and we went to New Hampshire yesterday to do some Chase stuff and my phone was blowing up. I was like, 'What is going on?' That is new stuff to me. Obviously there is no transcript on our radio of anything said about it. Obviously I would have known about it if that was the case. That is stuff that happens week in and week out with spotters. They are up there communicating back and forth trying to work deals out. 'Hey, help me out here, I will help you out here, let's work together.'
"That happens all the time. What I look at it and say is that if we didn't pass the 38 car we were still 10th in points and still got our bonus point so it has no change in the outcome of where we are right now. I don't look at it as being a big deal at all to be honest with you."
But, Logano was asked, are you worried NASCAR might view this as a big deal and issue a penalty?
"No, I am not concerned about it," Logano said. "I am focused on trying to win Chicago right now. It is not a distraction to me at all to be honest with you. I am just here to race."
This was the second scandal to hit the Chase this season.
During Saturday night's race, Michael Waltrip Racing's Clint Bowyer came under fire when his late-race spin, which created a caution, was called into question. Critics accused the driver of intentionally spinning, an accusation he denied in his postrace interview but has since largely evaded discussing when asked directly about it. Then radio communication between his teammate, Brian Vickers, and his crew was closely studied, particularly a late pit stop that gave MWR's Martin Truex Jr. a needed position on the track. Stops by his teammates, and Bowyer's spin -- whether intentional or not -- changed the outcome of the race.
Ryan Newman, leading at the time of the caution, lost his shot at the Chase in the ensuing pit stop. Gordon, too, was eighth before the caution and ahead of Logano in the standings, but lost his edge on Logano by race's end. After the race, Truex and Logano were in the field; Newman and Gordon outside of it.
A day later, NASCAR announced it was investigating Michael Waltrip Racing and Monday night the sanctioning body called into question Vickers' stop and made the unprecedented move of penalizing all three MWR cars 50 points each for attempting to manipulate the outcome of the race (though president Mike Helton said "there's not conclusive evidence that the 15 spin was intentional"). That punishment left Truex outside of the field as the penalty was assessed to the points after the race, but before the 12 drivers were reseeded for the Chase. Truex fell to 17th in the standings and lost his wild-card berth.
Newman moved up and into the Chase, but Gordon was still left outside of it although his outcome had also been impacted -- something NASCAR stated it could not alter as a "ripple effect" of the other activities.
Gordon had made the Chase field all but one previous season since the format was introduced in 2004.
Rick Hendrick, owner of Hendrick Motorsports reacted to the news:
"I applaud NASCAR for taking the time for a full review. What occurred at Richmond was not of their making, and they've had to wrestle with some very difficult decisions throughout the week. I know everything done by NASCAR has been a sincere effort to be fair and ultimately do what's best for our sport and our fans.
"We're extremely proud to have all four cars in the Chase for the second consecutive season. Jeff (Gordon) and the No. 24 team earned this spot, and we're going to leave everything on the racetrack during these last 10 (races). The support this week from our fans and partners has been incredible, and I'm proud of everyone at Hendrick Motorsports for the effort that's gotten us here. The Chase is going to be exciting."