Gold Cup: No Cakewalk for U.S. as Panama Upsets Them in Stunner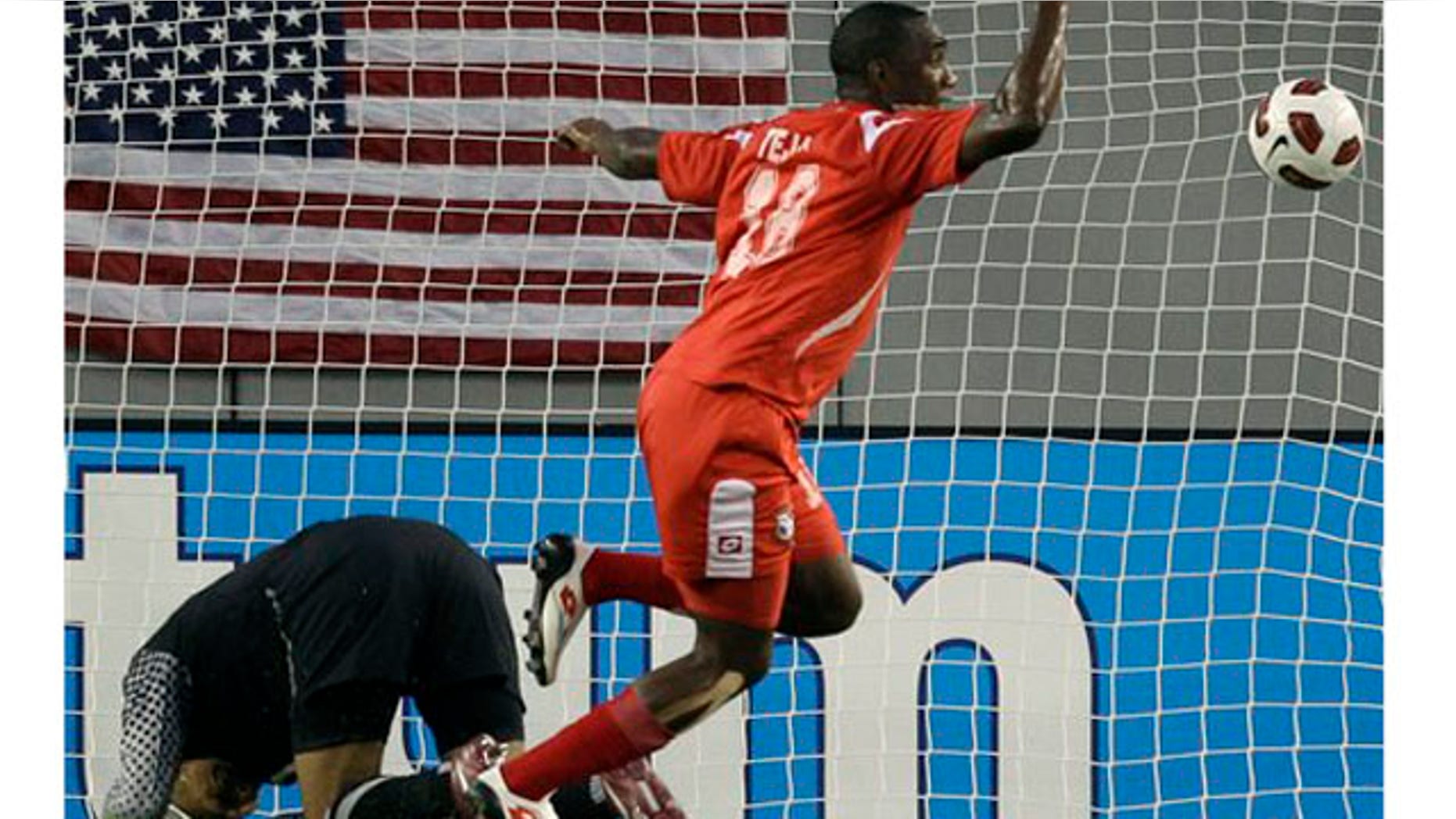 When the powers that be at CONCACAF put together the Gold Cup schedule, they went out of their way to make sure that it would be a long shot for the United States and Mexico, the confederation's great superpowers, to meet earlier than the final.
One team would capture its group title and the other would have to finish third in its four-team group for that to happen.
The U.S. or Mexico taking third place in its group in the Gold Cup? Unthinkable, right?
Well, the unthinkable could very well happen.
After Saturday night's stunning result -- Panama's 2-1 upset of the four-time Gold Cup champions -- the Americans could very well finish in third place in Group C and throw the powers' plans out of the window. It all depends on how the third and final phase of opening-round games go this week. That outcome would upset everyone's plans of a Mexico-U.S. final in a June 25 confrontation at the Rose Bowl in Pasadena, Calif.
The Americans have no one to blame but themselves.
They started out slowly, allowing Panama to get them on their heels and they did not create enough or take their early chances when it really counted. Add some sloppy defending and a penalty kick and the Central Americans found themselves with a two-goal halftime advantage as the fans at Raymond James Stadium rightfully booed the U.S. as the players left the field.
"You can't start that way," U.S. midfielder Donovan said. "For some reason we were a little lackadaisical, a little complacent early. We had some of the ball and we felt OK about ourselves. They put us on our heels a few times and they made a play that changed the game. And then the penalty's a little fluky and now we're chasing the game."
Which is one thing you don't want to do in the western Florida heat and humidity, even at night. The loss snapped the Americans amazing 26-game unbeaten streak in opening round Gold Cup matches (24-0-2).
Starting games off slowly isn't anything new for the U.S. It struggled to the second round of last year's World Cup by allowing the opposition to score first and dictate the pace in many matches.
You would think the Americans would learn, sooner than later. But apparently not.
"Give Panama a lot of credit," Donovan said. "They started the game well, took the initiative to be aggressive. When you dig yourselves a hole that huge sometimes you can't get out of."
The U.S. tried. First, it played panic soccer, performing as though it was trying to score two goals at once. After coach Bob Bradley calmed the team down at halftime, the Americans can out more composed and focused in the second half and made a game of it.
While they dominated the final 45 minutes, they could never find the equalizer.
"We had the ball in pretty good spots, but we didn't finish off well enough," Bradley said.
"On the night, we were not good enough."
For Panama, a physical, athletic and gritty side, it was the triumph of a lifetime.
The Canaleros have never reached the World Cup and are probably known better for baseball players (baseball's greatest reliever, New York Yankees legendary right-hander Mariano Rivera, hails from Panama).
While the country is not known for its soccer, coach Julio Cesar Dely Valdes, a former Panama international, basked in the glory of one of the team's greatest, if not greatest, soccer triumphs. Entering the match, the Central American side was winless in eight games against the U.S. (0-6-2) as it was outscored, 18-4.
"Panama usually doesn't need a reason to celebrate, but this will definitely make them celebrate," said Dely Valdes, who is negotiating to extend a 10-month contract that ends after this tournament.
"It's an historic moment. We, as a coaching staff, have to keep our feet on the ground to make sure that we are successful in the other games."
Panama, 67th in FIFA's rankings, compared to the No. 22 U.S. side, has made some great strides in soccer. Los Canaleros captured the 2009 Copa Centroamericana, a qualifying arm of the Gold Cup.
"The mentality in Panama has changed," he said. "The local league has gotten better. Before, we might have had four or five players playing overseas. Now we have close to 15 or 20. The coverage is better. Now at this point, soccer is by far the most popular sport, but it has taken time. We have been able to appeal to more people in Panama."

Striker Blas Perez said the overseas players have been a big help.

"They're bringing in their style where they're playing and they're infusing it with the national team," he said. "Also, the young kids coming up have a lot more motivation based on seeing what their players are doing outside of Panama. They bring a spirit of winning."
For perhaps the first time in the 20-year history of the tournament, the U.S. finds itself in a must-win situation in an opening-round match as it prepares for Guadeloupe in Kansas City, Kansas on Tuesday. Beyond playing Mexico earlier than usual, the Americans' pride and reputation are at stake.
"It's bound to happen at some point," Donovan said of the U.S. finally lose a group-stage match. "CONCACAF teams are getting better and better. That's a pretty good team we played against.
"We have to turn around and make sure we are ready to play. We are still fine. We just have to make sure we learned some lessons today."
A very, very difficult lesson learned.
Michael Lewis, who has covered international soccer for more than three decades, can be reached at SoccerWriter516@aol.com.
Follow us on twitter.com/foxnewslatino
Like us at facebook.com/foxnewslatino