Girardi making name known with fearless play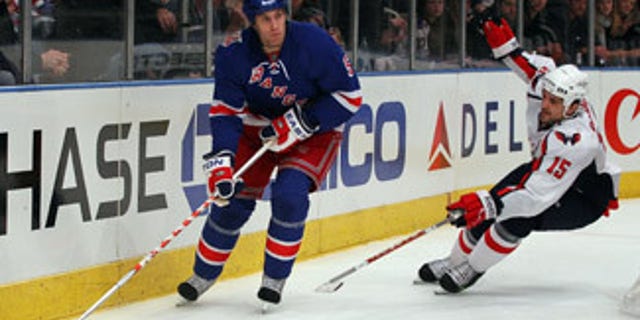 GREENBURGH, N.Y. -- Defenseman Dan Girardi has started to make a name for himself in the NHL, but there was a time when not even his coach knew it.
"When I first came here, I was calling him Joe Girardi," John Tortorella said, confusing him with the manager of the New York Yankees. "No lie. For a whole meeting."
Any fans who didn't know the name of the 26-year-old in his fifth season with the New York Rangers before Sunday's Game 3 against the Washington Capitals, probably do now after one of the more selfless shot blocks this season.
With the game tied 1-1 in the second period, the Capitals were in the midst of a 3-on-2 rush. Marcus Johansson was trailing the play and took a perfect drop pass that left him with a lot of free space. He had so much time that when he stepped into his slap shot, it threw off Girardi's timing on the block attempt.
Still, Girardi held his ground and rolled over into the shot, absorbing the rocket in his back, an area that doesn't offer as much protection as the front.
Girardi could be seen wincing in pain on the Rangers bench seconds later but never missed a shift. It was one of five blocks for Girardi that helped the Rangers to a 3-2 victory in Game 3 and pulled them to within 2-1 in their best-of-7 Eastern Conference quarterfinal series with the Capitals.
"I kind of slid and he kind of delayed for a second," Girardi said. "I got it in the back, but there's not much you can do there. I'm just trying to get in the way of the shot."
"He's got (guts) as big as the building," Tortorella said Monday at the Rangers practice facility, which is approximately 105,000 square feet. "The shot he blocked on that late 3-on-2 and the guy came in late, that's a huge play."
Girardi makes up one-half of the Rangers' top defensive pairing along with Marc Staal, who receives more of the attention and accolades. While Staal has the famous last name in the hockey world, Girardi's last name is more associated with one of New York's baseball teams than it is with the Rangers.
Throw in the fact that Girardi went undrafted, and it's easy to see why he flies under the radar.
"He's one of the more underrated players in this league, I'll tell you that right now," Tortorella said. "I think Marc gets a lot of the notoriety. Danny wasn't drafted and all that stuff. But he's a good player. He continues to get better."
Girardi's stock in trade is his ability to stay at home, block shots and defend well positionally. Those attributes have freed Staal to join the rush this season more than he ever has before. It's helped Staal score 7 goals and a career-high 29 points in 77 games.
"He's solid every game," Staal said. "He's physical, he blocks a ton of shots. He's a lot of fun to play with. He makes it a lot easier on me. He's been great all year long. With a bigger stage in the playoffs, everyone starts realizing how talented a player he is."
The fact that Staal and Girardi have been partnered for what seems like forever only makes them more formidable.
"I think the experience helps," Staal said. "He sits back a little more, allows me to get into the rush when I feel the opportunity to jump in. Communication is a big thing for us, too. We talk a lot on the ice and on the bench just to work things out if they're not going our way."
"It's still 2-1 for them, but I think that's definitely a step in the right direction to get a little momentum here," Girardi said. "We just have to come out hard (in Game 4)."
Follow Dave Lozo on Twitter: @DaveLozo