Giants trio Bumgarner, Posey, Crawford win Silver Slugger Awards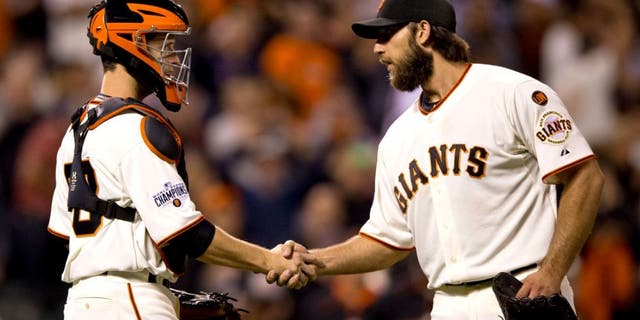 Buster Posey (left), Madison Bumgarner, and Brandon Crawford (not pictured) have been deemed the top offensive performers in the NL at their respective positions for 2015. Jason O. Watson Getty Images
The San Francisco Giants fell short of defending their World Series title this postseason, but they have been well represented this offseason.
It was announced Thursday that Giants pitcher Madison Bumgarner, catcher Buster Posey, and shortstop Brandon Crawford received Silver Slugger Awards, voted on by MLB coaches and managers for the top offensive performer at each position in each league.
While both Bumgarner and Posey have won Silver Slugger Awards in the past, Crawford is new to the awards circuit.
In addition to winning his first Silver Slugger for his bat this season (21 HR 84 RBI .256/.321/.426), the shortstop was also granted his first Gold Glove, an award for which he had contended for the past few seasons. Crawford also made his first All-Star team in 2015.
Bumgarner, who hit .247 with five home runs and nine RBI, is no stranger to awards. Not only did he take home the Silver Slugger Award last season for NL pitchers but was also last year's World Series MVP with an unforgettable postseason performance.
However, of all the Giants players who received a Silver Slugger for 2015, Posey has the most familiarity with the award. In addition to winning it last season, the 28-year-old catcher also won it in 2012, a season for which he was granted the NL MVP award.
Posey assembled another impressive mix of power and consistency in 2015, hitting 19 home runs with 95 RBI while maintaining a .318/.379/.470 split.