Giants TE Larry Donnell not yet recovered from Achilles' injury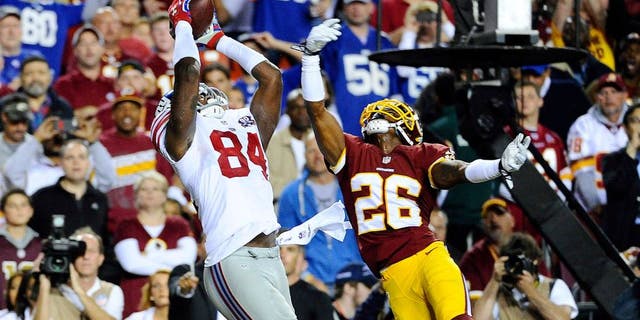 New York Giants tight end Larry Donnell sat out the majority of the Giants' spring practices with Achilles' tendinitis. The tight end is still not 100 percent healthy, and it has shown up on the practice field.
Giants tight ends coach Kevin Gilbride Jr. talked about Donnell's recovery and the improvements in Donnell's game that he noticed before the tight end started missing practices.
"He's coming along, as far as just getting healthy again," Gilbride Jr. said to Giants reporters, per Big Blue Interactive. "As far as football is concerned, it's his commitment to focusing on the techniques in blocking -- that's really improved. What we need to get him to do is really get back to where he was running routes. He's not quite there yet, but he's working towards it and he's done a nice job with the workload we've given him."
Donnell focused on improving his blocking during the offseason. If Donnell can get healthy again, Gilbride believes that he can a big-time pass catcher for the Giants.
"I think he can be a pretty special player, but there's a lot of improving that is going to have to take place in order for him to be that special player. The good thing is, he's working towards it, and he's starting to understand that he could be a pretty special guy as well."
As a receiver, Donnell was never the same dynamic threat after the Giants' Week 4 game where he racked up three touchdown passes. Donnell finished the final 12 games of the season with just two touchdowns and three games over with over 50 yards receiving.
Gilbride blamed Donnell's lack of production in part due to the injury, when asked if Donnell's drop in production after Week 4 had anything to do with it.
"I think so. I think the wear and tear of the full season -- it's the first time he's ever had to go through something like that. Even in college, he was a quarterback to start off and then became a tight end. College seasons are much shorter than the professional NFL year, so through the course of the year and the wear and tear, and the banging day in, day out that he took, did slow him down through the course of the season."
Donnell will look to get healthy and establish himself as an every down, two-way threat at tight end for the Giants. That means he will have to prove that his offseason work on his blocking can translate to the football field.
(h/t Big Blue Interactive)