Giants shut down Pence, Belt, Aoki, Blanco for rest of season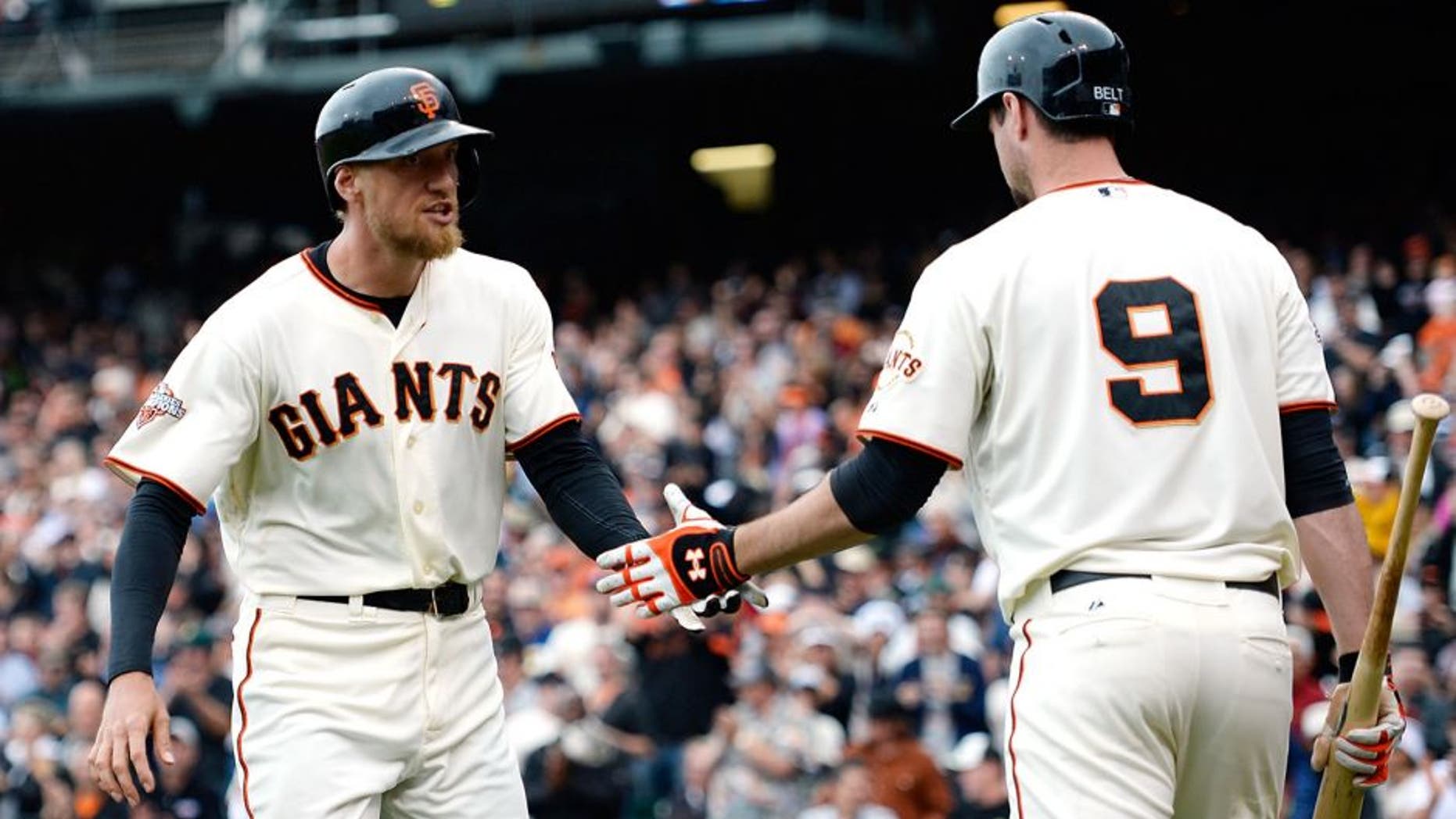 The San Francisco Giants have succumbed to their injuries.
Prior to the Giants' game against the San Diego Padres on Thursday, manager Bruce Bochy told reporters that a quartet of players, including Hunter Pence, Brandon Belt, Nori Aoki, and Gregor Blanco, have been shut down for the remainder of the 2015 season.
With nine games remaining after Thursday's contest, the Giants are 7 ½ games behind the Los Angeles Dodgers for first place in the NL West.
Pence, who only played 52 games for the Giants this season, last played on Aug. 17 after suffering an oblique strain on his last swing of a loss to the St. Louis Cardinals.
The 32-year-old outfielder, who has become known as a workhorse in his nine-year career, in which he's played 154 or more games in seven seasons, began the season on the disabled list due to a fractured left forearm he suffered on hit-by-pitch in spring training.
While he returned six weeks into the season, Pence was marred by injury a month later, when he was placed on the disabled list with tendonitis in his left wrist. A month after he returned from that injury, the right fielder suffered an oblique strain.
The other three Giants players deemed inactive for the rest of the season have all struggled with lingering symptoms from head injuries.
Belt hasn't played since being pulled from Friday's game after feeling woozy in connection with a head injury he sustained after hitting his head on an infielder's knee while trying to return to a base in a game last Tuesday.
Like Belt, both Aoki and Blanco played with concussion symptoms but were forced to periodically miss time after experiencing dizziness and lightheadedness.
Blanco's head injury came on June 14, when he was struck by an errant throw during batting practice.
The outfielder returned from the seven-day concussion disabled list on June 19, and played all the way through September, but last played on Sept. 9.
Meanwhile, Aoki, who was hit in the helmet by a fastball from Cubs starter Jake Arrieta on Aug. 9, hasn't started for the Giants since Aug. 31 and struggled mightily on the field after the incident, hitting only .192/.250/.327 in the 14 games he played following his concussion.
While Pence, Belt, and Blanco are under team control for next year, Aoki could become a free agent when the season ends, as he is currently on a one-year contract with a team option for 2016.