Giants' Matt Duffy wins Willie Mac Award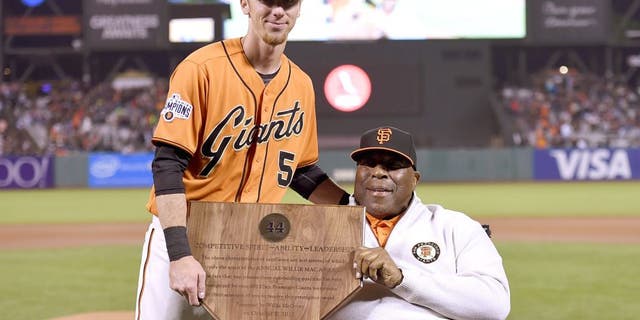 NEWYou can now listen to Fox News articles!
Matt Duffy will likely be surpassed in the NL Rookie of the Year voting by Cubs third baseman Kris Bryant, but he undoubtedly is the Rookie of the Year and more for the Giants.
The rookie third baseman has been granted this year's Willie Mac Award, the Giants' team award voted on by coaches, players, training staff, and fans given to the most inspirational player on the team.
Previous winners of the award include current rostered players Matt Cain (2009), Ryan Vogelsong (2011), Buster Poster (2012), Hunter Pence (2013), and Madison Bumgarner (2014), as well as former Giants stars J.T. Snow, (1997), Jeff Kent (1998), and Marquis Grissom (2003).
Duffy is the first rookie to receive the award since it was established in 1980.
In 149 games this year, the 24-year-old third baseman hit .295/.334/.428 with 12 home runs and 77 RBI.
"That's how well respected [Duffy] is by his teammates," manager Bruce Bochy said of the award. "How he plays the game on every pitch, every play, how he runs the bases -- and he's played what, 100 games in a row? He's got all their respect, and he should be proud of that."