Gennady Golovkin is gunning for 'Canelo' Alvarez after latest knockout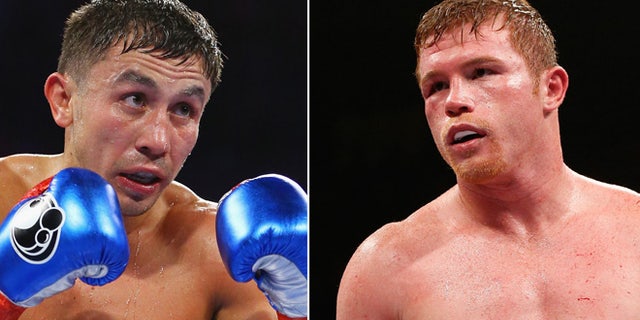 INGLEWOOD, Calif. (AP) – Saúl "Canelo" Alvarez is under pressure that has nothing to do with his fight against Amir Khan in two weeks.
Gennady Golovkin is determined to land his shot at Alvarez, and he's still knocking down everybody in his path.
After Golovkin earned his 22nd consecutive stoppage victory on Saturday, the middleweight champion and his camp renewed their campaign to get Alvarez in the ring with the Kazakh knockout machine for arguably the most anticipated matchup in boxing in the post-Floyd Mayweather era.
"It's time to have that fight," Golovkin trainer Abel Sanchez said. "I think Mexican boxing fans expect something from their heroes, and if Canelo doesn't take the fight, I think some of them will turn on him. Not all, but some. And he's going to have to deal with the repercussions of that. It's time for this fight."
Golovkin (35-0, 32 KOs) defended his own middleweight titles for the 16th time on a festive night at the sold-out Forum, brutally finishing Dominic Wade in the second round after three knockdowns.
The bout was every bit the mismatch expected, and it only served as an appetizer to fans hungry for a matchup between Golovkin and Alvarez, two of the sport's most exciting fighters.
Golovkin's crowd in his adopted hometown let loose with a deafening roar when Alvarez's name was mentioned. Few legitimate obstacles remain between the fighters after Alvarez takes on Khan in Las Vegas.
Both Golovkin and Alvarez have expressed interest in some version of a title unification meeting for Alvarez's WBC middleweight title and Golovkin's WBA and IBF belts. Golovkin spoke directly to Alvarez through television, saying: "Give me my belt!"
Golovkin's camp believes the only reason the fight wouldn't happen is the reluctance of Alvarez or his promoter, Oscar De La Hoya, to take on a power-punching middleweight who hasn't heard the final bell of a fight since 2008.
They just hope that Alvarez's pride, the WBC's pressure and the matchup's financial rewards prove irresistible.
"I believe Canelo is a warrior, but the business of boxing sometimes supersedes everything," Sanchez said, adding that De La Hoya is obviously the obstacle: "Who else could it be?"
According to the WBC, if Alvarez beats Khan, he has 15 days to begin negotiations for a fight with Golovkin. Alvarez must agree to terms after a 30-day negotiating period or be stripped of the famous green belt — at least according to the current stance of the WBC in this ever-changing sport.
Alvarez's middleweight title is particularly galling to boxing purists like Sanchez: Canelo is a natural super welterweight who won his 160-pound title while fighting Miguel Cotto at a 155-pound catch weight.
"There are weight divisions for a reason, and there comes a point when it gets ridiculous," Sanchez said. "Gennady wants to equal Bernard Hopkins' record for middleweight defenses. He wants to be the greatest in his division. He doesn't want to fight at Canelo-weight. He is a middleweight, and if Canelo wants to be a middleweight champion, so should he."
Promoter Tom Loeffler said Golovkin still intends to fight two more times this year, no matter the opponent. The busy champion already missed an HBO date in February while Alvarez and De La Hoya stretched out initial talks for a bout, with De La Hoya saying the matchup needed to "marinate."
Golovkin is still determined to hold all four major middleweight belts while chasing Hopkins' record of 20 consecutive title defenses. Along with Alvarez's WBC belt, Golovkin also wants the WBO strap belonging to unheralded Billy Joe Saunders of Britain, who already turned down the highest payday of his career to face Golovkin this spring.
"Gennady wants to unify the division, which is almost impossible when the other champions won't fight him," Loeffler said.
So while Loeffler and the WBC work behind the scenes, Golovkin will be at ringside when Alvarez takes on Khan in Las Vegas next month. He doesn't intend to confront the winner in public.
"That's not my style," Golovkin said with a grin. "He knows. I know. Everybody knows the situation."