Gegard Mousasi says rematch with Uriah Hall is for 'idiots' who don't know MMA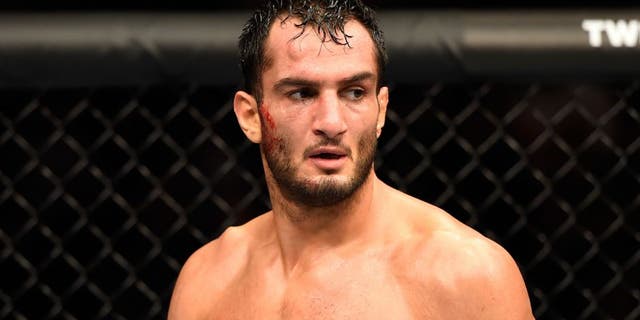 Gegard Mousasi hasn't suffered many losses during his 13 year career, but getting knocked out by Uriah Hall in 2015 is still probably the one fight that haunts him the most.
Following a dominant opening round, Mousasi made the mistake of looking for a takedown on Hall without timing it correctly and the former "Ultimate Fighter" finalist spun around and landed a picture perfect kick that knocked the veteran middleweight backwards against the cage.
A few seconds later, Hall was pouring on the punishment with Mousasi dazed and trapped against the cage and the referee saw more than enough to stop the fight. Ever since that moment, Mousasi has been gunning for a rematch.
He'll finally get his chance this Saturday in Ireland when he faces Hall in the main event from Belfast after the two middleweights got matched up on late notice to help fill the headline slot vacated by Gunnar Nelson and Dong Hyun Kim.
At one time, Mousasi wondered if he'd ever get another shot at Hall but now that it's in front of him, there's no way he's going to blow this opportunity. This fight is as much about avenging a prior defeat as silencing the critics who Mousasi says were unrelenting after the first loss to Hall last year.
"He won fair and square. I'm not going to take anything away from him. I respect him for giving me the rematch. It's a fight, anything can happen. Anything can happen in this fight, but I'm not going to go be too aggressive, over committing, I believe nothing will go wrong this time. I have something to put straight," Mousasi told FOX Sports. "Not so much against Uriah Hall but you have people who are sitting and just waiting for you to fail so they can have a laugh. So it's more to set straight something with the idiots who don't know anything about the sport.
"I've got nothing against him. He's probably a nice guy but I want my revenge. It's more personal but not against Uriah Hall. It's against people that thought that he's the better fighter."
Since their last fight, Mousasi has stormed back to the top of the middleweight division with three consecutive wins including a pair of blistering performances over Vitor Belfort and Thiago Santos in his last two fights.
Meanwhile, Hall has fallen on harder times since the win over Mousasi while going 0-2 with losses against Robert Whittaker and Derek Brunson in consecutive fights.
In a weird way, this might be a step down in competition for Mousasi despite having a loss to Hall but none of that mattered when he was offered the chance to avenge his prior defeat. Mousasi knows he's not going to earn a title shot by beating Hall and he's probably not even going to get a bump up in rankings with a win.
"It's something more personal. I've got nothing to gain, it's a risky fight for me actually because I'm fighting Uriah Hall," Mousasi said. "I could go fight somebody in the top four and go fight for the title right away. So I'm going to take two fights to get to a title shot instead of one guy to get to a title shot. It's more taking an extra risk just to get even.
"I have to put this right and make everyone know that I'm coming for the title. I'm almost there."
Mousasi isn't the kind of fighter to make brash predictions or try to call his shot like lightweight and featherweight champion Conor McGregor. Instead, Mousasi will only guarantee victory with a hope that he will silence the critics who mocked him after losing to Hall the last time out.
"Hopefully a knockout, that's always more impressive than a decision," Mousasi said. "He's tough to submit, he doesn't give up, but I feel like I will easily dominate and take positions.
"I'm going to take my time. I don't believe it's going to go three rounds, but if it goes five rounds, I don't believe he's going to look so good. I'm in the mood to fight. I'm in the mood to put my punches in his face."