Friday, May 5: Miami Marlins at New York Mets game preview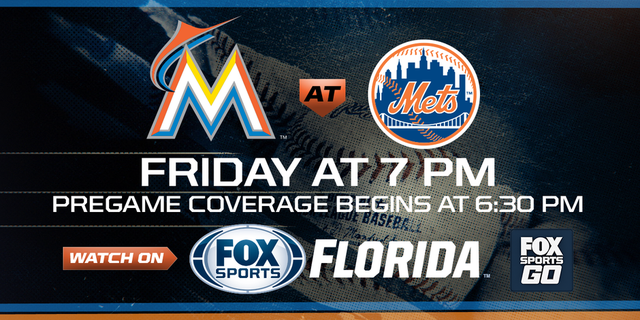 TV: FOX Sports Florida
TIME: Coverage begins at 6:30 p.m. ET
NEW YORK -- A pair of teams that have taken different routes to the same record will square off Friday night, when the New York Mets host the Miami Marlins in the opener of a three-game series at Citi Field.
The Marlins (12-15) head to New York following a 5-1 loss in Tampa on Thursday. The Mets (12-15) missed a chance to potentially move ahead of the Marlins for second place in the National League East when their series finale against the Atlanta Braves on Thursday was rained out in the fourth inning. Visiting New York held a 3-1 lead when the rain arrived.
Rain could be a factor again Friday. New York is expected to get one to two inches of precipitation, though the forecast eases up a bit in the late afternoon.
While the Mets have won four of six, the Marlins have lost seven of nine. Still, Miami manager Don Mattingly said he believes his team will soon regain the form it displayed in jumping out to a 10-8 start.
"I'm not really overly concerned," Mattingly said Thursday night. "I like my club. I'm confident that we're going to play better than this and get more consistent than this."
The Mets' surge has coincided with their lineup finally producing as expected. New York has scored 55 runs in its last seven games after scoring just 78 in the first 20.
"That's a good feeling for the team," infielder Jose Reyes told the team's official website following a 16-5 win over the Braves on Wednesday night. "We were hitting very good as a team with men in scoring position, so that's what we want. Hopefully we can continue to play like this."
The pitching matchup Friday will pit a pair of struggling right-handers against each other. The Mets' Rafael Montero will be recalled from Triple-A Las Vegas and will oppose the Marlins' Tom Koehler.
It will be the first start of the season for Montero, who is taking the rotation spot of ace right-hander Noah Syndergaard (torn lat muscle). This will be the latest big league audition for Montero, who went 0-2 with a 9.45 ERA in six relief appearances for the Mets earlier this season and is 1-7 with a 5.51 ERA in 30 games (12 appearances) in the majors dating back to 2014.
Koehler is 1-1 with a 5.40 ERA in five starts this season. He didn't factor into the decision in his most recent start Sunday, when Koehler gave up three runs on six hits and one walk while striking out three over four innings as the Marlins beat the Pittsburgh Pirates 10-3.
Montero is 0-0 with a 2.50 ERA in nine games (two starts) against the Marlins, whom he has faced more than any other opponent. Koehler is 2-8 with a 4.56 ERA in 21 games (18 starts) against the Mets, who are also his most frequent foe.