Four score: U.S. dominates opening round at Presidents Cup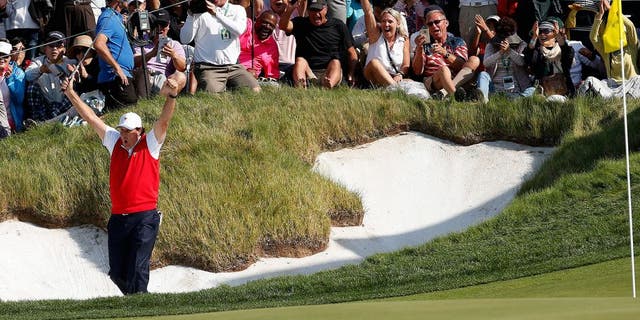 NEWYou can now listen to Fox News articles!
Maybe one fewer match really did help the International team in this Presidents Cup.
Otherwise, the deficit might have been even worse.
The Americans put red on the board early Thursday, and it stayed there all day at the Jack Nicklaus Golf Club Korea in an opening session they dominated to build a 4-1 lead.
In the only match that reached the 18th hole, Phil Mickelson hammered his best drive of the day that set up Zach Johnson to hit a 7-iron into the par-5 18th hole in what turned out to be a 2-up victory over Jason Day and Steven Bowditch.
It was the fifth straight time the Americans have won the opening session, and it was their largest margin since a four-point lead after the first round in 2007.
"It's tough when you go out there and you see the first three or four holes, all the red and we're done in matches," International captain Nick Price said. "You just try and do your best, that's all. That's all I'm doing now is I'm talking to my team and I'm saying to the guys, `Don't get down. It's early days.' I'm certainly not despondent about the whole thing. We're not in the situation we'd like to be after the first round, but there's an awful lot of golf to play."
The Americans are going for their sixth straight victory, and after one day, there was a familiar feel to the event.
The International team demanded a reduction in the number of matches, and in a compromise, the Presidents Cup now has 30 matches instead of 34. That's one fewer match for each session, and after watching the Americans pour in 22 birdies, it was hard not to imagine the lead being even larger with an extra match.
Louis Oosthuizen and Branden Grace of South Africa provided the lone point for the International team with a 3-and-2 win over Matt Kuchar and Patrick Reed. It was the first win for Grace, who went 0-4 two years ago at Muirfield Village in Ohio.
"I know we're behind," Grace said. "But one point is better than none."
So dominant were the Americans that they had a lead after the second hole of every match, and they only trailed in the one match they didn't win.
Rickie Fowler and Jimmy Walker, who halved all three of their team matches at the Ryder Cup last year, delivered the first point with the shortest match of the day, 5 and 4, over Anirban Lahiri of India and Thongchai Jaidee of Thailand.
Jordan Spieth, the No. 1 player in the world, and Dustin Johnson proved as formidable as advertised in a 4-and-3 win over New Zealand's Danny Lee and Australia's Marc Leishman. The tone was set early when Spieth holed a 20-foot birdie putt on No. 2 and Johnson walked to the next tee and unleashed a 349-yard drive.
"That's the whole point," Johnson said. "Me hitting bomb drives, Jordan holing putts. That's what you want to get in their heads."
Perhaps the most pivotal match was the first one. Bubba Watson and J.B. Holmes, two of the longest hitters in golf, never trailed after a birdie on the second hole, though it was tight on the back nine against Australia's Adam Scott and Japan's Hideki Matsuyama.
By then, the Americans were ahead in three other matches, and the International team could have used a win to at least keep it close. The Americans were 1 up when Scott missed a putt to win the hole, and the U.S. pulled ahead 2 up when Matsuyama left a downhill birdie attempt short and Holmes rolled in an 8-foot birdie on No. 15. Holmes rolled in a birdie on the 16th from about 15 feet to close out a 3-and-2 win.
Day tried to give the International side at least a little momentum going into Friday. Day and Bowditch were 2 down to Mickelson and Zach Johnson with two holes to play when Day poured in a 40-foot birdie putt to send the match to the 18th.
Bowditch hit a long iron to about 18 feet for an eagle chance, and Day narrowly missed the putt. Johnson only had a 7-iron to the green, which he hit to 10 feet, and that eagle putt was conceded.
"I hit 7-iron a lot into par 5s," the short-hitting Johnson said. "But it's my third shot."
U.S. captain Jay Haas referred to Mickelson's tee shot as a "statement," and perhaps dispelled any doubts why he was a captain's picks.
"It was a great start for us," Haas said. "But I think they all realize it's a long series right now -- kind of like shooting a low round in the first round of a tournament. There's a lot of golf to be played, so I don't think anybody's getting too giddy."
For the five matches of fourballs on Friday, Haas will send Spieth and Dustin Johnson out in the first game against Oosthuizen and Grace, followed by Fowler and Walker against Lee and Sangmoon Bae.
"He's going for the kill," Price said. "He wants to shut this down fast. If we get momentum going, it can change things."