Former Manhattan College star Sewitt pitching in independent league with major league dreams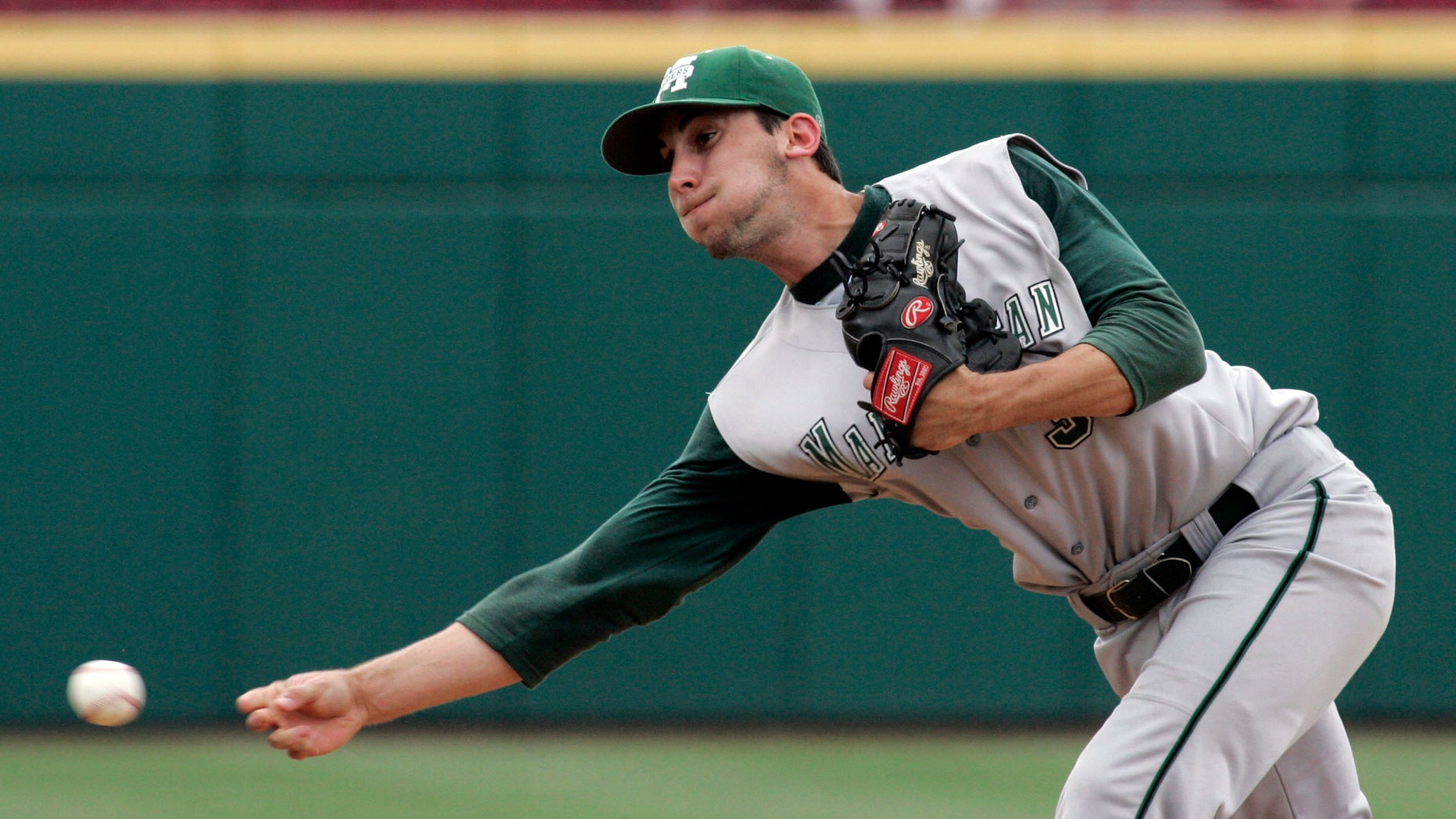 NEW YORK – Taylor Sewitt was the talk of college baseball a year ago, a rubber-armed right-hander who threw one shutout inning after another.
His deceptive submarine-style delivery helped Sewitt rack up 22 scoreless innings for Manhattan College in the Metro Atlantic Athletic Conference last May, winning three games in as many days and tossing an eye-popping 296 pitches.
And, that included 11 shutout innings of relief in the title game against Canisius.
"Man, that was crazy," Sewitt said in a telephone interview. "And a lot of fun."
His extraordinary performance made national headlines as the Jaspers advanced to the NCAA tournament, where he threw five more shutout innings in a loss to top-ranked South Carolina. With all the attention, Sewitt was as close to a celebrity as a college pitcher could be. What a way to cap his senior season, and he figured it could only get better with the major league draft a few days later.
But 1,238 players were taken over three days and 40 rounds last June — and Sewitt wasn't among them. Surely he'd hear from a major league team to join them as an undrafted free agent, he thought.
That was a call that never came.
"It was like going from the biggest high to the biggest low," Sewitt said. "It was hard mentally to deal with that."
Nearly a year later, Sewitt is back on the mound — still with those big league dreams — pitching in Indiana for the Gary SouthShore RailCats of the independent American Association.
"The thing for me is that this is my biggest goal in life, to play professional baseball in the major leagues," he said. "It's one of those things where it's like, 'I know I belong there, I know I can pitch there.' I just need a shot. I'll make it there one day.
"It's just going to be a slightly different path."
And one that several ballplayers needing a break have taken to get to the majors, including Kevin Millar, George Sherrill, Kerry Ligtenberg, Brad Ziegler, Daniel Nava and Steve Delabar.
Gary opened its season Thursday night, and Sewitt has already pitched twice in relief, allowing one hit and one unearned run with four strikeouts and no walks in 4 1-3 innings.
"For me, the most important thing is to pitch well and get picked up as fast as I can," the 23-year-old Sewitt said. "As much as I'll always have a place for this team because they're the only team that's given me a chance, I want to be in the major leagues and my goal is to get there as soon as I can. I want to help this team out while I'm helping myself out."
Long-time RailCats manager Gary Tagert is used to players hoping their stay with his team is short.
"Believe me, one of the things we tell all of our players is that I don't know if I'd want a player who didn't want to be in the big leagues because then you'd wonder what their motivation is," Tagert said. "He'll get an opportunity to compete against experienced players and showcase his abilities. That's the most a guy can ask for."
Sewitt, from Highland Mills, N.Y., wasn't sure that chance would ever come. Shortly after the draft last year, the RailCats contacted him to see if he'd be interested, but he passed because he wanted to rest his tired arm.
But the weeks turned into months, and no one else showed any interest.
"I thought it was over," he said. "I didn't want to go out there to Gary and pitch bad, though, and then they probably wouldn't ever look at me again."
There were also a few strikes against the 6-foot-2, 195-pound Sewitt, including the fact that he was new to pitching as a converted shortstop who had thrown just 30 innings in his first three seasons at Manhattan. He was a relative unknown because of that, despite a terrific final year in which he ranked among the NCAA Division I leaders by going 11-2 with a 2.63 ERA. He also had that funky delivery, something Sewitt picked up during his junior season at the suggestion of one of the Jaspers' assistants.
Sewitt also wasn't the protoypical over-the-top flamethrower, but his sidewinding style also puts less strain on his arm and potentially gives his career some longevity.
"When a guy does something different, a major league club has to be absolutely sure of him in the draft," said Tagert, who was made aware of Sewitt by Manhattan pitching coach Elvys Quezada. "That's why our league is great in that it gives somebody like Taylor a chance at a high level where major league organizations can use it as a barometer."
Sewitt was watching the New York Yankees and Baltimore Orioles play in the American League Division Series last October when the RailCats came calling again.
"Here was a guy who we kept looking at those numbers," Tagert said, "and you just couldn't ignore them, the things he was doing."
This time, Sewitt accepted the opportunity and was eager to get his career on track with the RailCats.
"Once he committed to us, Taylor was gung-ho," Tagert said. "I heard from him every couple of weeks."
So, Sewitt will try to prove himself against the likes of the Lincoln Saltdogs, Sioux City Explorers and the Wichita Wingnuts — teams he had never heard of until a few months ago.
Sewitt says his arm feels better than it ever has, and he has really perfected throwing submarine after "almost faking it the whole way" last season. He also credits Quezada, a one-time pitching prospect of both the Yankees and Mets, for teaching him about the mental approach to pitching — something else he tried to hone while waiting for his next call to the mound.
"Switching to submarine definitely made this possible for him because it gave him something special," Quezada said. "When you're scouting, you look for guys who stand out, and that switch made him stand out. It breeds confidence, once you get that ball rolling. You feel invincible almost, and that's exactly where Taylor got to.
"It's a pretty good story, and I'm really pulling for the kid."