For These Ten MLB Players, 2014 Could Be Their Breakout Season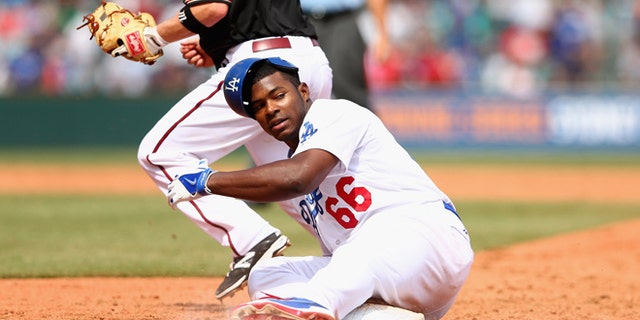 NEWYou can now listen to Fox News articles!
Every year, the baseball season produces a handful of stars that nobody knew much about before. In 2013, that group would have included a portly 20-year-old pitcher for the Miami Marlins named José Fernández, who only made the team out of spring training thanks to one of those infuriating purges of top-tier talent by owner Jeffrey Loria.
Also 28-year-old Carlos Gomez of the Milwaukee Brewers, a top defensive outfielder who, in his seventh season in the big leagues, ratcheted up his offense to levels (.284 average, 24 homers, 73 runs batted in, 40 stolen bases) that took him the All-Star Game and made his former employers at the Minnesota Twins and New York Mets drool.
And then there is a certain Cuban defector who helped turn the Los Angeles Dodgers' season around when he got called up at the beginning of June with his timely hitting and swashbuckling feats in the field and on the basepaths.
In compiling this year's 10 most likely to succeed list, we haven't forgotten the "Wild Horse," Yasiel Puig. One thing about being mercurial, it's awfully hard to predict what the hell you're going to do next.
1. Danny Salazar, 24, P, Cleveland Indians
Last time we saw Salazar, he was starting the Wild Card game against Tampa Bay, and getting hit hard (3 runs, 4 hits, 1 home run in 4 innings). Why would Terry Francona send out a fresh-faced righty with all of 52 major league innings pitched for the Indians' most important game of the year?
Let's start with a 96 m.p.h. four-seam fastball with plenty of movement on it, an excellent changeup and a decent slider. Add in pinpoint control and what you have is a lot of bats swinging through a lot of pitches.
Salazar was 2-3 last season with a 3.12 ERA and 65 strikeouts. One stat-head metric, xxFIP, claims that his 2013 was the best performance by any starting pitcher since 2007 who faced at least 200 batters. In other words, Salazar might already be the best pitcher in baseball.
2. Yordano Ventura, 22, P, Kansas City Royals
Three major league starts isn't much to go on (0-1, 3.52, with 11 Ks in 15-plus innings), but scouts and opposing hitters bug their eyes out at his fastball, which averages 98 m.p.h. (He has logged the fastest pitch ever by the Pitch F/X service, at 101.9 m.p.h.)
His Achilles heel may be control—even in the minor leagues has averaged more than three base on balls per game—but if he can harness his talent, this right-hander will go straight from good to dominating.
Even Danny Duffy, who has reportedly lost his spot in the 2014 rotation to Ventura, told the Kansas City Star, "There's not a person in the league that has better stuff than Yordano Ventura."
3. Taijuan Walker, 21, P, Seattle Mariners
Another pitcher with all of 15 innings of major league experience (1-0, 3.60, 12 strikeouts), every major scouting service has listed the Louisiana native with a part-Mexican mom as a top pitching prospect for the last couple of years.
The right-hander has electric stuff, starting with his fastball, which ranges from 93 to 96 m.p.h. with late movement. He also has an above average cut fastball and curve to keep hitters off-balance. He is projected to be a major league staff ace at some point, though control is still an issue.
Walker was expected to make the Mariners' rotation for the beginning of the season, but bursitis in his pitching shoulder sidelined him for much of spring training. He started throwing in games again this week, but will probably start the season on the disabled list.
4. Miguel Piñeda, 25, P, New York Yankees
After a promising 2011 with the Seattle Mariners (9-10, 3.74, 5th in AL Rookie of the Year voting), Piñeda was thought of highly enough by the Yankees that they dealt their top catching prospect (Jesus Montero) and a marginal starter (Hector Noesi) to Seattle for the 6' 7" right-hander.
But a torn labrum in his pitching shoulder, an arrest for driving drunk and an apparently lackadaisical attitude soured the team on Piñeda. He barely managed to make 10 minor league starts last year, putting up a not overwhelming 2-1, 3.32 record.
But a sparkling 2014 spring training (1.20 ERA, 16 strikeouts in 15 innings against only 1 walk) has him back in the team's plans as a No. 5 starter. And since the team has a starting rotation composed of a 38-year-old (Hiroki Kuroda), a 32-year-old who has mysteriously lost his ability to get batters out (C.C. Sabathia), and two other relatively unproven commodities (Ivan Nova and the $155-million-man, Masahiro Tanaka), the team may have to rely on him more than they plan to.
5. Jason Castro, 26, C, Houston Astros
There weren't many reasons for Astros fans to be happy in 2013. Castro was definitely one.
In his first full season, the lefty batter showed previously unplumbed offensive ability, finishing with a .276 average and 18 home runs. Even if his numbers drop off in 2014, he is certain to remain a productive hitter thanks to his ability to draw a walk (.350 on-base percentage).
Don't be surprised if he makes it back to the 2014 All-Star Game.
6. José Dariel Abreu, 27, 1B, Chicago White Sox
This year's Yasiel Puig? Abreu was a true star in the Serie Nacional in Cuba before defecting last August. A power hitter who handled international pitching well at the 2013 World Baseball Classic (.360 average with 3 home runs in 6 games), Abreu had possibly the greatest offensive season in the history of the Cuban league in 2010-11 when he led the league with a .453 average, tied Yoenis Céspedes (now starring for the Oakland A's) for most home runs with 33 and drove in 93 runs in just 66 games.
It remains to be seen if his lay-off from top-flight competitive baseball since March 2013 will affect his timing.
7. Anthony Rendon, 23, 2B, Washington Nationals
Selected sixth overall in the 2011 draft, Rendon came up as a third baseman, but the Nats had need for him at second, so he learned the position on the job last year.
His defense was an issue (16 errors), but his offense was a pleasant surprise: .265 average with 7 homers in two-thirds of a season.
Slotted into the No. 2 hole in the lineup in front of Jayson Werth and Ryan Zimmerman, Rendon figures to see a ton of good pitches to hit, and to score a lot of runs.
8. Nolan Arenado, 22, 3B, Colorado Rockies
The best defensive third baseman in the big leagues (with a Gold Glove to prove it) put up good enough numbers at the plate (.267 with 10 home runs) to at least be in the conversation about the best third baseman in the National League.
He also plays home games in one of the majors best hitters' parks, Coors Field, and, even if he slumps, he'll get plenty of opportunities to bust out of it as his glove will keep him in the lineup.
9. Oswaldo Arcia, 22, OF, Minnesota Twins
In less than 100 games in 2013, the corner outfielder was able to do some damage at the plate, especially in the power numbers (14 home runs, .430 slugging percentage).
He struck out an embarrassing amount (107 times, more than 25 percent of all his at bats), but his track record in the minor leagues is better in the whiffs category, suggesting that he may improve that rather quickly.
And it isn't like Minnesota is putting forth a lot of talent to compete with him, so Arcia should have space to improve.
10. Gerardo Parra, 26, OF, Arizona Diamondbacks
A great glove man who can excel at any of the outfield positions, Parra became Arizona's outfield stopper. Officially, he had 17 outfield assists, which led the National League, but that doesn't account for the myriad of runners who didn't take an extra base on him.
His manager, Kirk Gibson, explained to MLB.com why last year he was leaving Parra in against lefties, who he's always had time hitting. "When you take him out, you're taking him out of right field," Gibson said. "He is dominating out there; he is a stopper ... The way he plays defense, it's hard to take him out."
And one more, just for good measure:
Yasiel Puig, 23, OF, Los Angeles Dodgers
Puig was the major breakout player of last season. When he joined the Dodgers last June, the team was 23-32; they went 69-38 the rest of the way and won the NL West.
He makes it here because he could be a major surprise in two directions. He reported to spring training 20-some pounds heavier than he was at the end of last year and, with the sudden fame and the run-ins with highway police in the off-season, it wouldn't be terribly surprising if he had let everything go to his head a bit.
Maybe he is this year's break-down star rather than the break-out one.
But let me also leave you with this thought: Just think of how much more offensive damage Puig could have done last year than his sparkling .319 average, 19 homers and .534 slugging percentage if he had been around for those 55 games he missed.