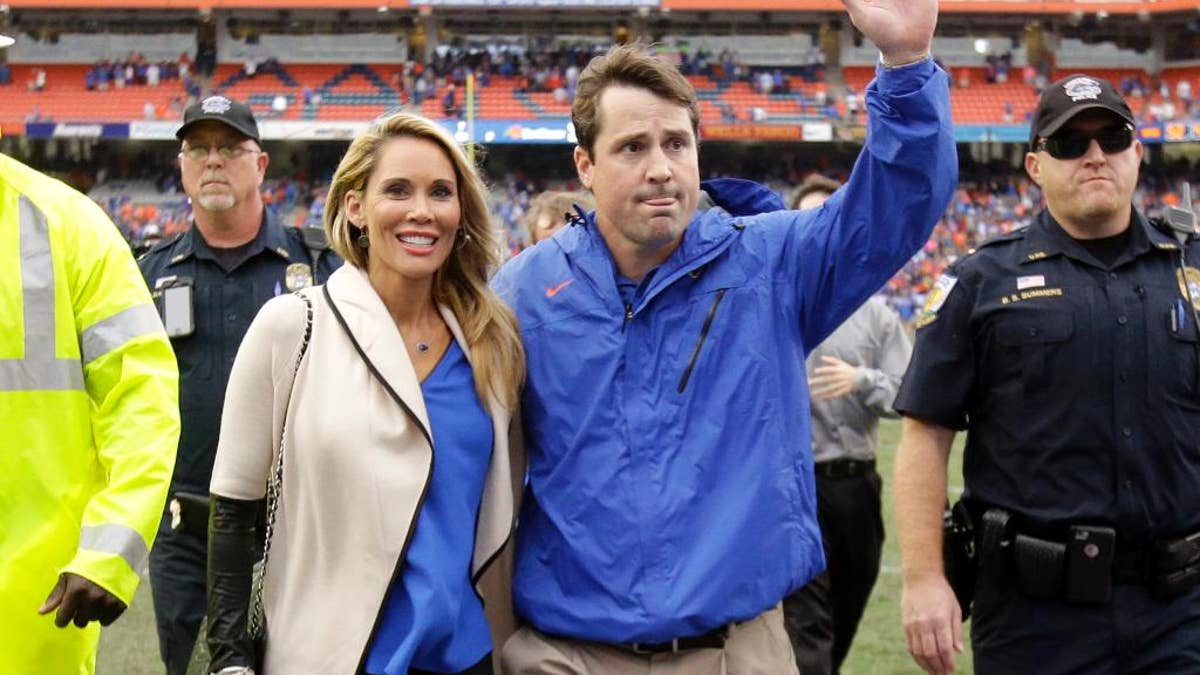 GAINESVILLE, Fla. – Florida coach Will Muschamp might never escape the comparisons to Ron Zook.
Both had big wins, head-scratching losses and were fired late in the season — a decade apart. Throw in that they were former defensive coordinators, first-time head coaches and followed legends in Gainesville, and it's fitting to lump them together.
Muschamp surely wouldn't mind going out the same way Zook did.
Zook was carried off the field in Tallahassee in 2004, after the unranked Gators upset No. 10 Florida State 20-13.
Florida (6-4) will try to repeat the feat Saturday in Muschamp's finale.
"That ain't going to help us win the game," Muschamp said Monday when reminded about Zook's farewell. "I can assure you of that. So we'll prepare well and we'll go up there and play well. That's what we need to do."
The top-ranked Seminoles (11-0) have won 27 consecutive games, their last loss coming against Florida in Tallahassee two years ago.
The teams have gone in opposite directions since.
Florida State won its third national championship last season while injury-riddled Florida plummeted to its first losing season in more than three decades.
The Gators were supposed to bounce back this year and compete for the Southeastern Conference title. Instead, they delivered more on-field debacles that cost Muschamp his job.
Players spent much of last week reeling from athletic director Jeremy Foley's decision to fire Muschamp. They weren't sharp in practice. Several guys were talking about turning pro or transferring. And Muschamp had concerns about whether his team would show up for the home finale.
But Muschamp gathered his team together Thursday and tried to ease tensions.
"I told them, 'They're going to hire good football coaches. Jeremy's going to hire a good coach. So why don't you give the guy a chance and buy in to what the guy's trying to do instead of going through a total rocky road the first year where it's miserable for everybody in the locker room?'" Muschamp said. "Hopefully, they'll do that."
The Gators responded by dominating Eastern Kentucky from start to finish, winning 52-3 and becoming bowl eligible for the 23rd time in the last 24 years.
Florida saved its best celebration for the locker room. The Gators lifted Muschamp over their heads and chanted "Champ, Champ, Champ."
"I really appreciate it," Muschamp said. "You spend a lot of time with these young men, and that's part of your job when you want to be a football coach. It's not just about Saturday afternoon. It's about Monday through Friday. ... It's about doing a lot of things that people have no idea that your job (entails).
"You enjoy being a mentor/father figure/friend/coach. You wear a lot of hats in our job, and that's part of it."
The Gators are 10-point underdogs against Florida State, no surprise given Florida's struggles the last two years and Florida State's winning streak.
But the Gators have watched the Seminoles struggle most of the season and believe they can pull off an upset.
"Love our chances," defensive end Alex McCalister said. "We've got the whole team clicking and we're going to keep rolling from there."
When asked about Florida's 2004 win in Tallahassee, Muschamp said he didn't remember "watching it or anything." He deadpanned as a student reporter provided him with details about it.
"I kind of heard that story," Muschamp said. "Appreciate you rehashing it for me."
Muschamp, though, surely would like to relive it Saturday.
"They don't need fireworks to get ready for this one," Muschamp said. "They'll be ready to go. ... We've had a week to feel sorry about this, that or the other when all we can control is the controllable and that's getting ready for Florida State, a really good football team."