Five Points: Familiar pattern yields Mexico win over USA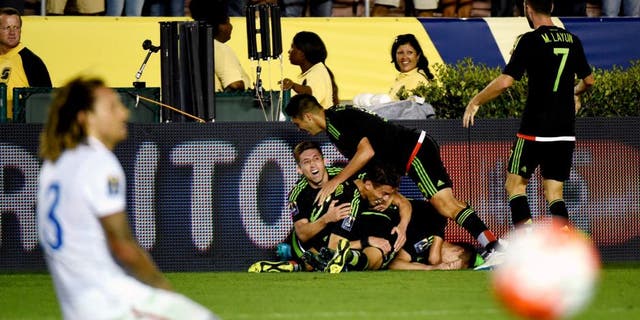 NEWYou can now listen to Fox News articles!
PASADENA, Calif. --
There are no secrets between Mexico and the United States. They disappeared long ago. Both teams follow familiar battle lines every time they meet. The thrust and parry of it all tracks along those steady rhythms. Those tenets occasionally lead to a spark to create the spectacle that unfolded at the Rose Bowl on Saturday night.
Paul Aguilar completed a compelling affair with a sumptuous volley to give Mexico a 3-2 victory after extra time. Aguilar's moment of magic settled an affair with all of the intrigue and resolve expected from these encounters. It also underscored the inevitable tension between the two countries at this point, even if run of play favors one team or the other.
"We've got quality players. They have quality players," U.S. goalkeeper Brad Guzan said. "It was always going to be a tight game, a game that was going to be a battle. It was going to be intense. When you put all of those things together, it's a game of fine margins."
Aguilar provided the gap between the two teams on this night to cap a truly miserable day for U.S. Soccer and send Mexico to Russia in 2017. This victory required all 120 minutes, but it started with an inspired Mexican decision to change course in a bid to end the six-game winless losing streak against the hated rivals.

Mexico laid the foundation by playing three up front …
Ricardo Ferretti limited his time as Mexico manager by choice. His decision to take control on a temporary basis liberated him to approach this playoff with an open mind and set out his stall accordingly. It turned out that the situation allowed him to depart from his usual caution.
Instead of sticking with a familiar pairing up front, Ferretti picked three forwards with Javier Hernández and Raúl Jiménez deployed on either side of Peralta. This attacking triumvirate operated narrowly and pinned the Americans back for most of the night. Their exertions included a well-crafted opening goal -- Jiménez and Peralta linked up in the buildup for Chicharito's first goal against the U.S. -- after 10 minutes, a second goal from Peralta in extra time and a series of benefits that extended beyond that considerable end product.
"You have to give them credit: Their movement was very good tonight," U.S. defender Matt Besler said. "They kept three or four, sometimes even five, really high across our back line. That made it very difficult, whether we had to go with them or whether we had to respect them going over the top. At the end of the day, we have to credit them for making the plays."
… and wielded the possession usefully
Mexico relied on the front three to establish their intent and tempt the Americans to drop back deeper and deeper in a bid to stay compact.
The effects of those efforts manifested in a variety of ways. The need to stay compact provided plenty of room for Aguilar (who took space on the first goal) and Miguel Layún to exploit on the flanks. Those forays into the attacking half prompted Jermaine Jones and Gyasi Zardes to retreat in a bid to provide cover in the wide areas with Beasley and Fabian Johnson forced to tuck inside. Those endeavors created room in midfield for Andrés Guardado and Héctor Herrera to dictate possession and provided enough safety for Rafa Márquez to drop between Diego Reyes and Héctor Moreno and free them to move into wider positions in possession.
Once Mexico started to move the ball briskly, the Americans spent most of their night chasing to close down in the right spots and keep the shape tight. It proved particularly arduous work on a steamy southern California night, though they managed the feat well enough.
"We just weren't able to keep hold of the ball," U.S. forward Jozy Altidore said. "Guardado and Herrera were able to dictate the game. They just had us chasing and had us playing very deep. I was playing very deep. It's difficult to play a team playing like that for 120 minutes."
Americans struggled to get out after the break …
As U.S. captain Michael Bradley noted in his extensive post-match remarks, the ideal way to address those concerns is to obtain possession in good spots, retain it with a couple of neat passes and play into the spaces consistently on the counter.
There were times in the first half when the Americans managed the feat, but they dissipated as the game took its toll in the second half. Altidore and Clint Dempsey were left isolated for long stretches without much service. And the fatigue of closing down meant those forays often lacked the quality to break down a Mexican defense occasionally stretched by the desire to operate in possession.
"We knew they were coming again," U.S. coach Jurgen Klinsmann said. "We said let's be as compact as possible there. But what we didn't do well in the second half was simply to keep the ball. We ran a lot. We won a lot of balls. And, boom, we couldn't combine. We couldn't calm the game down enough. There was a struggle through the second half where we should have done better."
Mexico played well enough to win the game in normal time, but Hernández missed a gilt-edged chance on the hour to restore the lead. That wasted opportunity -- plus the exacting conditions -- took some of the sting out of the game in the latter stages and paved the way for extra time.
… until the late substitutes exploited some slack Mexican defending …
Peralta's deserved goal soon after play resumed prompted immediate action. Klinsmann threw Bobby Wood into the fray to provide extra pace up front. Wood combined with fellow substitute DeAndre Yedlin to procure a rather unexpected equalizer eight minutes from the end.
The goal owed plenty to some static defending from Mexico, but it also pointed the way forward in this sort of setup. Yedlin's brisk work on the right and Wood's quick, slicing run to snatch the equalizer revealed the utility of having players capable of changing the tempo of the game in short order. The inability to locate and integrate more of these sorts of players -- and Yedlin is a holdover from the frantic search before the World Cup -- remains a frustration in this player pool, but their work here paved the way for a potential shootout.
"I think most of the guys, if not everybody, were confident after Bobby scored that goal," Besler said. "The entire Rose Bowl erupted. That goal gave us confidence. I think we had eight minutes left. I knew we were going to get a couple of more chances. On the other end, I was confident we weren't going to allow Mexico to score. Unfortunately, that didn't work out."
… and paved the way to a stellar conclusion
It didn't work out because Aguilar produced the sort of goal you can't plan to stop. The winner arrived from a hopeful second ball back into the area. Aguilar maneuvered into position and thrashed it into the far side of the net.
Aguilar's goal is worthy of winning any game. It also served as the decisive act in this game. This affair did not tip on the American inability to hold the ball or the Mexican superiority in the attacking half. Those issues informed how the game played out and justified Mexico's victory in the end, but they did not resolve it.
"We can talk about all of this stuff, but this is football," Bradley said. "This is what goes on. You play 118 minutes and it's 2-2. In the end, Aguilar scores a great goal off a broken set piece. We talk about the margins. This is it."
It proved a fitting conclusion to the latest chapter in this engaging rivalry. The back-and-forth always persists. Sometimes, the run of play decides it. And sometimes, it takes a moment of brilliance to sort everything out in the end.