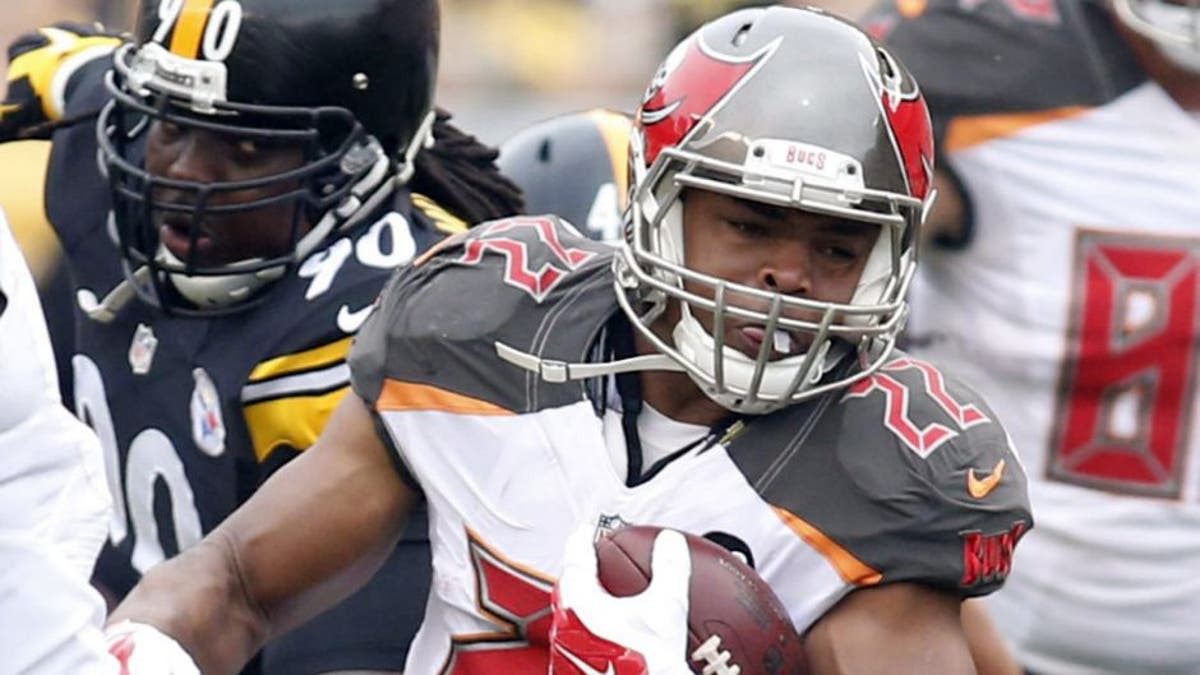 The Tampa Bay Buccaneers are fresh off a 2-14 campaign that left them with the No. 1 overall pick and hopefully their future at quarterback in Jameis Winston. Tampa is in the process of building a young group who can help them make a push back towards the playoffs and possibly Super Bowl contention. With that said, though, it means that multiple players need to be on high alert for their jobs moving forward.
While players like Winston, Mike Evans, Gerald McCoy, Lavonte David and a few others don't need to worry about their future anytime soon, there are still players facing uncertainty. Specifically, these five players below.
The Bucs aren't loaded with players facing "make-or-break" type seasons, but they do have their fair share of intriguing options when looking at the cap numbers. Let's break down the five who could be cap casualties, or just may not be back after the 2015 season if they can't put together a big season.
Vincent Jackson, wide receiver
Although he's currently 32, Jackson openly spoke about feeling great heading into 2015. That's all great to hear, and Jackson has been the definition of consistency in recent years, but his cap number is what really catches the eye.
While Jackson has topped 1,000 yards in each of the past four years, his touchdowns have decreased each season, going from nine all the way down to two last year. It's tough to really blame him with the massive uncertainty surrounding the quarterback position last year, but still, this is a number that must increase in 2015.
When you break down the numbers, Jackson's overall cap figure will be just over $12.2 million in 2016. What's really worth noting is that if the Bucs chose to part ways with him, they would be left with just $2.43 million in dead money, while gaining an incredible $9.77 million in cap space.
I think Jackson is probably the most likely to still be on the roster in 2016 out of the names on this list. His contract is only going through 2016 though, so if the Bucs wanted to save the money, next season would be the time to do it.
Doug Martin, running back
Doug Martin is a tough man to figure. While the Bucs already stated they wouldn't be picking up his fifth-year option, they decided to keep him and give him another shot to prove himself. To this point, he's received pretty strong reviews from the coaching staff. Will the man dubbed the "Muscle Hamster" be able lead the way for Tampa in 2015 and earn himself a new contract?
The situation with Martin is pretty simple. He'll be a free agent unless he has a strong year and the Bucs sign him to a new deal. Unless he can prove that he can hold off second-year running back Charles Sims, then I think that he'll be playing elsewhere in 2016.
Martin posted 1,454 yards and 11 scores during his rookie season in 2012, but hasn't topped 500 yards or two touchdowns in either of the last two years. Only time will tell on this one though, and Martin is absolutely a player to watch this season.
Mike Jenkins, cornerback
Jenkins' time in Tampa Bay hasn't gone nearly how many expected. After five solid seasons with the Dallas Cowboys, Jenkins played one year with the Oakland Raiders before heading to Tampa. Last year he played in exactly one game due to a pectoral injury, which is what makes the 2015 season such an obviously important one for him.
Bucs fans really don't know what to expect from Jenkins, but what we do know is that he's set to hit free agency unless he really steps up this year. He's a complete and total wild card right now, but if he ends up having a strong year, I do believe the Bucs will give him another shot to return as their No. 3 cornerback.
Currently though? Jenkins is facing a major make-or-break season.
George Johnson, defensive end
The Bucs chose to bring back George Johnson, who began his career in Tampa. Johnson played one season with the Detroit Lions before being traded back to Tampa this offseason. This one has all the makings of a great story if Johnson can be successful, as the team signed him to a three-year deal.
The problem? Johnson is in a situation where he must perform in 2015. If he doesn't, the Bucs could choose to let the defensive end go, leaving them with no dead money next offseason . Johnson's cap number in 2016 would be $2 million, meaning they would gain $2 million in cap space immediately.
Bucs fans obviously want to see Johnson succeed and prove that he can be a playmaker this year, but unfortunately, he may only get this one year to prove it.
Henry Melton, defensive tackle
After spending the first four years of his NFL career with the Chicago Bears, the team let him go due to injury issues. Melton then received a one-year deal from the Dallas Cowboys, which resulted in him playing in all 16 games, while producing 15 total tackles, five sacks, two pass deflections and two fumble recoveries.
The numbers don't blow you away, but they were enough for him to earn a one-year deal from the Bucs worth $3.75 million. Melton now joins back up with his former coach, Lovie Smith, which could be a match made in heaven. For Melton's sake, he had better hope it is, or else his time in Tampa will be short lived.
Melton has a ton of potential, and if he's healthy and can make an impact, he may be an absolute steal in 2015 for the Bucs. If that does end up being the situation, look for Tampa to offer him a multi-year deal to keep him in town. If not? Well, that's why he's on the "make-or-break" list for 2015.
*All salary cap information courtesy of OverTheCap.com.
Photo Credit: Charles LeClaire-USA TODAY Sports
For more on the Tampa Bay Buccaneers and the rest of the NFC South, follow Jeff on Twitter @JSM8ith. You can also check out all of the FOX Sports NFC South team pages for live updates and analysis.