Finally: Oden back on the floor, and Heat hoping that he's ready for next step in comeback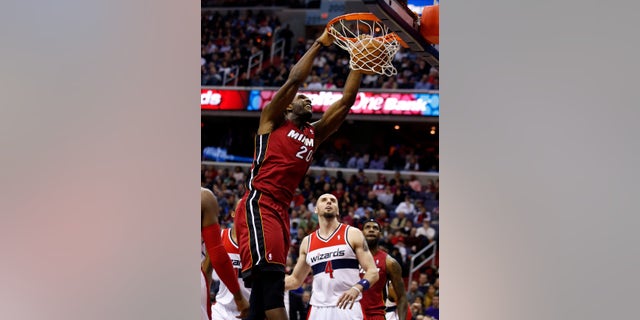 NEWYou can now listen to Fox News articles!
MIAMI – Many details about how Greg Oden has been rehabilitating his body in an effort to resuscitate his career with the Miami Heat remain a mystery, even to his teammates.
All they knew was that progress was steadily being made.
And on Wednesday night, Oden finally got to offer proof.
Exactly 1,502 days — four-plus years — removed from his most recent regular-season appearance, Oden made his return with a six-point, eight-minute outing in Miami's 114-97 loss to the Washington Wizards. He was explosive at times, winded at others, jumped on a stationary bike at halftime to avoid stiffening up and clearly isn't ready for a major role in the Heat game plan.
But he's back.
"It happened," the 7-foot Oden said afterward, all smiles.
Much as was the case when Oden last played on Dec. 5, 2009, the reaction told the story.
He checked in midway through the second quarter on Wednesday, and on Miami's first possession with Oden on the floor the former No. 1 overall draft pick rebounded Dwyane Wade's miss inside, gathered himself and threw down a dunk, the ball ricocheting off his leg after it dropped through the net. A few feet away, his teammates jumped off the Miami bench in unison, celebrating wildly for a few seconds.
For a moment, it didn't seem to matter that the Heat were actually trailing by 30 points.
"He can help us," four-time NBA MVP LeBron James said.
Shane Battier was actually in the game at Portland on that night 49 months ago when Oden — whose knee problems were already being labeled chronic before that day — went down in a heap after trying to contest a shot against the Houston Rockets. Replays suggest that Battier probably couldn't see Oden in that fateful moment, but his ears told him what was happening.
"I heard him scream and you knew right away," Battier said. "You just knew his voice, and my first thought was, 'Oh, man. Not again.' I can promise you that's the same thought that 19,000 in the Rose Garden and both teams had. You look over and see him on the floor, grabbing his knee. It was sad. You talk about taking the air out of an arena — everyone knew what that meant."
Well, they did and they didn't. His 2009-10 season ended that night when he broke his left kneecap. No one realized that the following 3½ seasons would be lost as well. And all this, of course, came after what would have been his rookie season was lost to microfracture surgery in the summer of 2007, the first of three such procedures he's needed to deal with cartilage problems.
Still, Miami landed him last summer, laying out what the team has called a very specific plan to ease him back to the court.
"I really couldn't tell you a lot about what he's been doing," Heat forward Chris Bosh said. "He's a quiet dude. Doesn't say much about it."
Oden was the No. 1 pick in the 2007 draft. Of the 59 other guys selected that night, 34 have made more NBA appearances than Oden, despite some of them being out of the league for half a decade already. Oden now has 779 career points. Kevin Durant, the No. 2 pick in that class, scored more than that in the first two months of this season.
In some respects, Oden is starting over. In others, he might be just starting.
"He's a good guy and you want good guys to succeed, to climb the mountain that he's been climbing," Battier said. "It's going to be a great screenplay someday."
The next act comes Friday, when the Heat play at Philadelphia. Whether Oden will be in the rotation is contingent on how his knees react to getting real game action. His appearance Wednesday wasn't exactly planned, coming on an odd day when the Heat traded little-used center Joel Anthony to Boston in the afternoon and found themselves down by 32 points in the second quarter at night.
So coach Erik Spoelstra decided to give Oden a reward, and called his number.
"We've been talking about progressing him for the last 2½, three weeks," Spoelstra said. "He's been doing a lot of work, a lot of 3-on-3 and 4-on-4 scrimmaging with the guys."
For a few moments Wednesday, the wait was worthwhile. And with that, the Heat go to "the next step in the plan," Spoelstra said.
"They've all been cool with me getting out there and playing," Oden said. "They kind of let me and the staff kind of take our time and make sure I was ready."