Fedor Emelianenko says he's negotiating with the UFC currently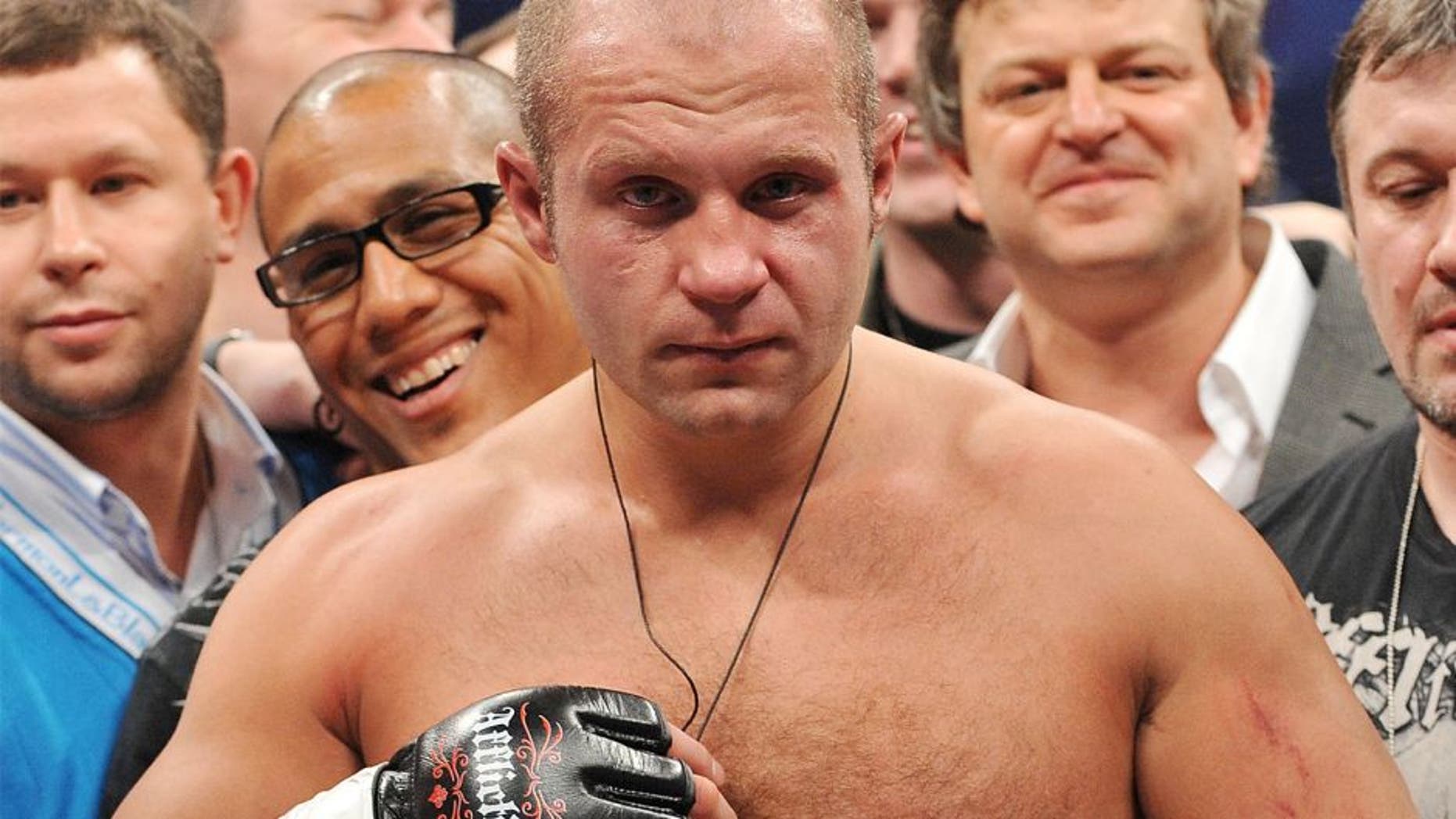 Fedor Emelianenko, who is considered by most as the greatest heavyweight mixed martial artist of all time, might finally land in the UFC as he makes his return to the sport.
Emelienanko retired from fighting in 2012 after a career that saw him go undefeated for a stretch of 28 fights over eight years before finally suffering a loss to Fabricio Werdum in 2010.
Following a hiatus from fighting, Emelianenko recently shocked the world by saying he intended to come back to MMA after some much needed time off to allow his mind and body to heal from the rigors of a very long and very hard career inside the ring.
With the fire back in his belly, Emelianenko is ready to pursue MMA once again while possibly reclaiming his title as the best heavyweight fighter on the planet.
"The desire to fight in my blood," Emelianenko said recently while appearing at a youth forum event in Russia (translation by Bloody Elbow). "I'm in the sport for 11 years, my whole life is training and competition. Over the years, there has been a thirst not only to participate in battles, but also to transfer their knowledge and skills.
"After consulting with trainers, with the support of the family, I decided to return."
As soon as Emelianenko announced his intention to return to fighting, the questions about which organization would land the prized Russian heavyweight began almost immediately.
For all his accomplishments and records over the years, Emelianenko was never able to come to an agreement with the UFC despite a ton of contract negotiations to finally put him in a fight inside the Octagon. At one stage, the UFC even pursued the idea of matching up Emelianenko with former heavyweight champion Brock Lesnar in a fight that could have earned some of the biggest numbers in MMA history but the matchup never came together.
Emelianenko and his management team have a long, sordid history with the UFC, but it appears all those past bitter feelings might be put aside to finally see the legendary heavyweight debut in the organization.
"Now this is being negotiated, in particular with the UFC, as well as some other promotions," Emelianenko revealed. "I think it will soon be finally determined."
FOX Sports reached out to the UFC to confirm if contract negotiations were ongoing with Emelianenko and officials stated no comment to the rumors at this time. Obviously, no news is good news when it comes to Emelianenko joining the UFC because anything other than a flat out denial means the possibility still exists.
As far as matchups for his return fight, Emelianenko would like nothing more than to avenge the first loss he suffered in eight years when Werdum tapped him out with a triangle choke early in the first round when they met in Strikeforce just over five years ago.
"I would say that desire must comply opportunities. I would like to face the strongest fighters in the world -- UFC champion Fabricio Werdum," Emelianenko said. "Given that over three years, I did not fight during the first fight I would like to get involved, check for myself."
For his part, Werdum told FOX Sports last month that he was definitely open to another fight with Emelianenko in the UFC to prove who really is the greatest heavyweight fighter of all time.
"I am hearing that Fedor (Emelianenko) is coming back. If he wants to be known as the best of all time he has to fight the best. All the best heavyweights are in the UFC. I would be willing to rematch him to solidify who is the best heavyweight of all time," Werdum said.
Whether or not the UFC lands Emelianenko remains to be seen, but the door seems open to the greatest heavyweight of all time finally making his Octagon debut.