Fans can only hope last Hoyas-Orange Big East meeting in Carrier Dome lives up to the past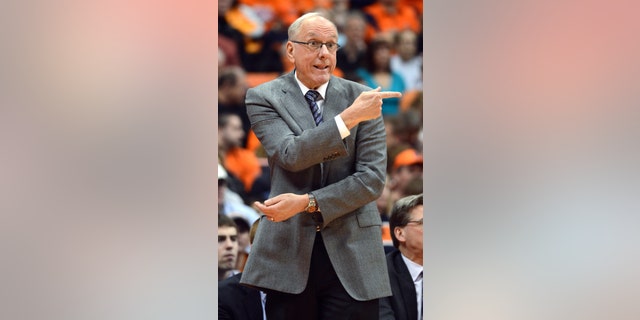 SYRACUSE, N.Y. – Jim Boeheim slowed as he pedaled the stationary bicycle inside the sparkling new Carmelo K. Anthony Basketball Center, his mind racing back more than three decades.
"It was the premier rivalry during the history of the Big East," Boeheim said as he contemplated the end of an era. "At one time, for a 10- or 15-year period, it was probably the No. 1 rivalry in the country. It's had a lot of emotional games, a lot of close, tough, hard battles right down to the end. It's really been a great rivalry for both schools."
Boeheim was talking about Georgetown-Syracuse, a rivalry unmatched in its heyday in the 1980s when the Big East Conference was in its infancy. A rivalry that will have a different feel after this season when Syracuse leaves to join the Atlantic Coast Conference.
"It's not the same when you're not in the same league," Boeheim said. "It will never be the same."
The teams have played 87 times since 1930, and 20 games have been decided by two points or less, 39 by five or fewer, and 12 that have gone to overtime.
They meet for the final time as conference members in the Carrier Dome on Saturday. That's the reason students have been camped out all week to be part of an NCAA on-campus record crowd of 35,012 that will transform the stands surrounding Jim Boeheim Court into a raging sea of orange.
The special feeling for the home fans can be traced to a snowy February night in 1980, when former Georgetown coach John Thompson Jr. became the man Syracuse fans came to despise.
The Big East had formed May 31, 1979, with Syracuse, Georgetown, Boston College, Connecticut, Providence, St. John's and Seton Hall as charter members. Boeheim was in his fourth season as head coach of the Orange and on the fast track to stardom with 95 wins on his brief resume when the Hoyas came to town Feb. 13, the eve of the opening ceremonies for the Lake Placid Winter Olympics.
It was the end of an era then, too — the last game in the imposing atmosphere of Syracuse's Manley Field House. Opponents always dreaded playing at Manley, a dusty arena encircled by a dirt track that opened in 1962, Boeheim's freshman year as a student. It seated 9,500, including a rowdy student section aptly dubbed "The Zoo." Boeheim was unbeaten there as a head coach and wasn't fond of the impending move to the cavernous Carrier Dome, which was under construction and would open later that year.
"You remember how close everything was. It really was a zoo," recalled Larry Kimball, Syracuse's sports information director at the time. "We truly had a homecourt advantage. That's what home courts were all about in those days. The student section was right on top of the visiting team's bench. There was tension. There was a lot of swearing. Yes, at times they were embarrassing. But that wasn't just SU basketball. Those were the times."
And they were becoming oh-so-good for the Orange. Syracuse was 22-1 and ranked second in the nation, and had won 57 straight games at Manley, outscoring opponents 95.7 to 70 during the streak. They had just dispatched archrival St. Bonaventure 107-82 three days earlier, compliments of that daunting homecourt advantage.
"We'd come out for the jump ball, and walking toward center court everybody is standing up and stomping their feet like 10,000 kettle drums," said Roosevelt Bouie, the team's leading scorer that season and with Louis Orr the cornerstone of Boeheim's first seasons as head coach. "In the pit of your stomach, it was so loud we used to think, 'We've got to score as fast as we can before we go deaf.'
"After I got there, the first game I remember thinking, 'Thank God I came to Syracuse.' I would never have wanted to play here (as a visitor). It would have been crazy."
Thompson, a star at Providence and a backup in the NBA to the great Bill Russell of the Boston Celtics before turning to coaching, had guided the Hoyas to a 71-70 victory over the Orange at the Kodak Classic in nearby Rochester, N.Y. in December 1974, when Boeheim was an assistant to Roy Danforth. This would be Thompson's first and only trip to Manley, and the big guy, in his eighth season with the Hoyas, was unfazed.
On game day, students waited in line nearly eight hours, and when 250 tickets went on sale in the morning they were gone in 5 minutes.
"It was packed," Kimball said. "The whole atmosphere was just hostile. It was great."
Syracuse started strong, building a 30-16 halftime lead, the expectation of another resounding victory only 20 minutes away.
"It was a funny game, but it was an ugly game," said Scott Pitoniak, a one-time denizen of "The Zoo" as a Syracuse student who covered the game for The Observer-Dispatch of nearby Utica, N.Y. "It wasn't like they were blowing them out."
The Orange led by as many as 16 in the second half before Georgetown rallied with a 13-2 run as Syracuse went stone cold. Georgetown star Eric "Sleepy" Floyd hit a long jumper with just under 5 minutes to play and 45 seconds later teammate Craig Shelton hit a 10-footer in the lane as the Hoyas inched closer. Georgetown began fouling late in the hope of closing the gap even more, and the strategy worked.
Syracuse converted just 1 of 8 free throws in the closing minutes and Georgetown tied it at 50 when Bouie was called for goaltending. Then, with 5 seconds remaining, Floyd was fouled and calmly made two free throws, ignoring the taunts and waving arms of the raucous home crowd. When Orr's 30-footer at the buzzer hit the front of the rim and bounced harmlessly away, the streak was over.
"I didn't blame myself," Orr, now head coach at Bowling Green, said of the only home loss of his Syracuse career. "I was disappointed because it was my last (regular-season) game as a senior. It was Senior Day. My mother was at the game. You wanted to close out your home career with a win."
There were no tears in the Syracuse locker room, just stunned silence.
"We wanted to get that game for the fans," Bouie said. "The fans were going crazy."
So, too, was Thompson's teenage son, John III, now head coach of the Hoyas. He shouted with glee back home listening to Hoyas radio play-by-play man Rich Chvotkin call the action. Moments after the final horn, a rivalry was in full swing when 6-foot-10 of John Thompson Jr. declared: "Manley Field House is officially closed."
"I think people make more out of it than I did," Thompson said. "I was just basically teasing them. I didn't run around thinking that this was something that was, you know, special. It was fun at the time, and Jimmy and I were both basically trying to get started with our careers at that point. It didn't have the same significance then that it has now because of all the games that we played and all the experiences with the ups and downs that we had between one another. That made it more special than what it was at that time."
Chvotkin, still on the job and priming for Saturday's game as he nears his 1,300th broadcast, flashes a smile when he thinks about that momentous night.
"I said, 'That's the greatest line in the history of college sports.' That said it all," Chvotkin said. "That statement basically set THE tone for the entire Big East, the Georgetown-Syracuse rivalry."
Still, it grated then and it still grates now all these years later in upstate New York.
"Did that really happen? You talk about throwing salt in the wound," Pitoniak said. "One of the reasons I love this rivalry was John Thompson. He loved coming to Syracuse. He loved playing that villain role. The game he got three technicals, he's walking out and waving that towel — 'Bring it on!' It was great theater.
"There's nothing that compares to it when it was in its heyday," Pitoniak said. "They lost a lightning rod (when Thompson retired in 1999). He was the guy they loved to hate. He just reveled in that."
The stars on both teams that followed — Patrick Ewing, Dikembe Mutumbo, Alonzo Mourning, Reggie Williams, Charles Smith and Allen Iverson for Georgetown; and Pearl Washington, Derrick Coleman, Billy Owens, Sherman Douglas, Rony Seikaly, Lawrence Moten, John Wallace, Donovan McNabb, Carmelo Anthony and Gerry McNamara for the Orange — simply created more lasting memories.
In one game at the Carrier Dome, an orange nearly hit Ewing while he was attempting a free throw, prompting Boeheim to grab a microphone and tell the huge home crowd he would forfeit the game outright if conduct like that ever happened again.
In another, Thompson was called for those three technicals on one play, leading to a 10-point swing for the Orange. And part of Syracuse's memorable run through the 2006 Big East tournament behind McNamara's heroics included a victory over Georgetown after the Orange trailed by 15 points.
Saturday's Carrier Dome finale has attracted what will be the largest on-campus crowd for an NCAA regular-season game. It will be the 72nd crowd of greater than 30,000 for a Syracuse men's game, and the Hoyas have been the opponent 17 times.
The game still matters, though maybe not as much as it once did. And expect the students of the new zoo — "Otto's Army" — to swarm the court one final time if the eighth-ranked Orange prevail over the 11th-ranked Hoyas.
Both schools have said they want the series to continue and it most assuredly will.
As for the atmosphere, that's anybody's guess.
"We had a lot of competitive anger, but we had personal respect," Thompson said of his relationship with Boeheim. "I don't think most people ever realize the personal respect that we had for each other. People will see you and tend to think that you hate Syracuse or you hate them. Competitively, you might, but not personally.
"In the same token, I felt it when they left the league, more than anybody," Thompson said. "I felt that in my stomach, because that's something that you didn't think would ever happen because of what we all put into it. I'm certain Jimmy, from listening to his interviews, that disappointed him as well as everybody else, but that's life. It's what happens. We have what we have, and we have to make the best out of it."