Family Of Aaron Hernandez's Alleged Murder Accomplice Feels Betrayed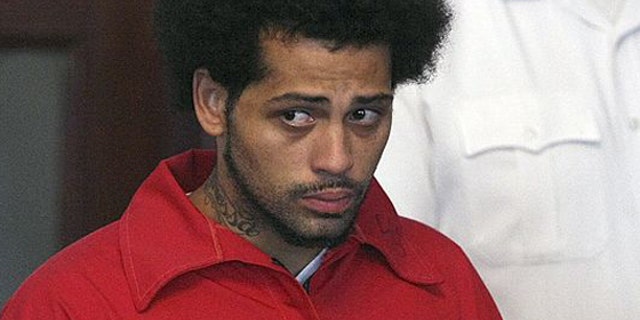 Elba Ortiz has come out of hiding to set the record straight.
Despite fearing for her safety, the mother of Carlos Ortiz, who is currently sitting in jail with his friend and former Patriots star Aaron Hernandez for an alleged role in murder of Odin Lloyd, has grown desperate to "tell people the truth."
Speaking with USA Today at an undisclosed location, Elba Ortiz, along with her daughter Carmen, who translated her statements from Spanish to English, said she was concerned that Hernandez has turned on her son.
"I have a lot of emotion toward Aaron, because he was supposed to be our friend, Carlos' friend," the mother said. "I'm trying to forgive him, but why did Aaron do this? We don't know. That's the question we want answered. Why did he include my son in this? You're supposed to be friends, why did you need to include my son?"
While Carlos' family admits he is no angel, they also say he is a "good boy" and no killer.
Carlos was in the car the night Lloyd was killed, along with Hernandez and Ernest Wallace, 41, another alleged accomplice.
According to court records, Ortiz told investigators he heard gun shots and that only Hernandez and Wallace returned to the car.
After Lloyd's bullet-ridden bound was found the next day, it took less than two weeks for Hernandez, Wallace and Ortiz to be taken into custody.
While Ortiz is vague on what exactly happened, he does remember one thing – that Wallace told him the day after the killing that Hernandez was the shooter.
"Maybe Wallace knew what was going to happen, but Carlos? Murder? No way," said Ortiz's sister, Carmen. "What happened was going to happen whether Carlos was there or not. He just happened to be there."
Ever since Carlos Ortiz was indicted on charges of illegally possessing a firearm, his family said they have felt betrayed by Hernandez.
Hernandez has been Wallace's sole source of financial support after his indictment. The Ortiz family says their long-time family friend has not contacted them or offered Carlos any help.
Prosecutors have allegedly already made a deal with Ortiz, who faces the least serious charges, according to USA Today.
But to create reasonable doubt, Hernandez's attorneys might suggest Ortiz was the one who pulled the trigger.
Along with fears that Hernandez could turn on their family and pin the murder on Carlos, Elba Ortiz said she also worries Hernandez loyalists in the city of Bristol, Conn., where she lives, might retaliate by harming her or her children.
Follow us on twitter.com/foxnewslatino
Like us at facebook.com/foxnewslatino