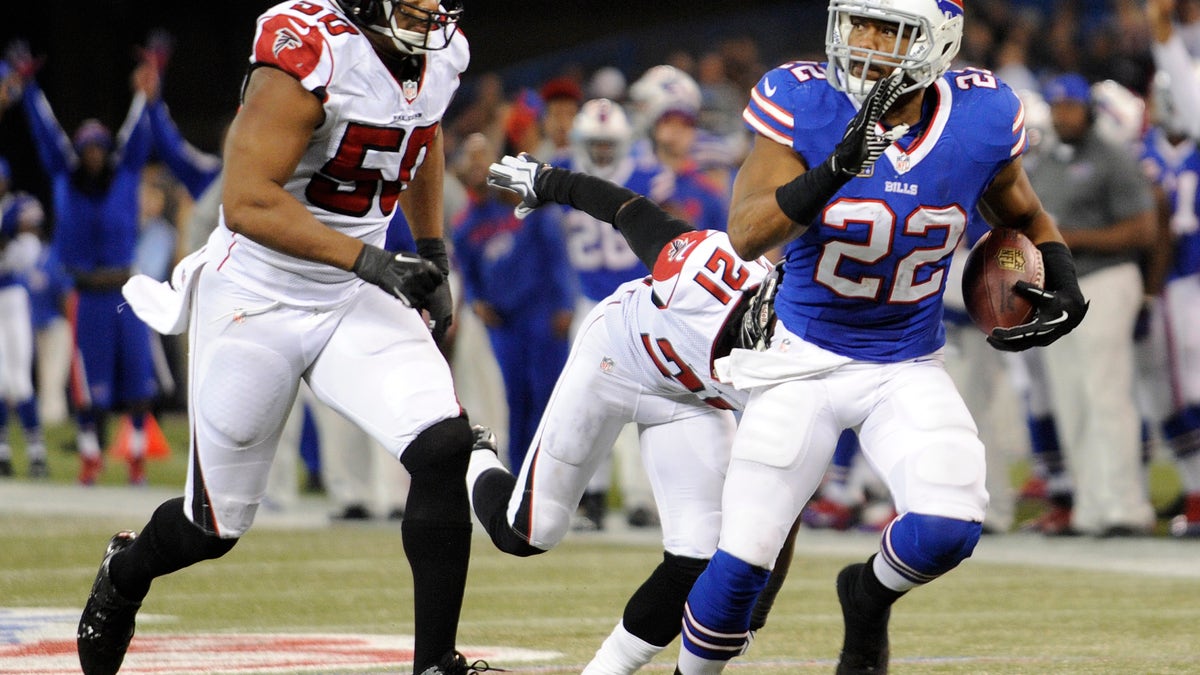 FLOWERY BRANCH, Ga. – The Atlanta Falcons don't know if they'll be facing Green Bay quarterback Aaron Rodgers on Sunday.
They do know they'll have to try to stop rookie running back Eddie Lacy, and that's a major concern for the NFL's 30th-ranked run defense.
Atlanta has struggled against the run all season. The Falcons allow 135.4 yards rushing per game and have given up five runs of 40 yards or longer — the most in the league.
The run defense showed no improvement even as the Falcons snapped their five-game losing streak in last week's 34-31 overtime win over Buffalo. The Bills ran for 195 yards and three touchdowns. C.J. Spiller had a season-high 149 yards rushing, including a 77-yard run.
The Falcons are worried the powerful Lacy could be even more difficult to contain.
"He's a very physical running back, a downhill runner and one of the best rookie running backs I think we've seen in a long time," Falcons defensive end Osi Umenyiora said Thursday. "We have our work cut out for us. We just have to be physical with him and try to slow him down a little bit."
Lacy, the former Alabama standout, has 822 yards rushing with six touchdowns. The 230-pound Lacy doesn't have Spiller's speed, but he has the potential for big gains by breaking tackles with his power runs.
"I've watched a lot of tape on him," said Atlanta safety William Moore. "He's a physical runner. One player hasn't been able to bring him down yet this season. You've got to get 11 hats to the ball."
It's another opportunity for the Falcons to address their season-long trend of giving up too many big plays.
"It's going to be a big challenge for us because we've not defended the run nearly as well as we need to," said coach Mike Smith.
"We've not done a good job. Explosive runs unfortunately are talked about with the secondary because that's usually what happens. If they get past your secondary, they're going to be a long run. But there are other factors that lead to it getting to your secondary."
Smith said "gap integrity issues" and missed tackles contributed to the problems against the Bills.
If Rodgers is held out as he continues to recover from a broken collarbone, the Falcons could follow the trend of other defenses who have loaded the box to focus on slowing Lacy's runs.
With Matt Flynn struggling as Rodgers' replacement, Lacy had 10 carries for only 16 yards in last week's 40-10 loss to Detroit. His longest carry was only four yards. Lacy had 14 carries for only 27 yards in a 27-13 loss at the Giants on Nov. 17, but he bounced back with 110 yards against Minnesota on Nov. 24.
Rodgers practiced in pads on Thursday.
"I think what we need to do is just prepare as if Rodgers is going to play and if not Flynn is a capable quarterback also," Umenyiora said.
Flynn completed only 10 of 20 passes for 139 yards with an interception against Detroit last week.
Packers coach Mike McCarthy said it wouldn't be a surprise to see the Falcons stack eight defenders in the box to focus on Lacy if Rodgers doesn't play.
"Eight-man football is not something new to the league," McCarthy said. "We didn't do a very good job obviously handling it. ... So we have some things we're working on. Our goal is to be a week better at it and we have to take advantage with things we feel are matchups. We like our receiver group every week so that's definitely a challenge we look forward to."
Flynn said he knows it would be his responsibility to create running opportunities for Lacy by forcing the Falcons to respect the Packers' passing game.
"Yeah, that's the plan," Flynn said. "People are going to load the box, we have to make them respect the pass. We just have to execute, that's what it comes down to, execution. ... But obviously if people are loading the box on you, you've got to throw it and make them get out of it."
___
AP Sports Writer Genaro C. Armas in Green Bay, Wis., contributed to this report.
___
AP NFL website: www.pro32.ap.org