Fabricio Werdum: I'm getting rich, not thinking about retirement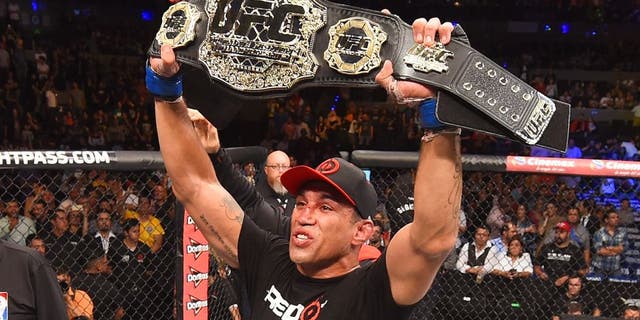 NEWYou can now listen to Fox News articles!
Fabricio Werdum is nearing 40 years of age, and the 14th year of his professional MMA career. He's also the new UFC heavyweight champion and with all the money that comes with that title, the Brazilian isn't considering retirement any time soon.
"Now that I'm getting rich, why would I retire? No way! I want to make history," he recently told Sherdog.com
"I want to be considered the best heavyweight fighter in history by the fans. I started beating Fedor [Emelianenko], [Mark] Hunt, [Cain] Velasquez -- a long list. I was always considered the underdog. So, now I think I'm starting a new phase in my career where I'm not the underdog anymore."
Indeed, Werdum has surprised many with his late-career improvement. He peaked in November, submitting Velasquez to earn the UFC's heavyweight crown.
The Brazilian jiu-jitsu black belt is also on a six-fight winning streak overall. As recently as a stretch between 2006 and 2008, he was a .500 fighter, going 3-3.
He stayed with it, however, continuing to fight the best in the world, while he drastically improved his stand-up striking. The results have been impressive, and the submission fighter seems to be relishing proving naysayers wrong.
"In the beginning, everybody said that I was a jiu-jitsu fighter. I think I could change that, too, by evolving my standup skills. Of course, I have much more to evolve, but when I see my fights today, I can recognize that I've been able to add new skills to my game," he continued.
"So, no way am I thinking about retirement. I'm 38 years old and my body is in perfect shape. I've never had any serious injuries, never even taken hard punishment to my head, so I have a lot of story left to write in that sport."
Werdum defends his title Feb. 6 against Velasquez, in an immediate rematch taking place in Las Vegas.