Exclusive: Dale Earnhardt Jr. at it again in new Mountain Dew commercial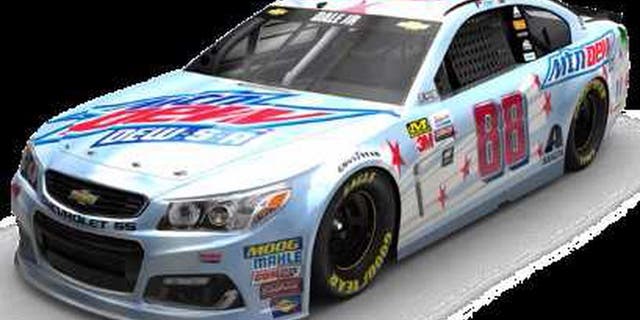 When it comes to making television commercials for his sponsors, Dale Earnhardt Jr. knows how to have fun.
Hes at it again in a new one released Friday, promoting Mountain Dew Dew-S-A, a new flavor of the popular soft drink available now by special order that largely was inspired by NASCAR fans interacting with Earnhardt and Mountain Dew representatives via social media.
The product is basically inspired by the fans of Mountain Dew. Theyre called Dew Nation, Earnhardt told FOX Sports in an exclusive interview. Over the years theyve been sharing awesome mixing experiences on social media and so forth with folks at Mountain Dew, taking their favorite flavors like Code Red, White Out and Voltage and doing all kinds of crazy stuff, mixing flavors.
So this is Mountain Dews way of creating an actual product that folks will really enjoy. Its kind of centered around summer atmosphere, whether youre in at the track or the beach or a barbecue or whatever. Its just kind of a way to get people excited about Mountain Dew and summertime and everything thats American.
Earnhardt -- who drives the No. 88 Hendrick Motorsports Chevrolet owned by Rick Hendrick that is sponsored by Pepisco, the company that produces Mountain Dew -- said he had a blast making the commercial, as usual.
Ive been working with them, actually, ever since Ive been driving for Rick, Earnhardt said. Pepisco has been a partner with Rick for a really long time, ever since when Jeff Gordon was driving before I got there. They were a big, big partner that kick-started our program back in 2008 when we joined up at Hendrick Motorsports, and theyve been a partner of mine ever since.
Weve been driving AMP and Mountain Dew cars throughout the years, and its been a lot of fun.
This particular ad pumping up Mountain Dew "Dew-S-A" was no different in that regard.
This commercial that we made was a pretty big production, Earnhardt said. We actually made the infomercial over at Hammerhead Entertainment, which is our video production company. Its a pretty elaborate setup and it was fun to make. Im looking forward to the fans seeing it. Im sure theyre going to have a good time with it.
If they do, they will be following the lead of NASCARs most popular driver, as voted on by the fans 14 consecutive years. He explained why hes had such a great time shooting this particular sponsors television spots.
When we partnered with Pepsico and AMP way back in 2008, they took me out to L.A. and shot a couple different commercials, he said. One was with the camel, where Im carrying the camel across the desert which was hilarious. I had a lot of fun making that commercial. Then we made the one with a gorilla, where he was attacking me in every corner.
It was just really outside-the-box stuff. A lot of partners, its kind of hard to get creative and get outside of using the race car. You end up using the same types of props all the time and centering it around the racing world. Well, Mountain Dew has always been great about sort of taking us outside of that putting me in scenarios that are every day instead of just at the racetrack, where its like, This is Dale, and he lives at the track every day. Well, thats not true.
They really are a lot of fun because they get creative and I get to do a lot of different stuff. Im not in the drivers suit all the time, Im not talking about race cars or always standing next to a race car, talking. We get to do a lot of fun things. This was no different.
Check out video of Junior's new commercial below.