Everything you need to know: Week 5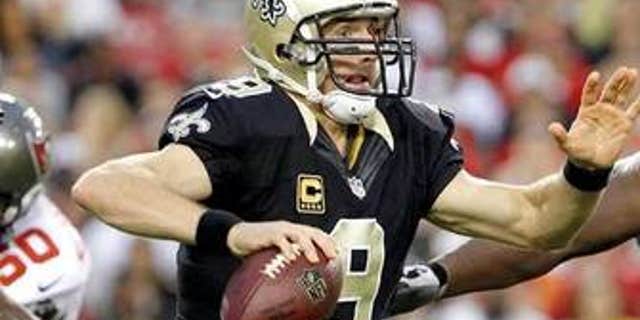 Most of the comments on our weekly previews focus on the merit, or seemingly lack thereof, of my game predictions. Two points to this claim:
1. CHILL OUT - These picks are simply a way of adding engagement to each matchup.
2. According to this piece , I apparently know what I'm talking about. Granted, I have no idea how this was calculated, but I'll take it!
Anyway, everything you need to know about Week 5's slate...
New Orleans at Chicago Bears
The lowdown: Most assume New Orleans' 4-0 start stems from the performance of its offense. There's certainly truth to this claim, with Drew Brees and company averaging 419.5 total yards per game (fourth-best in the NFL). Yet it's the Saints defense that has spurred on this prosperous start, as new coordinator Rob Ryan's crew is holding opponents to a meager 13.8 points per contest. With formidable units on both sides of the ball, the Saints have emerged as a Super Bowl contender through the first quarter of the season.
Historically known for their defensive prowess, the Bears are living by a feast-or-famine approach. This strategy has led to a league-leading 14 takeaways, including two touchdowns. It's also correlated to 28.5 points allowed per game. New coach Marc Trestman's effect on the Chicago offense is garnering the Windy City headlines, but it's the execution of the defense that will dictate the Bears' fruition.
Key injuries: CHI CB Charles Tillman - Groin (Questionable), CHI WR Brandon Marshall - Ankle (Probable); NO RB Mark Ingram - Toe (Out), NO S Roman Harper - Knee (Out)
Line: New Orleans -1, 49 points
Fantasy impact: Until last week, second-year wideout Alshon Jeffery had failed to translate his talent on the practice field to Sundays, boasting a pedestrian 37 catches for 471 yards and three scores in his career. Luckily for Chicago, Jeffery began to put this skill on display versus the Lions, snagging five receptions for 107 yards and a trip to pay dirt. With Brandon Marshall dealing with an ankle injury, envision Jeffery to see an elevated rate of pigskins in his direction against the Saints.
TV: FOX -1:00 PM
The Saints win if: Bears defense is unable to slow down Jimmy Graham; New Orleans contains Matt Forte.
The Bears win if: Jay Cutler is able to keep the mistakes to a minimum; Bill Swerski's Superfans kidnap Brees.
Prediction: Saints 31, Bears 20.
New England at Cincinnati Bengals
The lowdown: Forget that Manning guy in Denver. Considering Julian Edelman is his primary bull's-eye, secondary targets Kenbrell Thompkins and Aaron Dobson rank in the top five for dropped passes and Stevan Ridley going M.I.A., Tom Brady earns my non-existent MVP vote for leading the Pats to a 4-0 start.
Unfortunately, New England was dealt a blow with a season-ending injury to All-Pro Vince Wilfork. Wilfork's absence will be put to the test immediately, as the Bengals boast a dynamic running attack with emerging star Giovani Bernard and former Patriot BenJarvus Green-Ellis. Coupled with solid tight ends Jermaine Gresham and Tyler Eifert and two-time Pro Bowl receiver A.J. Green, the Patriots defense will have its hand full in the Queen City. For the Who-Deys, can Andy Dalton rebound from a disastrous showing in Cleveland, or will the Red Rifle continue to impede the Bengals' potential?
Key injuries: CIN DE Michael Johnson - Concussion (Questionable), CIN CB Leon Hall - Hamstring (Doubtful); NE LB Jared Mayo - Ankle (Questionable), NE WR Danny Amendola - Groin (Questionable)
Line: Pick 'Em, 45.5 points
Fantasy impact: The rise of Bernard has equated to Green-Ellis hitting the waiver wire in a startling amount of FOXSports.com leagues. While the rookie Bernard is seeing amplified involvement, the Law Firm remains a vital cog to Cincinnati's run game. For those seeking a replacement back or Flex option, Green-Ellis, available in 20 percent of formats, is worth the look.
TV: CBS - 1:00 PM
The Patriots win if: New England defense can offset Wilfork's infirmary stay; LeGarrette Blount offers stability in backfield. (Might be the first time "LeGarrette Blount" and "stability" have been used in the same sentence.)
The Bengals win if: Green can somehow throw the ball to himself; Bengals D-line overtakes susceptible New England front.
Prediction: Patriots 24, Bengals 14
Detroit Lions at Green Bay Packers
The lowdown: Here's an odd circumstance: the calendar reads October and the Packers have a losing record. Green Bay's 1-2 record is not indicative of the offense's display. Flaunting a mark of 454.7 total yards per contest (third-best in the NFL), the Cheeseheads are putting up 32 points per game, second only to the Broncos for tops in the league. Rather, it's the team's resistance, which is one of five squads relinquishing over 400 yards per game, that's not holding its merit. Specifically, it's the pass defense that's falling short, giving up 311 yards, fifth-worst in the NFL.
It's this group that will be under scrutiny at Lambeau Field on Sunday, for few offenses sling it around like the Detroit Lions. At 3-1, Matthew Stafford leads an attack posting 309 aerial yards per outing. Although Green Bay's focus will be halting Stafford, it's the Lions backfield that has the Motown faithful excited. Featuring an explosive one-two punch of Reggie Bush and Joique Bell, Detroit's versatility from its backs has added a layer of unpredictability. It's this vitality that could push the Lions back into the playoffs in 2013.
Key injuries: DET WR Calvin Johnson - Knee (Questionable), DET S Glover Quin - Ankle (Questionable); GB LB Clay Matthews - Hamstring (Probable), GB RB Eddie Lacy - Concussion (Probable)
Line: Green Bay -8, 53.5 points
Fantasy impact: Lacy is a full participant in Green Bay practice following his concussion spell, and his return equates to a must-start with Detroit surrendering the fifth-most fantasy points to running backs. Although he excelled in replacement duty two weeks ago, Johnathan Franklin will likely be the change-of-pace plan for the Packers, and with James Starks still nursing a knee injury, Lacy should see the lion's share of carries.
TV: FOX - 1:00 PM
The Packers win if: Lacy replicates the efforts put forth by Franklin and James Starks; Green Bay secondary bends but doesn't break.
The Lions win if: Stafford goes nuts; Ndamukong Suh goes nuts, but not in the way you're thinking.
Prediction: Packers 34, Lions 33
Kansas City Chiefs at Tennessee Titans
The lowdown: What's crazier: that a Kansas City win puts the Chiefs at 5-0, or a Tennessee W brings the records of both clubs to 4-1? This is 2013, right?
The Chiefs revitalization is easier to trace. The offseason arrivals of Alex Smith and Andy Reid have delivered a fresh air to a dormant franchise, and Kansas City's victories over three NFC East teams acquired national attention. Smith's effective, steady presence under center has opened room to run for speedster Jamaal Charles. Coupled with a daunting defense featuring playmakers in Eric Berry, Tamba Hali and Justin Houston, this Chiefs team is built to make a playoff run.
Though lacking the household names of other NFL playoff contenders, the Titans have constructed a sound roster on the foundation of defense. Allowing a scant 17.3 points per game, Tennessee has also been opportunistic on D, creating nine turnovers through four games. As Jake Locker and the Titans offense have been protective of the rock, Tennessee enters Week 5 tied for first in turnover differential at nine. The other team atop this leaderboard? You guessed it - Kansas City.
With Locker on the sidelines nursing a hip injury, the responsibility falls to Ryan Fitzpatrick to keep Nashville's hopes afloat. While Fitzpatrick is capable in his own right, envision Chris Johnson to see extended action this weekend.
Key injuries: TEN QB Jake Locker - Hip (out), TEN RB Shonn Greene - Knee (Out); KC CB Brandon Flowers - Knee (Questionable), KC RB Jamaal Charles - Feet (Questionable)
Line: Kansas City -1, 38.5 points
Fantasy impact: For those seeking a defense this week, Tennessee is available in 64 percent of FOXSports.com fantasy football leagues. Inserting the Titans is a bit of a gamble, but one could argue that, with a flawless display through September, the Chiefs offense is due for regression.
TV: CBS - 1:00 PM
The Titans win if: Fitzpatrick, a.k.a. "The Bearded Bomber," proves an adequate replacement for Locker; Johnson turns back the clock to his CJ2K days.
The Chiefs win if: Kansas City's defense swallows Fitzpatrick alive; Smith's proficiency in the pocket endures.
Prediction: Chiefs 20, Titans 13
Seattle Seahawks at Indianapolis Colts
The lowdown: The Andrew Luck versus Russell Wilson matchup will grab the spotlight, yet it's the defenses that have carried each club in the early going.
The Seahawks are surrendering a meager 11.8 points per game, second-lowest in the NFL, and the Colts aren't far behind with an allowance of 12.8 points per contest (second-best in the AFC). Amazingly, both are utilizing the strength of their secondaries to reach this goal. Seattle's group of Richard Sherman, Earl Thomas, Brandon Browner and Kam Chancellor is the more famous of the two units, and their bite lives up to the bark: a league-low 60.7 QB rating, 191 passing yards per game and a touchdown-to-interception ratio of 3/7. While they lack the name recognition of their Seahawks compadres, the Colts have produced similar numbers: a 65.8 QB rating, 201 passing yards per game and a 2/6 score-to-pick figure. Given the pass-happy scenery of the NFL, such resistance is rare, and quite remarkable.
Nevertheless, it's the offenses that will ultimately rule the fates for the Colts and Seahawks. In this regard, most football fans believe the teams' strategies diverge. In truth, the path of sameness continues. Wilson gets the media love, but Seattle is a run-based operation. Led by Marshawn Lynch, the Hawks average 144.3 yards per game, fifth-best in the league. Wilson and backup tailback Robert Turbin contribute on this front, yet it's the involvement of Lynch, who enters with 79 carries (fourth-most attempts in the NFL), that acts as the piston to this engine. Whatever Wilson adds in the passing game is merely icing on the cake.
Indianapolis is thought to be on the other end of this spectrum, and with good reason: Luck's 4,374 passing yards were an NFL rookie record. However, new offensive coordinator Pep Hamilton has changed the script in Indy this year, letting the ground game fuel the offensive attack. This sentiment is illustrated in the Colts' 149.5 yards per outing. As a corollary, Luck is averaging 44 yards less per contest, but his efficiency is vastly improved, hitting 64.1 percent of his intended targets (compared to last season's 54.1 figure) with just two turnovers (versus 2012's 23). It's an equation Indianapolis is hoping leads to a lengthy postseason stay.
Key injuries: SEA TE Zach Miller - Hamstring (Questionable), SEA OT Breno Giacomini - Knee (Out); IND S LaRon Landry - Ankle (Out), IND RB Ahmad Bradshaw - Neck (Out)
Line: Seattle -2.5, 43.5 points
Fantasy impact: Noted above, the Seahawks defense is more celebrated, but the Colts aren't far behind in aptitude. Wilson hasn't put the greatest numbers up under center, making the Indianapolis D a sneaky start in Week 5.
TV: FOX - 1:00 PM
The Seahawks win if: Seattle harasses Luck into two-plus turnovers; Lynch controls the clock for Emerald City.
The Colts win if: Trent Richardson is able to bear a full workload; Luck has one of his last-minute miracle drives.
Prediction: Seahawks 35, Colts 24
Jacksonville Jaguars at St. Louis Rams
The lowdown: Pretty sure, years from now, tape of this game will be used as:
- Record of when our society began to crumble.
- An interrogation method against criminals/terrorists.
- The start of a documentary detailing how the Jaguars moved from Jacksonville to London.
Key injuries: JAX TE Marcedes Lewis - Calf (Out), JAX WR Cecil Shorts - Groin (Questionable); STL CB Cortland Finnegan - Thigh (Questionable)
Line: St. Louis -12.5, 41 points
Fantasy impact: Pick up the Rams defense. Trust me, they're available in your league.
TV: CBS - 1:00 PM. What, has AMC not started "Horror Fest" for Halloween?
The Rams win if: Actually, if the Rams don't win, the Sam Bradford Era will be officially over in St. Louie.
The Jaguars win if: The team brings back the free-beer-with-ticket-purchase promotion.
Prediction: Rams 17, Jaguars 14
Baltimore Ravens at Miami Dolphins
The lowdown: So much for a grace period. After single-handedly losing last week's clash with Buffalo thanks to a franchise-record five interceptions, Joe Flacco looks to bounce back against the Dolphins. Miami is looking to dust itself off as well following a beatdown at the hands of the Saints on the big stage.
Of greater concern than Flacco's, ahem, "Flacconess" for the Ravens is the state of the backfield. Ray Rice returned from a hip injury last week but was inept in limited action, and backup Bernard Pierce added little of substance as well. Baltimore's defense may lack the superstar power of yesteryear, but it remains a solid corps, and, lack week's miscue aside, Flacco is a sufficient field general. The destiny of this Baltimore company resides in the effectiveness of the run game. With Rice seeing heightened incorporation in practice this week, imagine a big day from the Pro Bowl back.
For Miami, the assimilation process of marquee pick-up Mike Wallace needs to accelerate. The former Steeler hauled in three or fewer balls in three of the Dolphins' four games, equating to a modest 15 catches for 176 yards and a touchdown. Ryan Tannehill has quietly developed into a steadfast option under center for the Fins, but if he hopes on taking Miami to the next level, he needs to get on the same page as Wallace in a hurry.
Key injuries: MIA DE Cameron Wake - Knee (Questionable), MIA WR Brandon Gibson - Ankle (Questionable); BAL CB Ladarius Webb - Thigh (Questionable), BAL WR Marlon Brown - Thigh (Questionable)
Line: Miami -2, 43.5 points
Fantasy impact: With Gibson ailing and the rapport between Tannehill and Wallace a work in progress, fantasy owners should look at Brian Hartline against a Ravens secondary surrendering 24.5 fantasy points to receivers (21st in the league). Hartline's value gets an added boost in PPR leagues, with the Ohio State product leading the team in targets and receptions.
TV: CBS - 1:00 PM
The Ravens win if: Rice shakes off the lingering effects of his injury; Flacco doesn't go "Average Joe" on his team.
The Dolphins win if: Wallace becomes more than a $60 million decoy; the Dolphins rushing game can re-establish itself after a few shaky performances.
Prediction: Ravens 27, Dolphins 20
Philadelphia Eagles at New York Giants
The lowdown: We give the Rams-Jaguars tilt grief, but this rodeo isn't much better.
After putting on a scintillating display in its season opener, Philadelphia has lost three straight in ugly fashion. The spread offense is working to some extent, verified by the team leading the league in rush yards (198.3 yards per contest) and second overall in total yards (458.8 yards per game). Alas, that success has not carried over to the scoreboard, as the Eagles' 24.8 points per game ranks eighth in the NFC.
The Giants can second the sentiment on offensive woes. New York's 15.3 points per game is third-worst in the NFL. Sophomore back Davis Wilson has been the lightning rod for these misfortunes, but the passing game's futility is the main catalyst, or lack thereof, for this standing. Manning's 56.3 completion percentage is his lowest figure since 2007, and his nine interceptions are most in the league. A little love from the rushing attack would alleviate some of the G-Men's feebleness, and the Giants' league-worst defense has nowhere to go but up. Nevertheless, if Manning doesn't right his wayward ship, the Giants will be stuck in the NFC East cellar.
Key injuries: NYG C David Baas - Neck (Out), NYG CB Aaron Ross - Back (Out); PHI S Patrick Chung - Shoulder (Out)
Line: New York -3, 53.5 points
Fantasy impact: He hasn't produced much of value in the fantasy realm, but Brent Celek is an intriguing add in deeper formats or those looking for a bye-week replacement. The Giants are giving up the fifth-most fantasy points to tight ends, and with Philly's offensive line struggles, Michael Vick should be looking at his check-down target early and often.
TV: FOX - 1:00 PM
The Giants win if: Wilson turns in a respectable performance; the "Manning Face" stays hidden away.
The Eagles win if: Philly's defense can shore up its secondary; LeSean McCoy takes advantage of an exploitable New York front seven.
Prediction: Giants 28, Eagles 17
Carolina Panthers at Arizona Cardinals
The lowdown: Carson Palmer admitted he hasn't grasped Bruce Arians' playbook. Not sure why this is so disconcerting. After all, most new quarterbacks struggle with schemes during training ca...wait, it's OCTOBER? Oh boy. Never good when a soon-to-be 34-year-old labors to comprehend a system that was executed to near-perfection by a rookie quarterback a season ago. Hey, at least All-Pro/steroid user Daryl Washington is back, so you got that going for you Arizona, which is nice.
The Panthers arrive in the desert in slightly better shape. Carolina is coming off a win and a bye week, and its defense has is an under-the-radar unit, holding opponents to 12 points per game (third-best in the NFL). The Panthers are still miles away from relevancy in the NFC playoff picture, but with foundational pieces in Cam Newton, Luke Kuechly and a strong secondary, the Panthers will be a tougher-than-believed obstacle in 2013.
Key injuries: CAR RB Kenjon Barner - Foot (Questionable), CAR S Quintin Mikell - Ankle (Out); ARZ DT Darnell Dockett - Groin (Questionable)
Line: Carolina -1.5, 41.5 points
Fantasy impact: If Carolina's Barner makes his NFL debut, look for the rookie out of Oregon to see a sufficient workload. The Cardinals own a threatening secondary, making the prerogative in establishing the run game paramount for the Panthers. He lacks the build of DeAngelo Williams, but Barner's speed and versatility could provide a nice change of pace for Carolina.
TV: FOX - 4:05 PM
The Cardinals win if: Arizona's rushing attack, which has been lackluster this fall (78.8 yards per game, 3.6 yards per carry), is able to give Palmer breathing room.
The Panthers win if: Cam Newton delivers one of his box-score bonanza games; I mean, a starting QB not understanding his playbook? Carolina better feast on that frustration.
Prediction: Cardinals 19, Panthers 13
Denver Broncos at Dallas Cowboys
The lowdown: Remember a year ago at this time, after Manning threw three interceptions against the Falcons and 80 percent of his passes had a wobbly trajectory, we wondered if the sun had set on the venerable quarterback's career? Yeah, me neither.
This game might be in Jerry's World, but knocking off this Broncos team seems like a task too tall for the Cowboys. On the bright side, there's a legitimate chance Dallas will remain atop the NFC East standings with a loss, so there's that.
Key injuries: DAL WR Miles Austin - Hamstring (Doubtful), DAL DE DeMarcus Ware - Back (Probable); DEN CB Champ Bailey - Foot (Questionable), DEN WR Eric Decker - Ankle (Probable)
Line: Denver -8, 56.5 points
Fantasy impact: If Austin is unable to suit up, rookie wideout Terrance Williams is a possible fantasy breakout. Williams was targeted eight times last week, snagging seven balls for 71 yards (albeit with a fumble). Williams' competency over the middle and in short routes has opened windows for Dez Bryant and Jason Witten in the receiving arena, while also harvesting looks of his own. Denver's in the middle of the pack against receivers in fantasy, making Williams a decent pick-up as a flyer.
TV: CBS - 4:25 PM
The Broncos win if: You've seen Denver this year, right?
The Cowboys win if: Cowboys defensive front abuses a beat-up Broncos line, Tony Romo puts on one of those displays that makes you forget about this two previous rocky starts.
Prediction: Broncos 38, Dallas 28
Houston Texans at San Francisco 49ers
The lowdown: Billed as a possible Super Bowl rendezvous, both teams have ways to go in strengthening their cases come playoff time.
Colin Kaepernick's encore is off to an inauspicious start. The San Fran signal caller has five touchdowns against seven turnovers this year, his completion percentage is down (62.4 percent to this year's 58.1 mark) and he hasn't been as active on the soil. A banged-up receiving corps hasn't helped his cause, but for the 49ers to hoist the Lombardi Trophy, Kaepernick will need to develop some semblance of consistency.
Of course, it could be worse. At least Niners fans aren't burning Kaepernick jerseys in effigy.
Luckily for Matt Schaub, he has a bailout in one of the best backfields in the league in Arian Foster and Ben Tate. Moreover, neophyte DeAndre Hopkins has developed into the complimentary receiver the franchise has never had for Andre Johnson. As long as Schaub can curtail his knuckleheaded decisions, the Texans will be a force in the AFC race.
Key injuries: HOU WR Andre Johnson - Shin (Questionable); SF TE Vernon Davis - Hamstring (Questionable), SF DT Justin Smith - Shoulder (Questionable)
Line: San Francisco -5.5, 41.5 points
Fantasy impact: Ben Tate might seem like an astute play this weekend, with Houston likely to keep the reins tight on Schaub's passing forays. Moreover, adversarial running backs have had success against the Niners this season, with San Francisco conceding the seventh-most points to the position. While I don't disagree with this outlook, Tate should only see 10-12 touches, hardly enough to make a dent in your box score. Even in deeper leagues, keep Tate on the bench.
TV: NBC - 8:30 PM
The 49ers win if: Frank Gore puts up an admirable showing against a stalwart Houston front seven; Schaub spontaneously combusts.
The Texans win if: Foster and Tate have their way on the ground; a Kaepernick ill-advised venture makes Jim Harbaugh pass out from screaming.
Prediction: 49ers 33, Texans 24
San Diego Chargers at Oakland Raiders
The lowdown: Rant: I'm no Darren Rovell, but I get the value of branding. However, do we really need to package Sunday night's 11:35 PM EST game as, "Thursday Night Football: Chargers vs. Raiders"? Can you imagine how many people will be at watering holes throughout the day, see a graphic promoting the game and immediately be sent into a mind warp? Trust me, a lot. Especially since it happened to me this past Thursday.
Key injuries: OAK RB Darren McFadden - Hamstring (Doubtful), OAK QB Terrelle Pryor - Concussion (Probable); SD RB Ryan Mathews - Hamstring (Probable), SD CB Shareece Wright - Hamstring (Questionable)
Line: San Diego -4.5, 45 points
Fantasy impact: Hope you're sitting down: Darren McFadden is on the shelf with an injury. Shocking, I know. Enter Jennings, best known for frustrating fantasy owners during Maurice Jones-Drew's contract sabbatical/injury-plagued 2012 season with a miniscule 2.8 yards per carry in 100 attempts. However, Jennings showed a tad of promise in relief of McFadden last week, racking up 45 yards on the ground and adding eight receptions for 71 yards in the receiving arena. The Raiders offensive line isn't great, and Jennings lacks the explosion of most backs. Nevertheless, the Chargers are allowing the fourth-most fantasy points to rushers this year, and Jennings' receiving contributions boost his value in PPR formats. Available in 88 percent of FOXSports.com leagues, Jennings is worth the roster stash.
TV: NFL - 11:35 PM
The Chargers win if: Oakland's offense is stuck in stall; the Philip Rivers Resurgence continues (also, great name for a band!)
The Raiders win if: Jennings offers versatility and stability; Matt Flynn stays on the sidelines.
Prediction: Chargers 27, Raiders 10
New York Jets at Atlanta Falcons
The lowdown: Atlanta has been one of the crown jewels in the NFC under the Mike Smith regime, and earned the conference's top seed last playoffs. This season? Not so much, as injuries on both sides of the ball has the Dirty Birds at a 1-3 mark heading into October.
The Jets seemingly offer a respite to the Falcons to get back on track. However, Gang Green has been a frisky bunch this fall, coming to the Georgia Dome with a 2-2 record, with one of the defeats a 13-10 loss to rival New England. Geno Smith is a raw and undisciplined talent, yet a sound defense has kept New York afloat. Along with the contributions of running back Bilal Powell, don't be surprised if this soiree is closer than imagined.
Key injuries: ATL WR Roddy White - Ankle (Questionable), ATL CB Asante Samuel - Thigh (Questionable); NYJ RB Chris Ivory - Hamstring (Questionable), NYJ WR Stephen Hill - Concussion (Questionable)
Line: Atlanta -10.5, 43.5 points
Fantasy impact: I know, not easy to leave your fantasy fruition in the hands of Smith. However, Atlanta's secondary is a depleted group, and with Santonio Holmes and Stephen Hill likely out against the Falcons, someone has to be on the receiving end of Geno's air attempts, right? Kerley quietly put together a respectable 2012 with 56 grabs for 827 yards, and looked alright versus a strong Titans defense last week (four receptions, 65 yards). Kerley is definitely a gamble, but in deeper formats, might be worth the risk.
TV: ESPN - 8:30 PM
The Jets win if: Powell prolongs his commendable displays; Jets secondary capitalizes on injured Atlanta WR crew.
The Falcons win if: Matt Ryan controls the tempo of the game; Geno does Geno things. You know what I'm talking about.
Prediction: Falcons 24, Jets 20