Eric Reid, who supported Colin Kaepernick in protests during national anthem, signs with Panthers
The Carolina Panthers on Thursday signed safety Eric Reid – who supported Colin Kaepernick's protest against perceived racial injustice by kneeling during the national anthem.
Reid, 26, spent five seasons with the San Francisco 49ers before signing with the Panthers. He was named to the NFL All-Rookie Team in 2013 and made the Pro Bowl the same year. He's recorded 10 interceptions and 264 tackles in his career.
"Eric has been a starting safety in the NFL and has played at a high level throughout his career," Panthers general manager Marty Hurney said in a news release. "After we put [safety] Da'Norris Searcy on injured reserve, Ron [Rivera] and I discussed our options, and Eric was at the top of our list. He is a physical safety with good ball skills and play-making ability."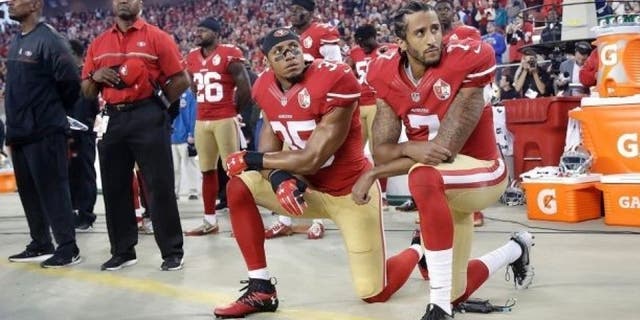 Reid backed Kaepernick while the quarterback decided to kneel during the national anthem starting in 2016. Reid continued to protest through last season.
Upset over his free agent status in the offseason, Reid accused teams of blackballing him because he participated in the protests during the anthem.
"The notion that I can be a great signing for your team for cheap, not because of my skill set but because I've protested systemic oppression, is ludicrous," Reid tweeted in March. "If you think is, then your mindset is part of the problem too."
Reid later clarified, saying it was owners and not the general managers who were blocking him from returning to the field: "GMs aren't the hold up broski (sic). It's ownership. People who know football know who can play. People who know me, know my character."
"He is a physical safety with good ball skills and play-making ability."
Panthers owner David Tepper defended player protests earlier this month.
"These are some of the most patriotic people and best people," Tepper said. "These are great young men. So to say that [they aren't patriotic] makes me so aggravated and angry. It's just wrong, it's dead wrong."
Carolina is off this week and will play the New York Giants at home on Oct. 7.