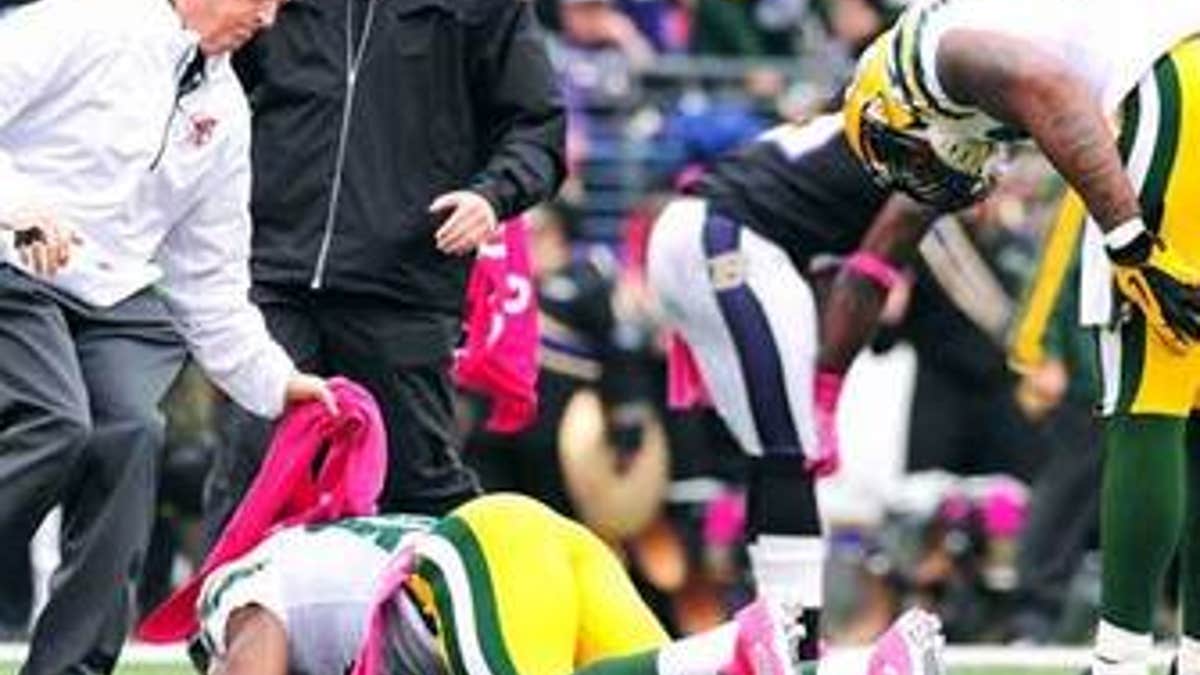 There were two reactions to the hit by Baltimore Ravens safety Matt Elam on Green Bay Packers wide receiver Randall Cobb's knee.
One of them was best summed up by the expression on quarterback Aaron Rodgers' face as he barked at Elam between plays. Rodgers didn't like the way Elam went low on Cobb's money-makers -- his legs -- as Cobb was defenseless.
The other response was that of defensive backs and traditionalists across the league: If Elam -- or any safety for that matter -- can't go high near the head, where do you expect him to go?
The answer might soon be the middle only.
As many have surmised, the NFL's competition committee will look at those low hits -- like the one that could've easily blown out Cobb's knee (FOX Sports' Jay Glazer reported Sunday evening Cobb's injury isn't expected to be a season-ender) and the one that did end Miami Dolphins tight end Dustin Keller's year -- to determine whether a rule change is necessary.
"We will certainly discuss this at length this offseason," Giants president and CEO John Mara, a member of the league's competition committee and the committee on health and medical issues, wrote in an email to FOX Sports on Sunday. "Too early to tell if there will be a rule change. We will look at all of these plays before deciding if a rule change is warranted."
The NFL Players Association, which has made a push for rules to protect the head, is also looking into whether these low hits need to be deemed illegal, a source said. However, the most the union can do in this case is suggest a rule change. It'll be up to the league to deem whether those low hits should be outlawed.
Many times, low hits against a leaping receiver don't end with an injury. The receiver simply has his legs taken out from under him before his feet hit the ground and lands on his back, side or backside. However, the injuries to Keller and Cobb (even if the latter isn't lost for the season) have highlighted how defenders are aiming lower than ever these days out of fear of hitting too high.
It's such a difficult debate to resolve that even Rodgers saw the value in the opposing view during the heated discussions on the field.
"I just felt like, from my vantage point, he had plenty of time to not take out a guy's legs in that situation," Rodgers said. "I think he could have hit him in the proper hitting zone, and that's what I told him. The other safety came over and actually made a very knowledgeable point, which I appreciated a little intelligent answer back and forth about some of the issues defensive players have to deal with (hitting in) the target area. I totally understand that and get that."
Possible resolutions to this issue would be limiting the hitting area to a "strike zone" between the thighs and shoulders for all receivers in the process of making a catch, designating that strike zone for "defenseless" receivers, limiting the illegal act to only those plays on which a receiver has to leap to make a catch or flagging only those defenders who lunge or launch at the leg area vs. those who attempt to hit and wrap.
No matter the resolution, whether or not a rule is added, expect a heated debate to continue among those who believe a change is necessary and those who think shrinking the legal area to hit a player would be just another step toward two-hand touch.
HOUSTON, WE HAVE ... A VISITOR?
Vince Young wasn't even watching the Houston Texans' debacle of a loss to the St. Louis Rams on Sunday. He didn't have to be, either, as he was receiving repeated texts from a close friend about how bad things were going.
So Young went to Twitter to tell the Texans he was available and ready to go if they need him. Within minutes, his name was trending in his hometown.
Young hopes that on Monday he can relay the same message in person at the team's facility.
"I would like to pop in on those guys and see how that goes," Young told FOX Sports by phone. "We're working on it."
The 30-year-old former No. 3 overall pick has been out of the league since the Packers cut him at the end of the preseason. Young was 20-for-42 for 177 yards, zero touchdowns and no interceptions in three games for Green Bay and averaged 5.2 yards per carry. Those aren't staggering numbers, but his release still came as a surprise because the team had already cut Graham Harrell, which seemed to indicate Young had won the job behind Rodgers.
In the weeks that have followed, quarterbacks have been shuffled all over the league, yet Young hasn't even been able to get a workout, which is partly due to the fact he's already played for a few of the teams that have needed quarterback help (the Tennessee Titans and Buffalo Bills).
But with Matt Schaub struggling this season and hurt on Sunday, along with T.J. Yates not exactly making a case for himself (two interceptions, including one for a touchdown), Young thinks the Texans should give him a shot.
"I would literally be crying on my first interview if that happens," Young said. "People will be like, 'Why are you crying?' Because that would be a dream come true to play at home in front of my family and friends in the city I grew up in. They've been watching me since high school. I definitely wouldn't let them down.
"I'd put my blood, sweat and tears into getting that Super Bowl. That's something I would love to do, definitely for my hometown."
Young said he's been staying in football shape, and believes he could learn the Texans' playbook quickly enough to contribute soon.
"I'm a veteran. I've been in this league," he said. "I learned the Green Bay offense fast, coming in on short notice. It's not really a major change. Everybody runs the same things, so it's about how fast you can pick up the terminology. ... I just feel like I can pick it up and run plays I'm comfortable with that I had success with in the past and then start picking up more each day and each week. I really feel like that wouldn't be a problem."
FIVE QUICK TAKES
* This is not just the FOX homer in me here: Sideline reporter Laura Okmin did an outstanding job reporting on Minnesota Vikings running back Adrian Peterson's decision to play Sunday. Okmin opened FOX NFL Sunday with a text message she received from Peterson in which he said "God wants something good to come" from the death of his son.
Okmin also had a very good interview with a subdued coach Leslie Frazier. As for Peterson's decision to play, he'll surely continue to hear from critics who don't have all of the facts. The end result -- 62 yards on 10 carries in a blowout loss -- isn't what Peterson had hoped for. But at the very least, Peterson said all the right things and tried to inspire with his performance on the field. No one can blame a guy for trying to do that much.
* By the end of the third quarter of Sunday night's game against the Dallas Cowboys, Robert Griffin III had 77 yards rushing. That was five yards more than he had in his first five games combined. Griffin looked like his old self as he was escaping around the edges of the Cowboys' defense. Think back to his first game this season, against the Philadelphia Eagles, and remember what he looked like that night and how far he's come.
Now imagine how much progress he'll make by the end of the season, as compared to Week 6. And yes, Week 6 would've been the last group of games before he was welcomed back to practice if he'd begun the season on the physically unable to perform list. Right now, Griffin would just be coming back to practice and then have to work himself into game shape. Yeah, the first couple of weeks were ugly. But it's clear the Redskins, Dr. James Andrews and Griffin's camp have handled his return from ACL surgery about as well as could have been expected.
* The NFL Players Association's memo on the Josh Freeman situation that was -- cough, cough -- obtained by USA Today Sports shows the union isn't about to let Buccaneers coach Greg Schiano off the hook without a fight. According to the memo, the union claims it has information that indicates Schiano mentioned to Bucs players that Freeman was in the league's substance-abuse program.
If true, that's a violation of the confidentiality rules in the collective-bargaining agreement. The point of the memo, which an NFL spokesman flat-out indicated was leaked to the media by the union, was surely to encourage the league's involvement in a joint investigation. According to a source, the league has been reluctant to join forces with the NFLPA in such an investigation. The pressure is not apparently on to do so.
* Geno Smith is one seriously up-and-down quarterback. The Jets' rookie, coming off Monday's superb performance in a comeback victory over the Atlanta Falcons, threw two interceptions and failed to find the end zone in Sunday's loss to the Pittsburgh Steelers. Smith now has 10 interceptions in his first six games, making him the fourth rookie since 2000 to throw that many picks so early in his career.
Smith doesn't have great company there, as the other three were: Chris Weinke (2001), Brandon Weeden (2012) and Smith's teammate-for-now Mark Sanchez (2009). Go back to 1998, and Ryan Leaf's name pops up. It seems Smith is headed for certain doom, yes? Well, until one realizes Leaf's 12 interceptions through six games as a rookie were trumped by some guy out of Tennessee named Peyton Manning, who had 14.
* Speaking of that game at MetLife Stadium on Sunday, the Steelers finally got in the win column and it's not crazy to think they might start adding to it over the next couple of weeks and at least get into the postseason conversation. Over their next seven games, they face only two teams that currently have winning records in the New England Patriots and Detroit Lions.
Five wins over that stretch would get them to 6-6 with four games to play. It's a bit of an assumption, and it might only mask the personnel issues they seem to have across their roster, but Mike Tomlin's no-fun-and-games-while-losing policy could lead to a more respectable record for a proud franchise.
10 EVEN QUICKER TAKES
* On DeSean Jackson: I had my doubts when he was yapping in Darrelle Revis' direction, but Jackson backed it up with two touchdown catches.
* On Nick Foles: Revis was looking for help on the first of Jackson's touchdowns. It wasn't there because Foles did a great job of freezing the safety with a pump fake toward the corner. Foles' second touchdown to Jackson was a terrific 36-yard throw. Foles, who has thrown an excellent deep ball, likely hasn't won the job over the injured Michael Vick yet but he's at least making the conversation interesting.
* On Kenny Stills: The 28th fourth-quarter comeback of Tom Brady's career wiped out what would've been the Saints receiver's first game-winning touchdown, but that was a heckuva play for a young guy who doesn't get many targets. Stills showed he might deserve some more looks.
* On Austin Collie: Quietly, the former Indianapolis Colts wide receiver returned to NFL action on Sunday, a little more than a year removed from patella surgery. Collie, who also is looking to prove he's not a concussion risk, had two catches for 24 yards, including a nine-yarder to convert a fourth-and-4 one play before Brady's game-winning touchdown pass.
* On Joseph Fauria: The end-zone-dancing Lions tight end has five touchdowns on only seven receptions. That ties former Pittsburgh Steelers tight end Eric Green (1990) for fewest catches among players with five touchdowns.
* On Jerod Mayo: The linebacker's arm in a sling is not what the Patriots want to see. Mayo was clearly in serious pain as soon as he was sandwiched by a couple of players. Expect an update on him Monday -- and the Pats can only hope it's a good one.
* On Alameda Ta'amu: The Arizona Cardinals defensive lineman figures to hear from the league, if what San Francisco 49ers offensive lineman Alex Boone said is accurate. FOX cameras caught Boone telling coach Jim Harbaugh that Ta'amu "kicked me in the (bleeping) face." Boone isn't innocent here, as he appeared to throw a punch.
* On Branden Albert: The Kansas City Chiefs' left tackle is the patient of the week. He'll undergo MRIs on his knee and elbow on Monday. Albert returned after suffering the elbow injury, but his day was over after hurting his knee. The Chicago Bears' Henry Melton and the Dallas Cowboys' Anthony Spencer were fellow franchise-tag players who already are lost for the season. Early indications are that Albert won't join them on IR, though the MRIs will tell the full story.
* On Brandon Jacobs: The Giants' running back had a return to form against the Bears on Thursday, but the team can't expect him to carry that load for several games. David Wilson's second opinion, set for Monday in Los Angeles, will be huge because Da'Rel Scott is expected to miss a few weeks with a hamstring injury.
* On the Jacksonville Jaguars: While it's weird giving props to a team that lost by 16, that was a gritty performance by a team that should've been overwhelmed by the talent of the Denver Broncos.