Eagles' Kiko Alonso embraces his Latino roots and finds new fans on the way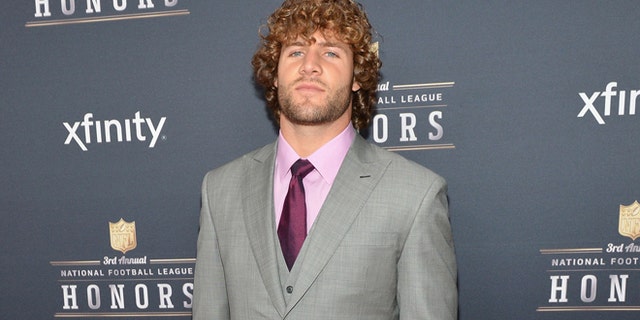 The Philadelphia Eagles have had Latino players before – most notably current quarterback Mark Sanchez – but no player on the team has been more vocal or seemingly proud of his heritage than newly acquired linebacker Kiko Alonso.
The son of a Cuban father and Colombian mother, Alonso has made it known to the Eagles organization, the Spanish-language media that follows the team and a growing segment of the team's fan base that his Hispanic roots are a big part of who is and why he plays the game.
This is evidenced by the amount of time and access that Alonso allots to Spanish-language media, which reporters that follow the Eagles say surpasses the typical reporter-athlete back and forth.
"He's really embraced the culture," Rickie Ricardo, the Eagles Spanish language play-by-play announcer told the Philadelphia Inquirer. "He's outgoing about it on social media. He's been great with my guys ... The Eagles in Spanish fan base has taken to Kiko without having seen him one play on the field. Just the mere fact that he was dealt for a name as big as Shady McCoy gives him a lot of cache. And he's taken the bull by the horns with his outward reach."
The linebacker is normally known as a man of few words, but says that he is about 80 to 90 percent fluent in Spanish.
"My parents' first language was Spanish," Alonso said. "They thought it was important to have me growing up speaking both, and they didn't stray from that."
He also travels frequently to the Caribbean – including spending every Christmas in Puerto Rico – and lists chicken, rice, black beans and fried plantains as his favorite meal. Checking out his Twitter feed, one finds many posts written in Spanish as well.
While this connection to his heritage has made him – and now the Eagles – more popular throughout Latin America, Ricardo says that Alonso doesn't have to look too far for fans looking to adopt him.
"I relate to him because we were both born here," Ricardo said. "He was born in Massachusetts, and I was born in New Jersey. We're both sons of Cuban fathers."
By joining the Eagles, the 6-foot-3, 238-pound Alonso is also now reunited with Chip Kelly, who coached the linebacker at his previous job at Oregon. Alonso made an immediate impact when he played for the Buffalo Bills after being selected in the second round of the 2013 draft.
He emerged as a top defensive rookie of the year contender after leading Buffalo with 159 tackles, two fumble recoveries and tying for the team lead with four interceptions while barely missing a snap in playing all 16 games.
Alonso's career was derailed in July 2014 when he sustained a season-ending left knee injury during a pre-training camp workout at Oregon, but is now healthy and ready for the start of the new season come fall.
"Kiko loves football," Kelly said. "You've got to be a [defensive back]. You've got to be a [defensive] lineman. He's the same player I saw when I got an opportunity to coach him at Oregon."
The Associated Press contributed to this report.