Dwyane Wade responds to criticism about shooting during Canadian national anthem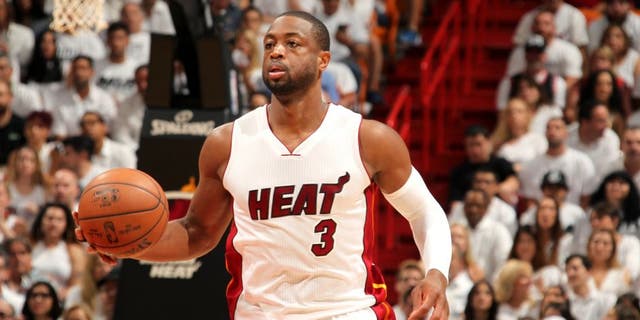 NEWYou can now listen to Fox News articles!
Dwyane Wade is Public Enemy No. 1 in Canada right now for taking shots during the Canadian national anthem before Game 3 at the American Airlines Arena on Saturday night.
On Sunday, Wade spoke out for the first time about the controversy, defending himself and saying he meant no disrespect (via Palm Beach Post):
"You're always sensitive to anything throughout the world," he said. "I'm not thinking about nothing like that. I'm thinking about what I need to do before every game that I prepare for and have been doing my whole career. I understand whatever's said from that standpoint, but I'm not a disrespectful person. If anybody thinks I'm being disrespectful to their country, then they have no idea who Dwyane Wade is.
"No disrespect from myself or Amar'e (Stoudemire) or anybody. If anybody feels like it was, please don't fill up my timeline with disrespectful comments, because that's not this guy right here. Find somebody else with that."
That's not exactly an apology, which means this storyline likely won't die out until after the series is over -- especially with the matchup heading back up to Toronto for Game 5 on Wednesday.
According to Tim Reynolds of the Associated Press, Wade likes to make his final shot before lining up for the national anthems, and he simply kept missing (as you can see in the video above):
Sounds like a bit of a stretch, but it's impossible to know for sure. Only one thing's for certain: Wade didn't win back any fans in Canada with his comments.
Jovan Buha covers the NBA for FOX Sports. Follow him on Twitter: @jovanbuha.