Ducks Topple Predators to Even NHL Quarterfinal Series at One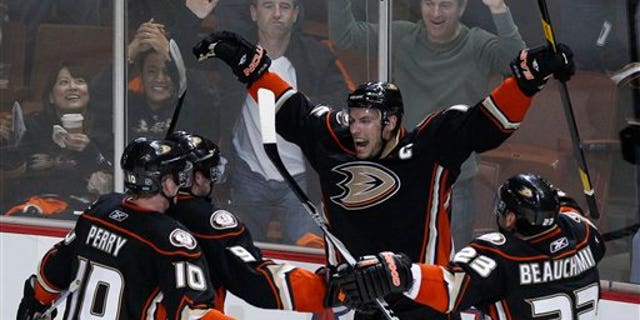 ANAHEIM, Calif. — The Anaheim Ducks called their timeout just a few minutes into Game 2. Assistant coach Dave Farrish furiously scribbled instructions for his power-play unit during an upcoming 5-on-3 advantage.
The Ducks knew they couldn't waste a golden opportunity to break Nashville's vaunted defense, and they rode those two early goals all the way to a victory that evened the first-round series.
Ryan Getzlaf and Corey Perry each had a goal and two assists, Ray Emery made 31 saves in his first playoff start in nearly four years, and the Ducks' offensive stars led them to a 5-3 victory Friday night.
Bobby Ryan scored two goals, while Perry and Teemu Selanne scored on that tone-setting power play in the opening minutes. Although they nearly gave away the game in the third period, the Ducks reclaimed their offensive swagger after nearly getting shut out in the series opener.
"Those goals set the tone for the game," Ryan said. "It gave us a little bit of comfort level to roll with. (Pekka) Rinne is a great goalie, but it makes us feel like he's a little vulnerable at least, because he's such a wall for them. Maybe the floodgates are open a little bit."
Game 3 is Sunday in Nashville.
Nashville dominated Game 1 in front of Rinne in a 4-1 victory Wednesday night, fully using their strengths in defense, discipline and goaltending. The Ducks went to their own strengths from that opening timeout forward in Game 2, getting relentless pressure from their top line of NHL goal-scoring champion Perry, captain Getzlaf and the freewheeling Ryan.
Anaheim's three-goal lead in the third period dwindled after goals by Nashville's Patric Hornqvist and Joel Ward, but the Ducks hung on in the final minutes before Ryan's empty-net goal.
"I know we can do better," said Selanne, who scored in his second straight game. "I'm very disappointed in how hard we make it on ourselves. We take too many penalties, and we stop skating and play no defense. We have to get better than that."
Rinne stopped 23 shots and captain Shea Weber had a goal and an assist for the Predators, who couldn't quite make up a three-goal deficit.
"We did it to ourselves," Nashville defenseman Ryan Suter said. "We got out of position, took some bad penalties, and it ended up costing us. You can't give them chances on the power play, because they have a lot of talent over there. They're going to capitalize."
The Predators took a few additional blows as well. Martin Erat lost four teeth when Sheldon Brookbank accidentally hit him with the butt end of his stick when Erat came up behind the Anaheim defenseman, and Ryan appeared to stomp on Predators defenseman Jonathon Blum's foot trying to dislodge the puck behind the net with 3½ minutes to play.
Nashville coach Barry Trotz wrote off Erat's dental damage to "a hockey play," and didn't mention Ryan and Blum.
"If we don't take the penalties we did tonight, we're probably talking about a whole different story," said Trotz, whose team was among the NHL's least-penalized in the regular season. "You put those guys 5-on-3, I don't think there's three guys in the league you can put out there that are going to have much success."
After the timeout, Perry banged home a cross-crease pass from Saku Koivu with 7 seconds left in the 5-on-3. Selanne then slipped in front and scored on a rebound 38 seconds later. The 40-year-old Finnish Flash also scored the Ducks' only goal in Game 1, giving him 37 in his postseason career.
Nashville got six power plays, but Emery covered up most of the Ducks' mistakes while taking over impressively for Dan Ellis, who was chased from the opener.
Emery made his first playoff start since losing the decisive Game 5 of the 2007 Stanley Cup finals to the Ducks while he played for the Ottawa Senators. The veteran goalie has since been through an arduous comeback from the same degenerative hip condition that ended Bo Jackson's multisport career.
Emery made arguably his biggest saves back-to-back in the second period, poke-checking the puck away from Martin Erat on a breakaway before raising his left pad to stop Kevin Klein's rising shot while facedown on the ice.
"I just try my best out there, and sometimes it's not pretty," Emery said. "But if you grind it out, you get lucky sometimes, so I thought we did a good job as a team. This team scores a lot of pretty goals, but tonight we were banging in pucks and got some rebounds, so it was good."
Vancouver Gains 2-0 Series Lead Over Chicago
VANCOUVER, British Columbia (AP) — The Vancouver Canucks have spent the entire week telling everyone they aren't the same team that was knocked out of the playoffs by the Chicago Blackhawks the last two seasons.
Not the same team that won Game 1 both times only to blow momentum-killing leads in Game 2 and go on to lose the series. Not the same team that couldn't beat the Blackhawks on home ice.
The Canucks backed up all that talk Friday night, but not before a few flashback moments.
Daniel Sedin scored his second goal midway through the third period and the Canucks survived three near comebacks and a frantic final few minutes to beat the Blackhawks 4-3 and take a 2-0 lead in the first-round playoff series.
"Yeah, but it's a different team," Sedin, who also had an assist, said when asked if it felt familiar when Chicago twice pulled within a goal in the third period. "Nobody said anything. It was pretty quiet and we were focusing on the next shift and that's what needs to happen."
Jannik Hansen opened the scoring, and Alexander Edler made it 3-1 with 13.1 seconds left in the second period. But Roberto Luongo, who made 22 saves, was beaten by a shot off the boards early in the third, and with 7:10 left after putting a rebound into the slot to set up a tense finish.
"There was no panic, we were calm the whole way," insisted Ryan Kesler, robbed twice to keep it close in the third. "I'm confident in this group. We don't panic, just stick to our system and stay solid. It's a different team this year. We're growing together and we've been through this before."
With the victory, the Canucks headed to Chicago for Game 3 on Sunday night with a chance to take a stranglehold on the best-of-seven series.
But after failing to score the first four periods, Chicago served notice it won't go quietly.
Ben Smith had two goals, Viktor Stalberg also scored and Corey Crawford made 23 saves for the defending Stanley Cup champion Blackhawks.
"They are not the Stanley Cup champions for nothing," Luongo said. "We didn't expect them to keel over, or roll over. They were coming strong."
Smith scored the Blackhawks' first goal of the series with 5:10 left in the second period to make it 2-1, and added his second with 7:10 remaining in the third to make it 4-3. But Smith also accidentally tipped Edler's point shot past his own goalie as the second period was winding down.
"It was my fault. The stick shouldn't be in the lane, the body should," Smith said. "That was a tough one, especially with 13 seconds left. Playoff time you got to sacrifice the body and just didn't get in front of that one."
Chicago had won five straight playoff games in Vancouver while knocking out the Canucks the past two seasons. The Blackhawks also lost the first game both times before bouncing back to win Game 2 and the series. A couple of times it looked as if it might be happening again.
Stalberg pulled Chicago within a goal 1:56 into the third, and Crawford kept it close with a couple of great saves on Ryan Kesler. But Sedin, the NHL leader with 104 regular-season points, scored on a 3-on-2 rush, cutting into the middle and snapping a low shot past Crawford's glove.
Smith made it close again on a room-service rebound in the slot, but the Canucks survived a frantic last couple minutes with Crawford out for an extra attacker.
"We just kept getting within one all night and it just wasn't enough," said Patrick Kane, who got his first point of the series on Smith's second goal. "The second half of the game to get three goals gives you some momentum."
None of them came from the Blackhawks top players, however. Captain Jonathan Toews, who lost the puck on an early breakaway, and fellow offensive stars Marian Hossa and Patrick Sharp don't have a point yet. And Chicago's fourth-ranked power play was shotless in two chances.
"We need more from our top guys," coach Joel Quenneville said.