Draymond Green reveals the meaning behind the Quickie T-shirt he wore at Warriors parade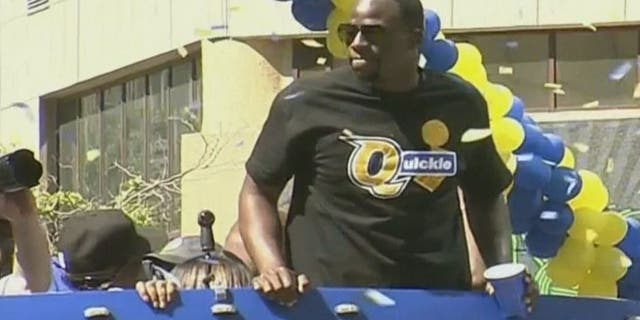 NEWYou can now listen to Fox News articles!
A year after LeBron James famously wore an Ultimate Warrior T-shirt following the Cavaliers' historic comeback over the Warriors, Draymond Green fired back Thursday during Golden States championship parade.
The outspoken Warriors forward donned a T-shirt that read Quickie on it, leading many to speculate that Green was taking a shot at the Cavs Quicken Loans Arena and the relative ease with which they dispatched the defending champs. He not only admitted to it during the parade, he also said he got the shirt made in Cleveland.
The Q thats what those guys arenas called, Green said about the Cavs. Got them out here quick. With a trophy. Quickie.
I was responsible for the idea. We actually got it made in Cleveland. How about that?
But Green made it clear that he has no beef with James, whom Green said is like family.
I cant forget the Ultimate Warrior shirt last year from LeBron, Green said You know the 3-1 tombstone, cookies and all of that [from James Halloween party last year]. So I was waiting on this moment, but (he's) definitely my guy. Thats family.
While the Warriors celebrated their second title in three years, James released footage of himself in the gym, pointing out his new haircut.
And then James followed up with a dig at the shirt.
And Draymond took time during the parade to fire back.