Don't look now, but there might be a new Johnny Manziel in Cleveland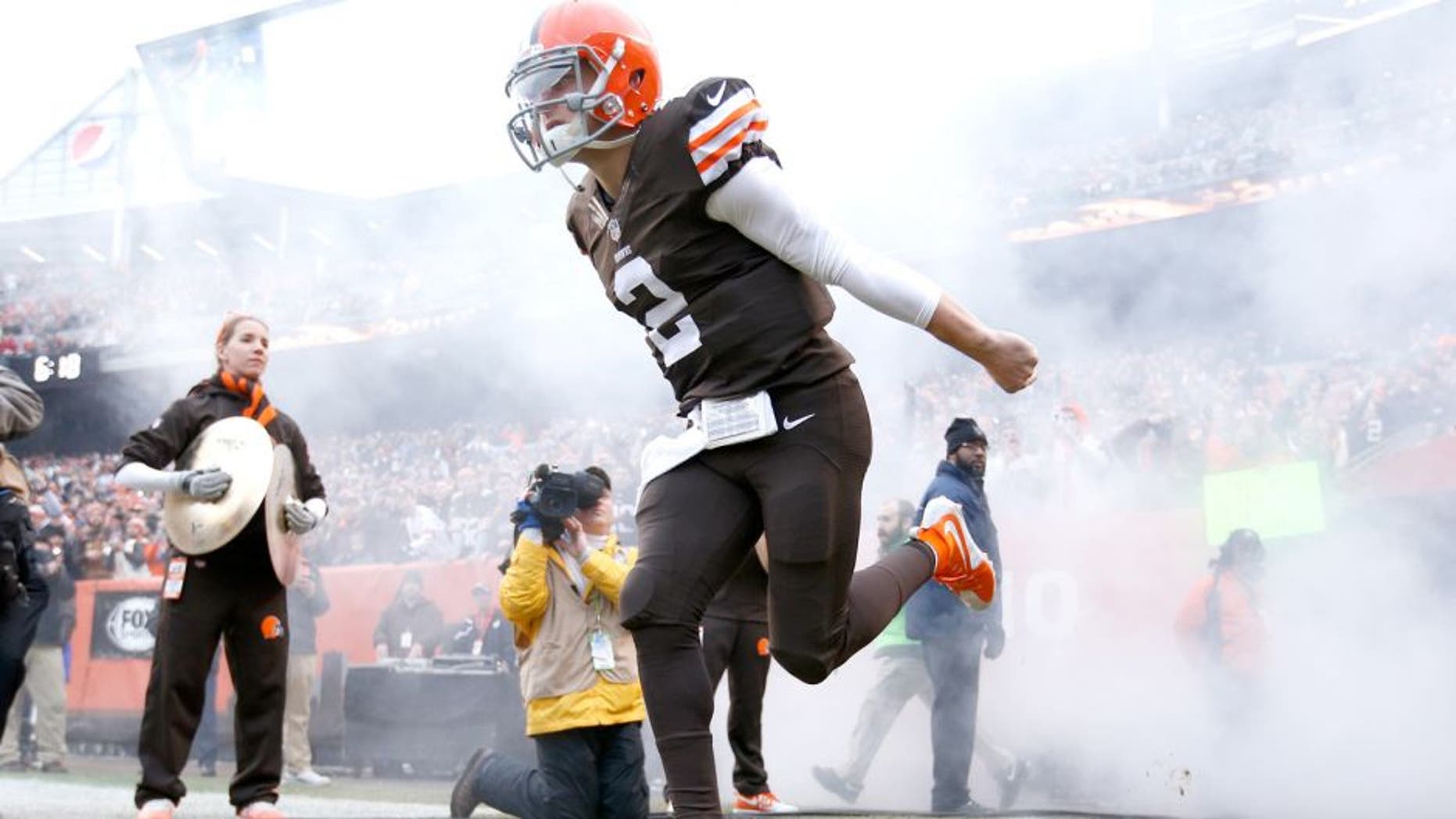 COLUMBUS, Ohio -- There was an incident at Cleveland Browns practice recently. Let's call it a momentary regression with a bit of a silver lining.
Johnny Manziel, frustrated with a bad play, spiked the football into the ground. Browns offensive coordinator John DeFilippo didn't like the way Manziel lost his poise for a moment, so he yanked him from the drill.
The message was clear. Manziel, a fiery competitor in college who is learning to harness his personality for good, had to control his emotions, as he had been doing so well since the start of training camp.
"But to me, I saw it as a positive, too," Browns head coach Mike Pettine told FOX Sports while standing in the south end zone of Ohio Stadium, home of the Ohio State Buckeyes and for one night the host of the Browns' Orange-and-Brown scrimmage. "He cares. He was upset.
"I just think that's a product of that room. (Quarterbacks coach) Kevin O'Connell and John DeFilippo have done just such a good job with him. And to have a veteran like Josh McCown in the room, people don't realize the effect of having a mentor like that ... is going to have on him."
There were a lot of positive things to say about Manziel on Friday after his two-touchdown performance in the live scrimmage.
He scanned the field like a veteran, quickly coming off his primary receiver several times to find his open secondary read. He kept himself under control while scrambling and backing away from pressure.
On his first touchdown, he put the ball in a good spot -- high and away from the defender -- on a quick out to tight end E.J. Bibbs. His second touchdown was a thing of beauty. After looking right, he turned backside and threw a strike to wide receiver Josh Lenz off the back hip of defensive back Kendall James.
"I wouldn't make a huge deal about it, but it's progress for me," Manziel said. "It's better than I played last year in the scrimmage. A year later, there's a lot of progress. I'm happy about it and happy about stringing some good days together. That's what I wanted to do."
That quote, and the spirit behind it, is what was most impressive about Manziel on Friday. After a rocky rookie season in which he was caught by cameras flipping the bird toward the Washington Redskins' sideline in a preseason game, Manziel's body language was flawless here.
It began after his first throw of team drills when he was just a hair long on a deep ball for Lenz. It actually was probably a perfect throw but Lenz slowed a bit as he jostled with the defender, so it seemed like an overthrow. No biggie. As Lenz got back to the huddle and Manziel was listening for the play call in his helmet, the quarterback extended his arm for an encouraging fist pump to the young receiver.
That first drive ended with a sack after Manziel tried to escape. He returned to the sideline and huddled with his coaches and fellow quarterbacks. He came back to lead the two touchdown drives, one of which included a heck of a throw across his body while escaping to his left.
"You can't create false adversity. It just has to happen," McCown said. "When you go through some things like tonight where you have a couple of drops that don't go your way and you pull yourself out of it, that's the main thing.
"The (touchdown) throw (to Lenz) was terrific, but just the way he battled through it was awesome. That's the mark of making progress, in my opinion, and of a quarterback maturing."
Manziel didn't get any reps with the first team on Friday. All of those went to McCown. But Pettine said it was because of injuries and limited reps and that Manziel will work with the starters in the preseason.
And he might have even earned a few more of them.
"That can't do anything but help his confidence to have a night like tonight," Pettine said.
Manziel's never been short on confidence. It's more about poise and professionalism. Both of those are on the rise following his stint in rehab earlier this year. The Browns have also made moves to help support him much better than last year.
"The room is different," Pettine said. "He's got a different quarterback coach, he's got a different offensive coordinator, (Brian) Hoyer's not here, Josh is here. There's not that competition, so there's not that edginess between guys. Josh is firmly the (No.) 1 and Johnny right now is firmly the (No.) 2.
"I wouldn't guarantee the starter day one, but we feel good about where we are right now."
Like Pettine said, the addition of McCown as a free agent and what it means to Manziel has been huge. McCown wasn't a distraction for Jay Cutler when McCown played so well in relief for the Chicago Bears two years ago and he's just as supportive right now. The 36-year-old McCown knows the future of this organization rests much more on the development of Manziel than it does on how McCown plays this year.
The attention that will be paid to his backup doesn't seem to bother McCown at all.
"Yeah, he's really coming along, man," McCown said. "It's just one day at a time. He's taken steps. It's really, really cool to see. I'm glad to be in that room and be a small part of it."