Dominican Hoopster Wants Latino Influx in Game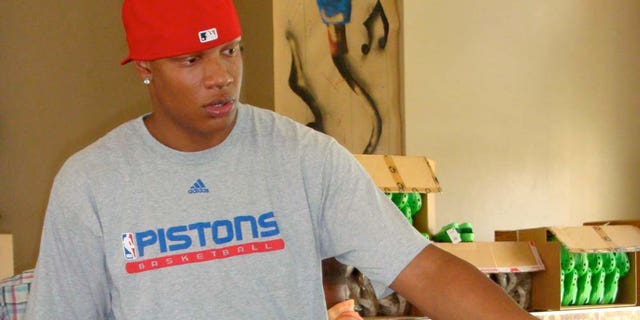 Charlie Villanueva, whose parents emigrated from the Dominican Republican, enters his sixth season in the National Basketball Association as the tips off tonight. The Queens, New York, native is one of 26 Latinos, and three Dominicans, on NBA rosters.
"Dominicans are known for baseball," Villanueva told Fox News Latino recently during an interview from his home in Michigan. "Just a fact, that it's a few of us Latinos in the NBA. Hopefully, that encourages other Latinos to play basketball."
Villanueva began his career in Toronto when he was drafted seventh overall in the 2005 draft. He was later traded to the Milwaukee Bucks, where he spent three years. He's now in the second year of a five-year contract the Detroit Pistons. He also joined the Atlantic Hawks' Al Horford and the Sacramento Kings' Francisco García on the Dominican national team.
Villanueva talked to Fox News Latino about being one of the few Dominicans and Latinos in the league, the national team and the Detroit Pistons' chances this year.
Entering your sixth season in the NBA and looking back to that night when you were drafted, what has it been like so far?
I knew ever since I got drafted with Toronto, one of my goals…was to have longevity, have a long NBA career. Your average NBA player gets only four years. I've been taking it day by day. Just taking care of my body and I've lasted. This will me my sixth year but, hopefully, I still got 10 more years of playing, God willing.
What have been the keys to your success as a NBA player?
Just taking care of my body, of course, and my versatility. It's rare when you have a guy [who's] 6'10, who can put the ball [on the floor], shoot [from] the perimeter. The game is changing a lot now where you're starting to see more often that the players at the power forward position are very skilled.
What does it mean to you being one of 26 Hispanics in the NBA that represents an entire culture on a nightly basis when it's so few of you?
It's very special. It's a dream come true, of course. At the same time, hopefully it opens the door for other Hispanics to come in and play the sport, especially Dominicans. Dominicans are known for baseball. Just a fact that it's a few of us Latinos in the NBA. Hopefully, that encourages other Latinos to play basketball and hopefully we'll see them in the league.
What was your experience like being on the Dominican national team? Were you disappointed not to play in Turkey this summer?
To (not) represent the Dominican Republic in Turkey is very disappointing. At the same time, you know, we had an opportunity when we played in Puerto Rico. We could have put ourselves in the position to be competing for a gold medal but unfortunately we didn't get things done. Me, Cisco [Francisco García] and Al Horford, we had the team. It just seemed like…things weren't firing on all cylinders, and it showed. We ended up coming out in fifth place. But that was my first year experiencing the whole [International French Federation, or FIBA by its French initials] tournament. I think if we were given the opportunity…the outcome would be a lot more different.
Are there any things that the team needs to make it to the next level? What's lacking?
I think the staff is fine. We just needed to spend more time together, all of us. The fact that we only had a very few practices all together. We practiced maybe like a week or what not. Maybe less than that together. You have some of these teams where they've been together all year round. So we definitely had a disadvantage of that aspect where we didn't build, I guess, team chemistry.
A report came out where the Detroit Pistons could be sold to Michael Ilitch, owner of the Detroit Red Wings and Detroit Tigers. Your thoughts?
That's the rumor that everybody's saying. Nothing is concrete or official but I know that the team is up for sale without a doubt. As far as the Ilitch family purchasing the Pistons, I feel like they're there. It could be a good representation of the Pistons. They've done a great job with the Red Wings. They did a great job with the Tigers. I think they would do a great job with the Pistons if they were to buy.
You recently had the chance to be on the court against the Miami Heat in the first preseason game of the year for both teams. What do you think of LeBron James, Dwayne Wade and Chris Bosh all joining forces in Miami?
Well, those are three tremendous, great players right there. Guys that can plays the game and you have those three guys on one team, it's tough to stop them 'cause who do you really focus on is hard. But everyone is anointing them as the champions, the team to beat.
What can you tell us about the addition of Tracy McGrady and the injury-riddled, 27-55 season, which was also your first with the Pistons?
The reason why I decided to become a Piston was because of the success they had the last few years. Last year was a rough year for us. I think a lot of it had to do with the fact of the injuries and the chemistry wasn't just right. It wasn't there at all. We had a new coaching staff. It was a different situation for us. But at the same time it's a humbling one and we can learn a few things from it. With the addition of Tracy and the rookies, you know, those are guys who are coming to a team that's hungry and wants to win. I think our mentality, we pretty much have the same team coming back. It's like we're hungry for more.
Can the Pistons gets back to the playoffs this year?
That's our goal, with out a doubt. It's very uncommon…not to see the Pistons in the playoffs. That's rare. We're just going to take it a game at a time. At the same time take care of our bodies and stay healthy. I think if we stay healthy, we could be a very dangerous team in the East.