Dodgers sign former starter Joe Blanton to 1-year deal as reliever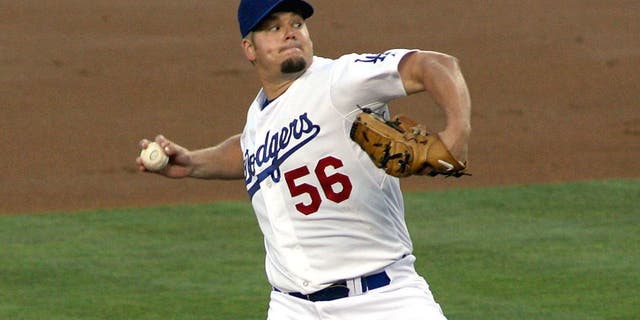 Joe Blanton's first stint with the Los Angeles Dodgers didn't go very well, but the Dodgers' front office is hopeful that the newly rejuvenated Blanton will perform better in his second go-around in L.A.
The Dodgers announced on Tuesday that they have signed Blanton to a one-year deal, which reportedly is worth $4 million, according to multiple outlets and confirmed by FOX Sports MLB insider Ken Rosenthal.
According to Rosenthal, Blanton also has incentives in the contract that could be worth as much as an additional $1 million.
The 35-year-old right-hander was first acquired by the Dodgers in a trade with the Philadelphia Phillies in August 2012.
While he was brought onboard to help bolster the rotation in the hopes of making the postseason, Blanton struggled to help out the Dodgers, posting a 2-4 record with a 4.99 ERA in 10 starts.
Despite his late-season struggles in 2012, Blanton was picked up by the Los Angeles Angels of Anaheim in the offseason on a two-year deal, a move that the Angels eventually regretted.
Blanton went 2-14 with a 6.04 ERA and 1.61 WHIP in 28 outings, 20 of which were starts, in 2013.
He was then released by the Angels after one season, picked up by the Oakland A's -- who drafted him in the first round of the 2002 amateur draft -- and then released by the A's a couple weeks into the season.
After not playing the entire 2014 season, Blanton returned the big-league bump as a reliever with the Kansas City Royals and Pittsburgh Pirates in 2015.
His conversion into a reliever effectively saved his career. He not only returned to form, but posted some of the best numbers of his career, holding a 7-2 record with a 2.84 ERA, 1.12 WHIP and 79 strikeouts versus 16 walks in 76 innings over 36 outings, four of which were starts with the Royals.
Blanton's revitalization as a reliever makes his reunion with the Dodgers apt, as the club has suffered an inconsistent bullpen over the past few years.