Dodgers' Clayton Kershaw throws no-hitter against Colorado Rockies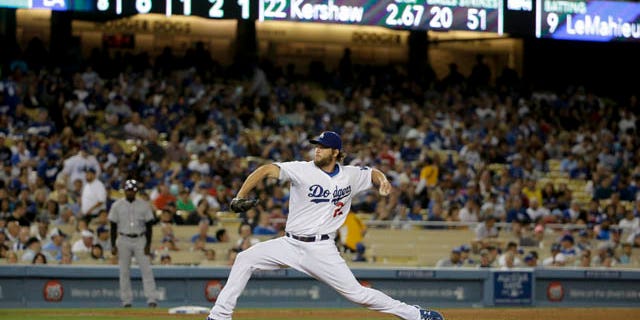 LOS ANGELES – Clayton Kershaw pitched his first no-hitter Wednesday night, striking out a career-high 15 and allowing his only baserunner on a throwing error by shortstop Hanley Ramirez in the Los Angeles Dodgers' 8-0 victory over the Colorado Rockies.
Kershaw's gem gave the Dodgers the only two no-hitters in the majors this season. Josh Beckett tossed one May 25 in Philadelphia.
"I am so amazed," Kershaw said. "Beckett told me he was going to teach me how to do that, so I have Josh to thank."
Cheered on by his wife in the stands, Kershaw (7-2) retired his first 18 batters before Corey Dickerson led off the seventh with a slow bouncer to Ramirez. His throw on the run went wide past first baseman Adrian Gonzalez for a two-base error -- ending any chance for a perfect game.
But that was it for the Rockies against Kershaw, a two-time NL Cy Young Award winner. And he came oh-so-close to throwing the 22nd perfect game since 1900.
Ramirez was back in the lineup after leaving Tuesday night's game with a bruised ring finger on his throwing hand, the result of a sharp grounder by Dickerson than deflected into short center field for a double.
With the crowd of 46,069 on its feet and roaring, the left-hander made quick work of the Rockies in the ninth.
DJ LeMahieu grounded out to first base on the first pitch of the inning and Charlie Culberson hit a lazy fly to right field on the next one.
Dickerson then got four straight strikes and went down swinging.
After his 107th and final pitch, a smiling Kershaw raised his arms above his head and waited for a huge hug from catcher A.J. Ellis.
Moments later, as he was about to be interviewed on the field, Kershaw was doused by teammates with two large buckets. He also got a hug from his wife.
The only other time the Dodgers threw two no-hitters in one season was 1956, when the team was still in Brooklyn. Carl Erskine and Sal Maglie turned the trick that year.
One batter after Dickerson reached base, rookie third baseman Miguel Rojas backhanded Troy Tulowitzki's grounder behind the bag and let fly with a strong throw to first that Gonzalez -- a three-time Gold Glove winner -- scooped out of the dirt to keep the no-hitter intact.
Ramirez was replaced on defense by rookie Carlos Triunfel to start the eighth.
Kershaw missed more than six weeks early this year because of a strained muscle in his upper back, after beating Arizona in the season opener during the Dodgers' two-game trip to Australia.
It was the 22nd no-hitter in Dodgers history and the first at home since Ramon Martinez's 2-0 gem against the Marlins on July 14, 1995.
"As far as individual games go, this is really special. To do it at home is more amazing," Kershaw said before looking up and thanking the crowd.
Sandy Koufax pitched the franchise's only perfect game on Sept. 9, 1965, against the Chicago Cubs.
Kershaw received a standing ovation when he came to bat in the eighth, and another one minutes later after finishing the job against one of baseball's best lineups.
The Rockies began the day leading the majors in batting average, hits, total bases, on-base percentage and slugging percentage. They were first in the NL in runs and homers.
The only left-handed batter the Rockies had in their starting lineup -- other than pitcher Jorge De La Rosa -- was Dickerson, who was in the leadoff spot for the first time since April 3.
Rojas also supported Kershaw with his bat, hitting a three-run double while continuing to fill in for injured third baseman Juan Uribe. Gonzalez and Matt Kemp each drove in two runs, helping the Dodgers complete their first three-game sweep at home this season.
De La Rosa (6-6) threw 86 pitches over 3 1-3 innings and was charged with eight runs, six hits and five walks. The left-hander is 0-3 with an 8.19 ERA in his last four starts, after going 6-0 with a 1.80 ERA during his previous seven outings.