Deshaun Watson is exactly the quarterback the Texans need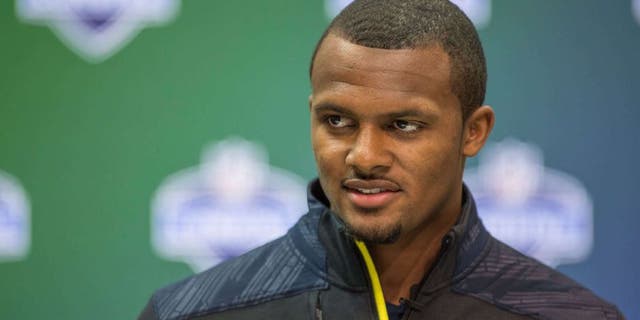 NEWYou can now listen to Fox News articles!
The Houston Texans were firmly in the sweepstakes for Tony Romo until he threw them for a loop and decided to retire. They made room for him by trading Brock Osweiler to the Browns, opening up cap space and a spot atop the depth chart.
When Romo retired, the Texans were left with Tom Savage as their starter. When you read that aloud, you can understand why panic may start to set in.
The Texans had a Super Bowl-caliber defense waiting on one side of the field, but the offense was seriously lacking due to the absence of talent at quarterback. Fret no more, Texans fans. You have your quarterback of the future and so does Bill OBrien, finally.
Logan Bowles-USA TODAY Sports
The Texans essentially used two first-round picks and a second-rounder to replace Osweiler at quarterback, and it was completely necessary. Its a quarterback-driven league, and you simply cant compete with Tom Savage as your starting quarterback.
Houston is now set up for immediate success with Watson at the helm thanks to OBrien and the talent surrounding him. Remember, last offseason the Texans went all in to give Osweiler everything he could possibly want. Lamar Miller, DeAndre Hopkins, Will Fuller, Braxton Miller. He had everything in front of him, but couldnt capitalize on the opportunity.
Watson will.
One of the biggest knocks on the former Clemson quarterback was that he was the beneficiary of a supremely talented Tigers squad, and he was. How wouldnt a quarterback benefit from having Mike Williams, Jordan Leggett, Wayne Gallman and Hunter Renfrow at his disposal?
Brian Spurlock-USA TODAY Sports
But Watson is more than just a scheme quarterback. Hes a quarterback who can win at the NFL level thanks to his skill set, which matches perfectly with what Bill OBrien wants to do.
The Texans are built upon short, quick passes in OBriens West Coast offense which has elevated the play of guys like Brian Hoyer, Brandon Weeden and Case Keenum. Now, he has a quarterback with far more talent than those three quarterbacks combined.
Watson can make plays on the move something Osweiler couldnt do giving his receivers chances to make plays again, something Osweiler never did for Hopkins. The Texans are no longer a team thats reliant on its defense carrying them to the postseason. Watson can take the offense to another level.
Buda Mendes/Getty Images
Whether its read-option work with Lamar Miller, getting the ball in the hands of Will Fuller quickly and efficiently, or taking deep shots to Hopkins, the Texans offense will be significantly better than it was last season.
Yes, it was a large price to pay giving up a 2018 first-round pick but when Savage is your best option, you have to make something happen. The trade now gives the Texans a good chance to once again win the AFC South in a division thats getting more competitive by the day.