Depleted Packers secondary prepares for Falcons, Jones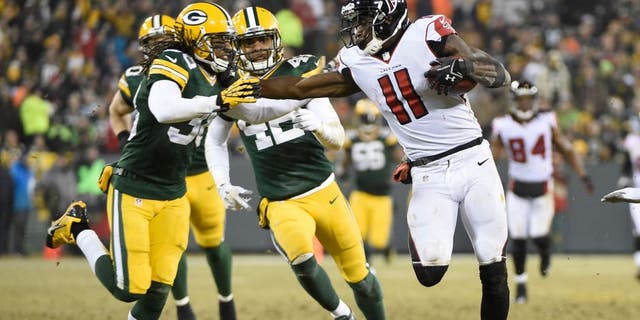 GREEN BAY, Wis. -- As the Green Bay Packers went back to work Tuesday after an extended break, they started to prepare for a big matchup with a diminished secondary.
Coach Mike McCarthy announced Tuesday that cornerback Damarious Randall, who had been sidelined with a groin injury, underwent surgery and is out this week.
The timing couldn't be any worse with the NFC South-leading Atlanta Falcons and their potent passing attack, led by quarterback Matt Ryan and playmaking receiver Julio Jones, up next.
"That's just the way things go," Packers cornerback Demetri Goodson said. "If you look at every single team in the league, they're beat up from top to bottom. So that's just the way it goes."
The Packers must try to slow down Jones without their top two and possibly top three cornerbacks from the start of the season.
Veteran Sam Shields is on injured reserve after not playing since the Sept. 11 season opener, when he suffered a concussion.
Randall didn't play Green Bay's most recent game, a win over the Chicago Bears on Thursday night, after he reinjured his groin four days earlier.
A similar injury has kept Quinten Rollins from playing the past two games.
Rollins' status is up in the air for Sunday's game at Atlanta.
The second-year pro said Tuesday that although he feels a sense of urgency to get back on the field and bolster Green Bay's depleted depth at cornerback, he wants to avoid risking further injury.
"Obviously, you want to go out and compete against the best, but at the same time, you can't let who you're playing dictate your body or how you feel," Rollins said.
Minus Rollins, that would probably mean a second straight game for the young tandem of LaDarius Gunter and Demetri Goodson as well as versatile fourth-year player Micah Hyde as the team's primary cornerbacks.
Green Bay also has played undrafted rookie Josh Hawkins. And the Packers added another player to their banged-up secondary by promoting first-year safety Jermaine Whitehead from the practice squad Monday.
Goodson said he's preparing this week as though Rollins won't play against the Falcons.
"If he does, great," Goodson said. "But if not, then we'll definitely be ready."
And as Goodson sees it, more than one player is going to be needed for the Packers to have success against the talented Jones, who leads the NFL with 830 receiving yards in just seven games.
Jones had 11 catches for 259 yards and a touchdown when the Packers last played Atlanta in 2014, a 43-37 Green Bay win at Lambeau Field.
"With a guy like him, there's not one guy that you can just put on him and just shut him down," Goodson said. "It's going to be definitely a team game to try to stop him because he's a great player."
Mixing strength and speed with tremendous size, the 6-foot-3, 220-pound Jones also ranks No. 1 in the league with an average of 20.8 yards per catch and 16 receptions of 20 or more yards.
The Packers have allowed 21 completions of at least 20 yards in their six games.
"Julio is just a freak of nature on film," defensive end/linebacker Datone Jones said. "He's a beast."
NOTE: RB Don Jackson hopes to get back on the field later this week. The undrafted rookie suffered an injury to his left hand in the first half of his debut Thursday. He wore a therapeutic glove on the hand Tuesday, saying he still had some swelling, but that tests didn't reveal a fracture. "They gave me this glove so I could calm it down, and it's already looking better," Jackson said.