Dennis Rodman became the steal of the '86 NBA Draft thanks to an NAIA coach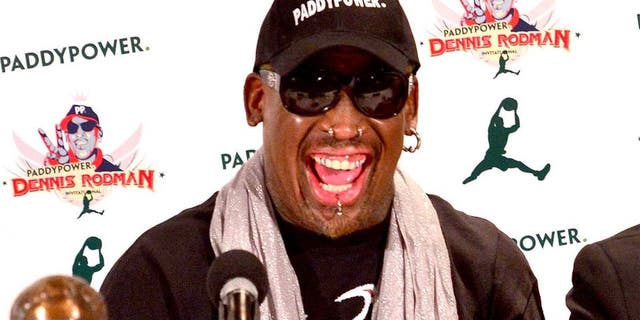 NEWYou can now listen to Fox News articles!
It was the fall of 1982, and Lonn Reisman was sitting in the stands at Cooke County Community College in North Texas watching the basketball team practice. Reisman, then a young assistant coach at Southeastern Oklahoma State, was making his usual rounds scouting nearby junior colleges for talent, and on this trip, he'd happened upon a player who had to be seen to be believed.
The lanky kid who caught his eye was 6-foot-7, maybe 6-8, and could jump out of the gym. He seemed to have a nose for the ball and an endless motor, and he could do most anything he wanted offensively against the inferior talent on his own team.
Thoroughly impressed, Reisman wanted to know more about Dennis Rodman, the most outstanding junior college prospect he'd seen in quite some time. But instead, he returned to Oklahoma without so much as trying to woo to the 21-year-old Dallas native.
"I really liked his potential, but I didn't feel like we were going to be able to recruit him," Reisman told FOX Sports of his first impression of Rodman in a recent phone interview. "I thought he'd probably go to a bit higher level than we were, as an NAIA school, and so I watched him and was intrigued by him, but I left that day not really recruiting him."
As time passed, however, Reisman couldn't shake the memory of Rodman from his mind. So he decided to head back to Cooke County to watch him play a game and, if things went as well as he anticipated, make the pitch he should have made months ago.
Rodman, after all, hadn't played basketball in high school and only began taking the sport seriously after a mysterious growth spurt added nearly a foot to his frame at age 20, while he was working as a janitor at the Dallas-Fort Worth airport. If a guy like this ended up at Cooke County in the first place, Reisman thought, maybe it was possible he'd slip through the cracks again.
Except when Reisman took his seat, he noticed Rodman was nowhere to be found on the floor. He scanned the bench and saw no sign of Rodman there either. Reisman asked around and learned that Rodman had dropped out of school after one semester that saw him average 17.6 points and 13.3 rebounds per game.
And it was in that moment that Reisman knew he had a chance at landing the best player his program had seen.
"Back in that time you could turn over some stones and find players," said Reisman, now the head coach at Tarleton State, where he recently finished his 29th season. "It's a lot more difficult today with all the AAU and scouting services that go on, but you were able, back in those days, in the early '80s, to find a diamond in the rough.
"Now, if he'd have stayed at Cooke County, they would have found him," Reisman continued. "But I was young at that time, I was on the road, and I wasn't going to let anybody out-recruit me. It took me a month to find where he was and track him down, but I did it, and I stayed relentless because it's not very often that you can get a player of his caliber at an NAIA school."
With a little luck and a lot of digging, Reisman was able to get Rodman's mom, Shirley, on the phone, at which point he made his case for Southeastern Oklahoma State. Shirley liked what she heard -- Rodman's sisters, Kim and Debra, were college prospects in their own right at the time -- and she invited Reisman to visit the family home a few days later.
When Reisman and head coach Jack Hedden arrived at 8 a.m. the following Saturday, Rodman was still asleep, and he remained in bed, locked in his room, while Reisman and Hedden waited down the hall. Eventually they were able to coax Rodman out, however, and soon after they were on their way to the Durant, Okla., campus for a visit, if only so Rodman could appease his mom.
"Dennis was the kind of person who was very quiet, at that time," Reisman said. "He's a deep thinker, he takes everything in. He has to have confidence in you and he has to know that you care about him before he's going to open up to you. So the first day was mainly just finding out about him and what he's thinking about. He's kind of a private person, but he and I made a great connection."
It was only after he'd gained Rodman's trust that Reisman finally took him to the gym for a workout.
"We went over and sat in the bleachers, and I don't know what made me say this, because I don't say this to a lot of recruits, but I said, 'Dennis, I think someday you could play professional basketball,' " Reisman recalled. "And he looked me in the eye and he says, 'Coach, I can't play professional basketball. There's no way.' But I told him I could see something in him.
"I said, 'No one knows who you are right now, but I think that you'd have a chance if you came here,'" Reisman continued. "And I think that me saying that opened up a world of confidence in him that he'd never had before."
Rodman decided on the spot that he wanted to play for Reisman.
I think he felt, for the first time, that he had a basketball family to be a part of. Lonn Reisman
"At that time, Dennis needed somebody to give him some direction in his life, and I know I was part of that direction that we gave him," Reisman said. "I think he felt, for the first time, that he had a basketball family to be a part of."
Soon after, Rodman was enrolled in summer school, and as his game developed under Reisman and Hedden, he became an unwitting star at Southeastern. In his first season, Rodman averaged 26 points and 13.1 rebounds, but Reisman recalls Rodman having seemingly no idea just how good he was.
"I can remember the first game he ever played," Reisman said. "We were playing Langston University, on the road, and he came up to me after the game, and this is exactly the words he said: He said, 'I hope I didn't disappoint you tonight.'
"And I said, 'You had 24 points and 19 rebounds and you think you disappointed me tonight?'" Reisman continued. "But that's the kind of guy he was. He was humble and he wanted to make sure that he hadn't let me down, and he continued to get better and gain confidence in himself during that three-year process."
He was humble and he wanted to make sure that he hadn't let me down, and he continued to get better and gain confidence in himself during that three-year process. Lonn Reisman
And while Rodman was able to shake most of the off-the-court habits that had tarnished his reputation early on in his life -- he was once arrested for stealing watches from his job at the airport -- there was still plenty of teaching to be done by Reisman, who was tasked with harnessing and maximizing Rodman's immense talent.
"Dennis could take the best butt-chewing there was, and he got a bunch of them," Reisman said. "But he adapted to it. You've got to remember, he didn't play any organized basketball in high school. He'd never had a coach getting on him before saying, 'We're going to do this, we're going to do that, you're going to get on the line, you're going to do another sprint.'
"He questioned himself early, but he worked through that," Reisman continued. "And I was very proud of somebody that had never been through any of that, how he made the adjustment to being pushed and excelled."
As a junior, Rodman averaged 26.8 points and 15.9 rebounds, and as a senior, he averaged 24.4 and 17.8, leading Southeastern to the NAIA tournament both years. That senior season, Rodman led the Savages to the semifinals of the NAIA tournament, and by then his talents were well known by the fans who packed small-college gyms across the Southwest to watch him play.
"I think at first it was kind of daunting to him that he had come this far in such a short time -- that people were actually interested in him," Reisman said. "But we would reiterate what we already knew and what we'd talked about, that we knew someday he could do this. He started putting that puzzle together, too, and believing it, and you could see his ability go up year to year to year. He put a lot of time in the gym, he put a lot of time in making himself a better student, and he made himself a better person."
Scouts had also begun to catch wind of what was going on at Southeastern, and one point during the NAIA tournament Reisman got talking with longtime NBA scouting director and former Hawks GM Marty Blake, who confirmed what Reisman knew all along.
"I'd talked to Marty and said, 'You need to watch this Dennis Rodman,' and I can remember him saying, 'Lonn, I don't know,' " Reisman said. "But after he watched him play at the national tournament at Kemper Arena, Marty called and said, 'He is a pro prospect, Lonn. I was absolutely astonished. He's a tremendous athlete and a tremendous player.' And that's when things really started to heat up because he was on everybody's list then."
As the 1986 draft approached, Rodman was hounded by scouts trying to decide whether to take a chance on an untested prospect from an NAIA school in the middle of nowhere. The Milwaukee Bucks and Washington Bullets were showing the most interest, according to Reisman, but it was ultimately the Detroit Pistons who took Rodman with the 27th overall pick.
The selection was a surprise, Reisman said, but it proved to be the best place for him.
"I think it was a godsend because that's exactly where he needed to go," Reisman said of Detroit. "He fit what they were doing there, and Coach (Chuck) Daly was somebody he needed because he needed a coach who was going to take over where we were at Southeastern and give him a father figure who was going to help him with the next step on the journey of his career."
Over the next 14 seasons, Rodman became a star in the NBA, winning five championships with the Pistons and Chicago Bulls, crafting a personal style and quirky personality all his own.
Prolific on the glass, Rodman led the NBA in offensive rebounds six times and total rebounds three times, and also earned two defensive player of the year awards. He proved to be the jewel of an otherwise cursed '86 draft -- he was one of just five All-Stars from the entire class -- and was rewarded for his efforts with an enshrinement in the Hall of Fame in 2011.
The first person Rodman thanked when he took the stage in Springfield? Lonn Reisman.
You can follow Sam Gardner on Twitter or email him at samgardnerfox@gmail.com.