Defector José Abreu will headline MLB team making historic trip to Cuba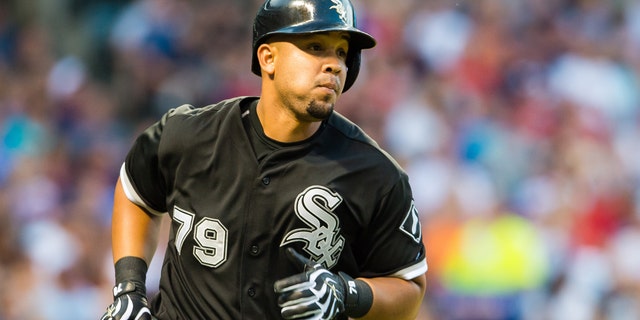 A team of Major League Baseball players will be heading for Cuba for a Goodwill Tour later this month, and as many as four big-league players born on the island nation will be returning – some of whom left in secret under dangerous circumstances.
The biggest Cuban name on the tour, which is being led by Hall of Famers Joe Torre and Dave Winfield, is Chicago White Sox slugger, José Abreu, who has not been back to the island since he defected.
His return just a couple of years after leaving is historic considering Cuba usually doesn't allow defectors back on the island for at least eight years.
A star for the Cuban national team, Abreu disappeared in the summer of 2013 and turned up a few weeks in Haiti, having fled in the middle of the night on a small boat that barely survived a harrowing 12-hour journey through 15-foot surf.
The 28-year-old first baseman's son, Dariel, still lives on the island.
The Cuban government's decision to allow defectors to visit is rare considering the government denounces ballplayers who flee the island as traitors and bars them from the national team, according to the New York Times.
Apart from Abreu, the 2014 American League Rookie of the Year, the other Cuban-born players taking part in the tour are free agent shortstop Alexei Ramirez and catcher/first baseman Brayan Peña.
The Los Angeles Dodgers' star outfielder Yasiel Puig, who was spirited out of Cuba and into Mexico in 2012, was supposed to go but may be unable to because of an ongoing investigation by the league into an altercation he had in Miami last month, the Times reported.
It's the first official visit to the communist country by an MLB squad since 1999, when the Baltimore Orioles played the Cuban national team in an exhibition.
There are restrictions, however, that the Cuban government has placed on the Goodwill Tour, which will take place from Dec. 15 to 18 and includes stops at children's clinics and a charity event.
For instance, the players will be unable to visit relatives unless the family members go to the players' designated hotels, the Times reported. In turn, MLB has received assurances that its Cuban ballplayers will not be detained or prevented from returning back to the U.S.